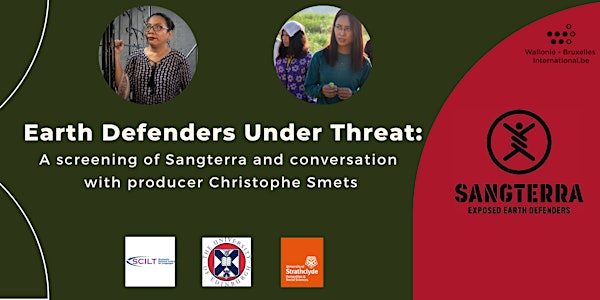 Earth Defenders under threat: A screening of Sangterra
Suitable for secondary learners in S5/6, students in Higher Education and the wider public.
About this event
The Sangterra project portrays climate activists from various countries who are threatened because they try to protect the environment, their land and often their communities as well. Over the past four years, nearly 800 people have been murdered for defending their land and our environment, according to a report by the NGO Global Witness. That's an average of 4 people every week and this is 4 times more than 10 years ago.
Join us for the screening of Sangterra, a documentary portraying climate activists from various countries who keep fighting for the planet despite the threat on their lives. While the documentary will be in English, it will also be subtitled in French and it offers linguistic as well as cultural and awareness-raising opportunities.
Aimed at young language learners as well as university students and the wider public, participants will have the opportunity to engage directly with Belgian producer, Christophe Smets, who is a native speaker of French during a Q&A at the end.
Please note that the screening will be hosted on Zoom. Register by Tuesday, 2 November.
Read our privacy notice here.