East Antrim Marathon Series Carrickfergus Castle Event - 27th November 2016
East Antrim Marathon Series Carrickfergus Castle Event - 27th November 2016
Sun 27 November 2016, 09:00 – 14:00 GMT
Description
The East Antrim Marathon Series (EAMS) marathon and half marathon on the 27th November 2016 begins at the historic Carrickfergus Castle and follows the coastal route to Loughshore Park (and back again).  Runners will repeat this three times to achieve the full marathon distance. A half marathon option is also available for this route (along the same route with a different turning point at Belfast High School). The half marathon runners repeat the course 2 times. 
The start time will be 8.00 am for only those marathon runners who take over 4 1/2 hours and 9.00 am for those who plan to run under 4 1/2 hours. The half marathon will start at 9.00 am only. Water, energy drinks and gels will be provided on the course and refreshments and a medal for all finishers. 
Please respect the local residents and park in the Castle car park as per the map attached. Please remember to put rubbish in bins or bags at the water station.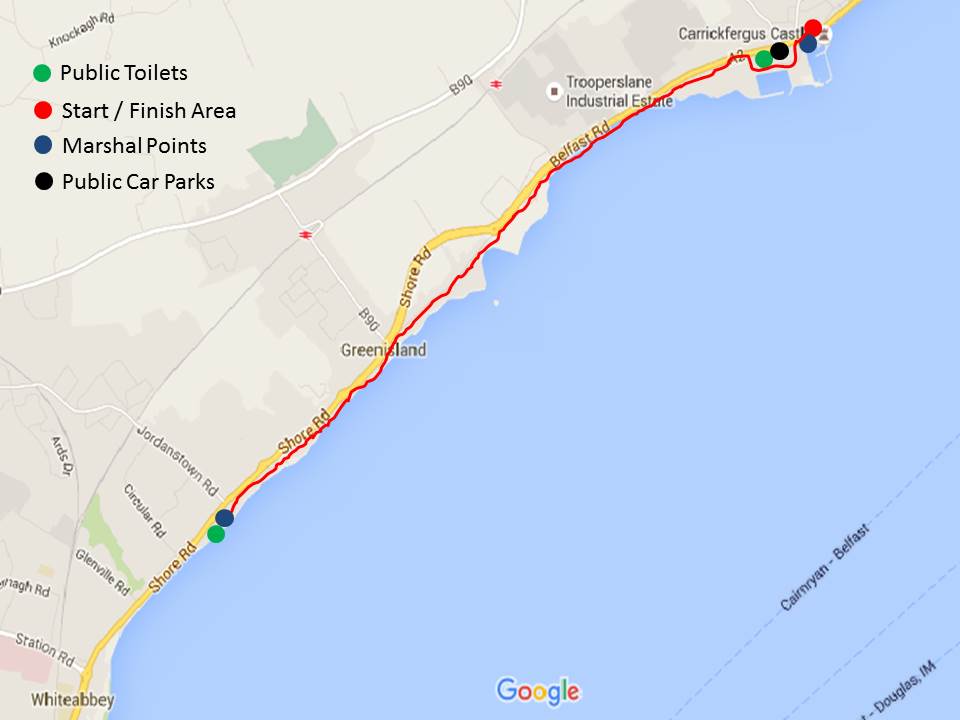 Entry remains open online until 8 pm on Friday 25th November. Race numbers (and pins) will be issued on the morning of the race. Please ensure you are there for registration at least 45 minutes before the start of the race and remember to watch the weather forecast and wear appropriate gear for the predicted conditions.
Please also note, we do not under any circumstances  take registrations after registration closes (as notified here) or on the morning of a race. We are largely paperless and do not have disclaimer forms with us on the morning of a race for people to sign (when you register online here you agree to the race disclaimer). If you turn up without having registered we will not allow you to participate in the event (as you will not have signed the race disclaimer). No exceptions to this rule!
Please Note: We have a zero tolerance of bad and/or unsporting behaviour in whatever form that it may take. Persons who indulge in such behaviour will be banned from all future events.
Disclaimer:
All participants in the East Antrim Marathon Series are hereby given notice that the organisers shall not be held liable for any property loss, accident, personal injury or death that a participant might suffer during the training for and participation in the marathon. In particular all participants acknowledge that they are entering the East Antrim Marathon Series entirely at their own risk and that they have no medical disability. Runners should consult with their own GP, specialist and/or local athletics group for training/medical advice and assessment.