East Antrim Marathon Series Midweek Santa Dash Marathon 7th December 2016
Actions and Detail Panel
East Antrim Marathon Series Midweek Santa Dash Marathon 7th December 2016
Wed 7 December 2016, 08:30 – 14:30 GMT
Description
The Christmas (Santa Dash) East Antrim Marathon Series race will take place on the 7th December 2016, starting at Monkstown Boxing Club. The marathon (marathon distance only) will be a 14 lap loop course around Monkstown Wood as per the map attached. There will be a single start time for all runners at 8:30am. Water, energy drinks and gels will be provided on the course and refreshments and a medal for all finishers. The cost is free online but to enter you must make a donation to our chosen charity to help an 11 year old boy from Strabane (Billy Cauldwell), who has intractable epillepsy. His mother is trying to raise £300,000 to allow him to receive treatment for his epillepsy.
Please respect the local residents and park in the local Monkstown Presbyterian Church as per the map attached and remember to put rubbish in bins or bags at the water station. Numbers will be issued on the morning of the race
Entry remains open online until 20.00 on the 7th November 2016. Please note there will be no registrations after this date and no registrations will be taken on the morning on the race. Places are limited. Registrations cannot be swapped and refunds will only be issued to a runner before registration ends.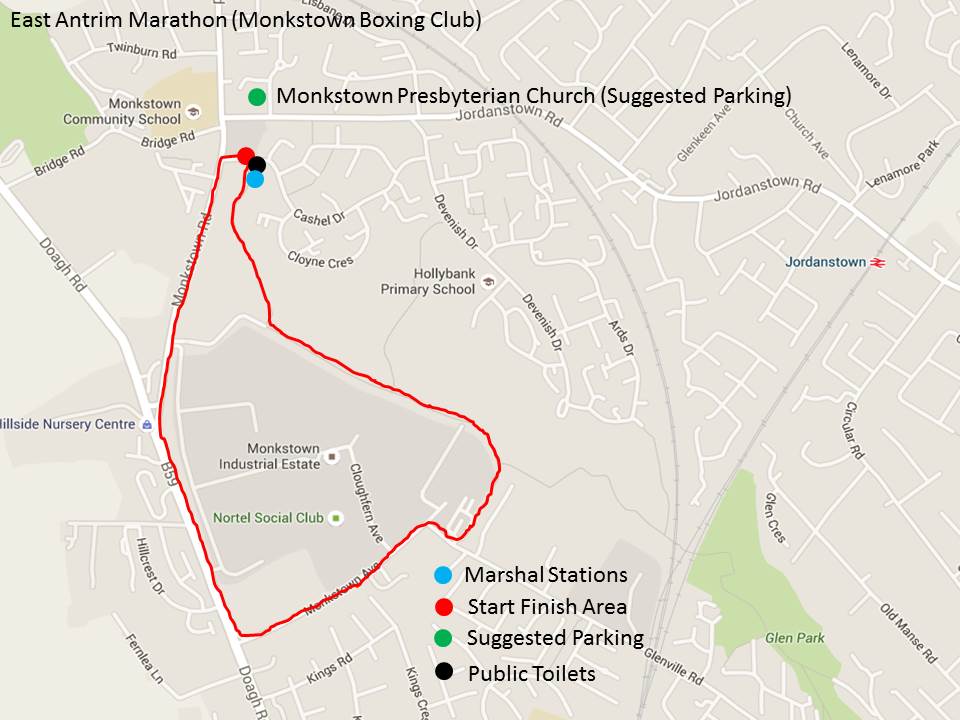 Disclaimer:
All participants in the East Antrim Marathon Series are hereby given notice that the organisers shall not be held liable for any property loss, accident, personal injury or death that a participant might suffer during the training for and participation in the marathon. In particular all participants acknowledge that they are entering the East Antrim Marathon Series entirely at their own risk and that they have no medical disability. Runners should consult with their own GP, specialist and/or local athletics group for training/medical advice and assessment.