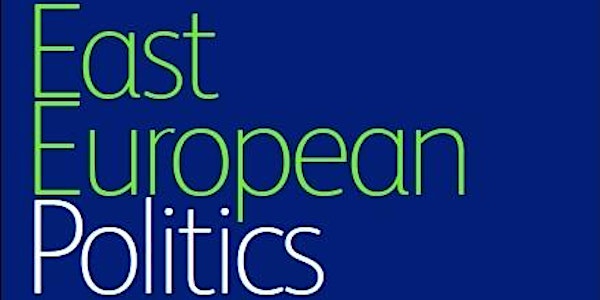 'East European Politics' Webinar: Towards Open Access Social Orders
Webinar on the East European Politics Special Issue 'Towards Open Access Social Orders in Eastern Europe'
About this event
The upcoming Special Issue of East European Politics (to be published in March) investigates the interplay between domestic socio-political orders and changing external influences of the EU, Russia, Turkey and other external actors in Eastern Europe. In this online webinar, contributors to the special issue, together with guest editors Antoaneta Dimitrova (Leiden University), Tanja Börzel (Free University Berlin) and Dimiter Toshkov (Leiden University) reflect on their findings in the light of continuing turmoil in Eastern Europe. The discussion is followed by an open Q&A.
Programme:
15:00-15:30 (GMT)
Introducing the key themes
Antoaneta Dimitrova: Analyzing the Eastern neighbourhood with the help of theory: what can we add to North, Wallis and Weingast's framework for understanding open and limited social orders?
Dimiter Toshkov: Political dynamics in the region and our findings on the interactions of domestic and external actors: the paradox of external actors' weakness
Tanja A. Börzel: The issue's findings in the light of the shift in the EU's approach to the neighbourhood from democratization to resilience
15:30-16:30 (GMT)
Understanding a turbulent region: Some key findings and current developments
Tatsiana Chulitskaya/Inna Ramasheuskaya/ Natallia Rabava: State capacity in Belarus: looking on our findings in the light of pro-democracy protests
Honorata Mazepus: Actors that link to Russia and the EU: contextualizing the findings
Julia Langbein: The effects of trade and the association agreement
Ole Frahm: The rising power of Turkey and the findings on the role of business entrepreneurs
Questions and discussion
You can join the webinar via Zoom: https://zoom.us/j/95255081823?pwd=azl5eEFHUXY4TDVFWW40bzhoNFRRQT09
Or you can watch the live stream via Facebook : https://www.facebook.com/kingseuropean/
You can read East European Politics here: https://www.tandfonline.com/toc/fjcs21/current
And follow us on Twitter here: https://twitter.com/EEPolitics