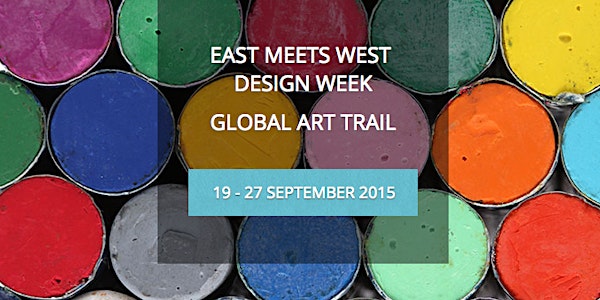 EAST MEETS WEST DESIGN WEEK - DIGITAL ART FESTIVAL: 19th - 27th September...
Location
MUSEUM OF CULTURAL ARTS HQ
www.eastmeetswestdesignweek.com
Canary Wharf
London
E14
United Kingdom
Description
CALLING ALL ARTISTS, CURATORS, DESIGNERS, INDUSTRY EXPERTS & PROFESSIONALS!
EAST MEETS WEST DESIGN WEEK 2015 puts a digital spotlight on Artists and the Creative Industries around the globe and showcases them on a Global Art Trail to people worldwide who buy art, support artists and have an interest in art, acorss its broad range of disciplines and invites you to TAKE PART.

Whether you paint, etch, blow, draw, stain, write, film, curate, photograph, design, perform or strut your stuff in any of part of the hemisphere we've got a place for you on the Global Art Trail.
EAST MEETS WEST DESIGN WEEK 2015 takes places virtually by digitally profiling artists and art institutions to consumers, art buyers, art enthusiasts and art lovers globally.
EAST MEETS WEST DESIGN WEEK 2015 takes place from London in September when the creative industry calendar sees London Fashion Week, 100% Design, Tent London, Tent Super Brands, Design Junction, The London Design Festival and more all taking place in London' Capital City.
EAST MEETS WEST DESIGN WEEK 2015 is open to Artists of varying disciplines and stages of their careers, extending its doors to students whilst embracing artisans in their fields. The Art Festival runs for nine days, supporting creatives across the sector with the opportunity to exhibit virtually and join the Global Art Trail.
Whilst there artists can profile and sell their work, market themselves, open the doors to their studios, boutiques, museums, galleries, art and fashion house to an adoring public from any location, essentailly utilising the opportunity for their own purposes.
Enter @ £10.00 (15USD) or £5.00 for Students. Simply click & TAKE PART!
All Artists | Registrants must provide:
- ONE high quality IMAGE ( ideally 300dpi) OF YOUR ARTWORK/PRODUCT
and:
- A link to your WEBSITE or SOCIAL MEDIA
- Once you've made your payment email your content to:
admin@eastmeetswestdesignweek.com with your name in the header.
There are other cost effective ways provided to enable artists to gain exposure including the launch of a GLOBAL ART DIRECTORY all aimed at supporting you the artist.
PRESS OPPORTUNITIES
Artists will be selected and invited to provide an A4 side of press ready copy. You will be expected to have this available upon request and without notice, so advance preparation is essential.
Artists keep 100% of sales and are responsible for distribution, shipping and deliveries.


Share this event on Facebook and Twitter

We hope you can make it.

Cheers,
Museum of Cultural Arts