East Surrey Poverty Truth Commission - there has to be another way!
About this Event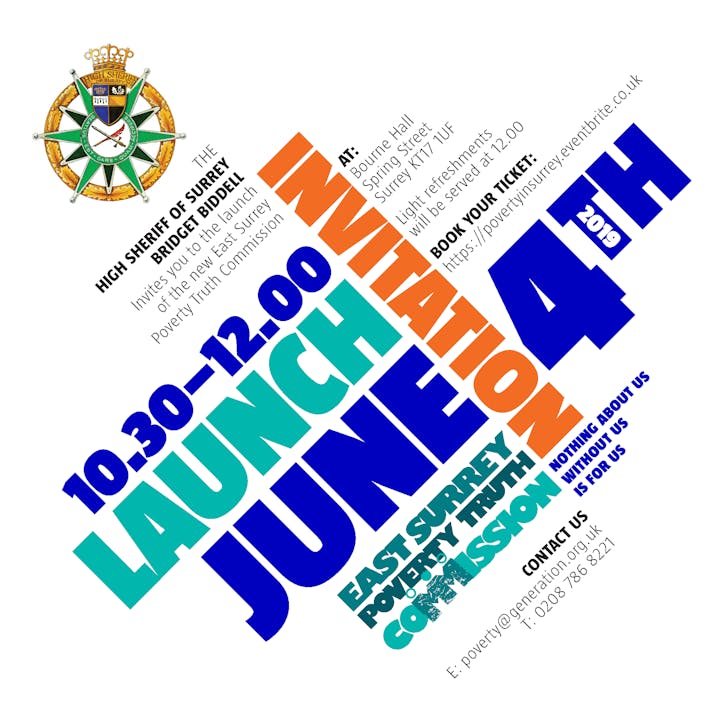 A Poverty Truth Commission is a unique and powerful way of developing new insights and initiatives to tackle poverty, developed in Glasgow and Leeds over the past six years. It is a process which brings together around 15 civic, political and business leaders with around 15 individuals who have lived experience of poverty in the local area. The aim is ensure that people who have lived experience of poverty first- hand are at the heart of how the local boroughs think and act in tackling poverty and inequality.
This project has been initiated by Epsom and Ewell Foodbank, as a response to the constant increase in demand which is up 44% last year on the previous year. We believe that in Surrey- one of the wealthiest counties in the country, we should be able to address the issue of poverty locally. Over the next 18 months we are going to listen to the stories of people in poverty and see what can be done.
Come to the launch and find out who is involved, more about what is happening and how you can get involved.
Details
10.30-11.00 -Reception/hot drinks
11.00-12.00 -Launch
12.00-12.30 -Light refreshments
Parking-local pay & display car parks:
Bourne Hall, Spring Street. High Street, Ewell. Dorset House, High Street Ewell
Train
The nearest railway station is Ewell West
(5 minutes walk) with regular direct rail
routes between Guildford and Waterloo.
Bus
Bus number 293: Ewell Village to Morden tube
Bus number 808: Ewell Village to Cheam
Bus number 406: Ewell Village to Kingston or Epsom.