Event Information
Refund policy
Contact the organiser to request a refund.
Eventbrite's fee is nonrefundable.
Join us at our Easter digital costumed life drawing sessions. Including sessions with a knights on a quest and Swashbuckling Buccaneers!
About this event
Join us for some unique Digital Costumed Life Drawing this Easter, streaming live from The Poly.
These customisable sessions let you choose from 3 different camera angles and shot styles during poses.
These one and a half hour sessions will provide a range of poses from 5-15 minutes, with up to 2 different models and costumes, as well as the opportunity to ask questions and suggest poses.
For the first time we are adding an extra storyline/character backstory option to the sessions for those who wish to add some extra storytelling to their drawings.
This Easter we have two sessions on offer:
10:15-11:45- Session 1- Quest for the Dragons Egg- Knights
13:00-14:30- Session 2- Swashbucklers & Buccaneers- Pirates
Important info
• These sessions are unguided.
• Open to all skills and abilities
• Suitable for all ages.
• Sessions are run via Zoom.
What has changed since our preview session in February?
Following feedback from our February preview sessions, we have made a few exciting changes which we are looking forward to sharing with you.
After the sessions
If you attended and would like to share your work please feel free to tag us on social media: @SwashbuckleC or email us at swashbucklingcornwall@gmail.com
FAQs around like drawing can be found of our website: www.swashbucklingcornwall.com/costumedlifedrawing
Why 3 cameras?
Many life drawing classes have gone online but only use one webcam/camera for those attending; we want to use a least three as not everyone wants to draw from the same angle or position. By providing three, we will be able to offer a variety of coverage and make our sessions more interesting and flexible. We can even arrange specific camera angles and close up or wider-angle views enabling you to pick up more detail. We aim for the resolution to be a minimum of 720p-1080p across all cameras.
What is Life Drawing?
Life drawing or figure drawing is the drawing with pencil, ink, charcoal, paint or whatever you choose of a figure from life. Most often associated with drawing the human form nude.
What is Costumed Life Drawing?
The biggest difference with costumed life drawing is that the model has clothes on, you will be able to see how mail clings to the body of how a sword held. In our case we are also expanding this to not only clothe our model but also bring a character to life.
Why do it?
There are many reasons to do life drawing, one of the most common reasons is the suggestion that it will make you a better artist. True, practice can help you improve and develop skills and these sessions offer you a specific time to focus on creating art. Do not however be put off if you have never tried life drawing before, this can be your introduction. Maybe you are the next Da Vinci just waiting for the right moment.
Although these are digital sessions, they are taking place LIVE only, so you will be able to ask questions of our team and other attendees. Unlike working from photos things may shift as you watch. The model is only human and needs to breath and muscles may twitch under the costume allowing you study in real time.
What will the model be wearing?
Depending upon the theme, the model will be wearing medieval style or piratical costume drawn from our costume store. Some are historically accurate (HA) others are inspired by the past but made for use in theatre and film. Which means their style and construction may not be HA but looks the part just the same. Our aim is to have the model create a character that is interesting to look at and draw. The mail and plate armour is real.
How long will the poses be?
Pose length will vary but will be between 5-30mins.
How do the sessions take place?
The sessions take place via ZOOM. You will be sent the link before the session and can join or leave at any time during the 2 hour session.
What will I need?
You will need a device that can connect to the internet and run Zoom. The bigger the screen the better, so you might want to consider plugging in to your TV or external monitor if you can. When it comes to art supplies the choice is yours! Previously we have had people sketching in notebooks, on scrap paper with pencils, charcoals, watercolours, ink and digitally.
After the session
We would love to see what you have created as part of each session and if you are happy to share it on social media afterwards or send it to us, that would be great.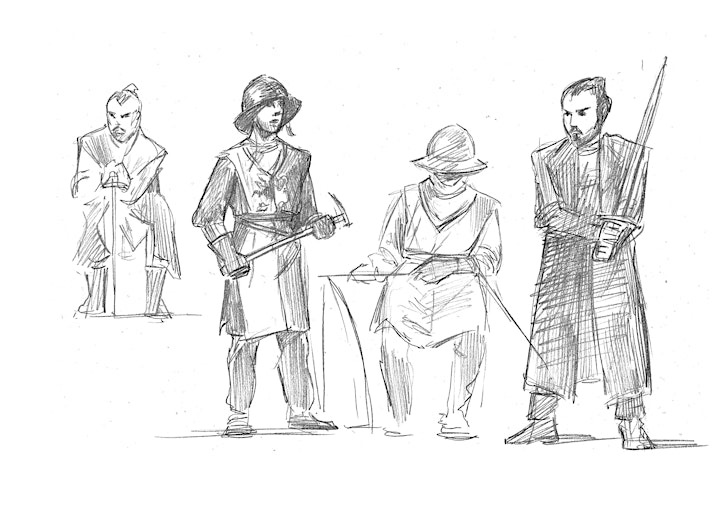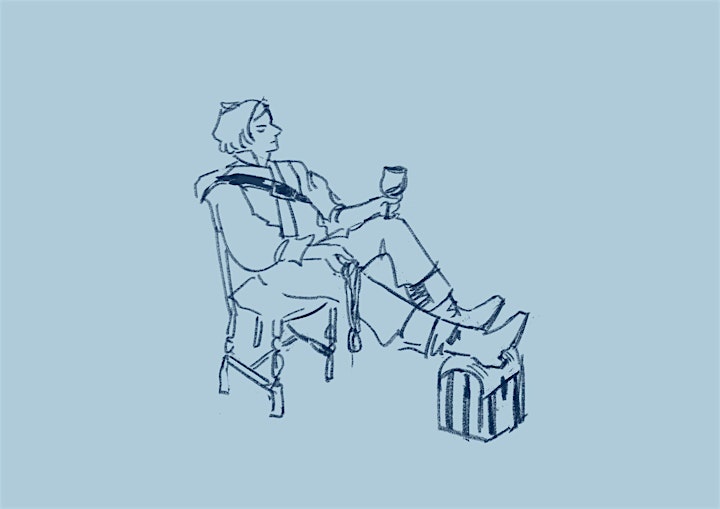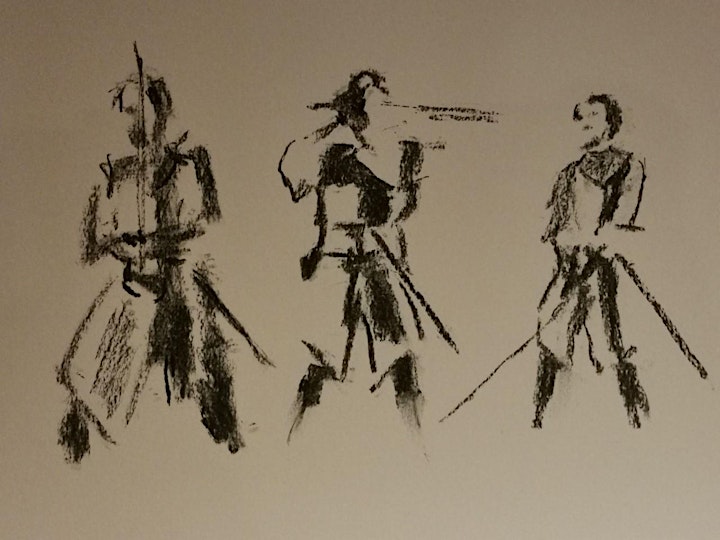 Date and time
Location
Refund policy
Contact the organiser to request a refund.
Eventbrite's fee is nonrefundable.