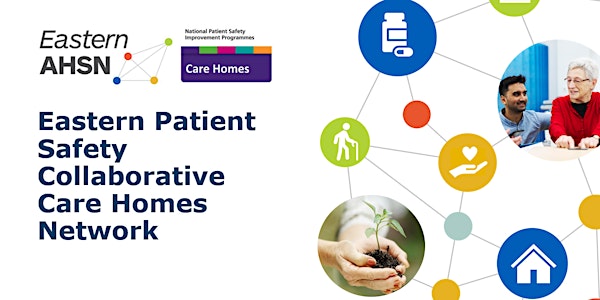 Eastern Patient Safety Collaborative Care Homes Community Network
Eastern Patient Safety Collaborative is very proud to host the Care Home Community Network
About this event
The Care Home Community Network events will take place throughout 2022 into 2023. Please join us to share and learn from peers and partners across the region.
What is the Eastern Patient Safety Collaborative Care Home Community Network?
This Network will provide a safe space for attendees to share and learn from one another's' skills, knowledge and experiences working in care homes. Through promoting and supporting collaboration and coproduction, the Network aims to drive improvements in resident safety.
Each meeting will focus on improvement elements from the PIER (Prevention, Identification, Escalation and Response) Framework. Meetings will also consider improvement elements from the Framework for Enhanced Health in Care Homes (EHCH) in order that care homes feel confident to deliver its requirements.
Who should attend?
Everyone is welcome. Meetings are most likely to be of interest to care home staff and managers, alongside PCN and local authority colleagues. Please share details of the Network with interested colleagues.
How often will the Network meet?
The Network will meet every two months on the second Thursday of the month. Each meeting will start promptly at 12:00.
Where will the Network meet?
Meetings will be held via Microsoft Teams. Joining information will be circulated to registered attendees in the week before the meeting.
Recordings, presentations and useful links will be sent to attendees following each meeting.
Do you have a success story or learning to share with the Network?
If so, please get in touch via improvement@eahsn.org. We are excited to showcase your brilliant work.
We understand that you might not feel entirely comfortable with speaking to a large audience, but we are here to support you to present with confidence. We can help with writing scripts, creating presentations and some public speaking tips and tricks.