About this Event
Spend a week immersing yourself in Eastern philosophy, while idling in the gorgeous Umbrian countryside. We'll also be taking in Umbria's famed Renaissance art, visiting its ancient churches and feasting on local produce, all in the company of fellow idlers.
Our tutors will be author, broadcaster and philosopher Mark Vernon, Idler editor and author Tom Hodgkinson. Idler Academy director Victoria Hull will be your host.
There will be a foraging walk in the Umbrian hills, yoga sessions, as well as a trip to Cortona.
The Idler Retreat is an opportunity to spend a week living the good life in beautiful surroundings, away from the hustle and bustle of the workaday world.
Location
We'll be staying at Villa Pia, which sits on the border of Tuscany and Umbria on the edge of the medieval village of Lippiano. The villa has a swimming pool and tennis court, table tennis tables, yoga studio and extensive gardens with stunning views over the Umbrian countryside.
During the day we run trips, take classes, go for walks and take naps. The evenings are for feasting.
The retreat at Villa Pia is all inclusive. You'll have nothing to do except learn, eat, drink, rest and read. We'll be providing breakfast, lunch and dinner and you'll be free to help yourself to fresh fruit, coffee, tea, alcohol and soft drinks.
Villa Pia's chefs prepare delicious local Italian cuisine with the care and attention to detail that Italians are known for. Wherever possible, their ingredients are locally sourced.
Here are some comments from previous retreats:
"I don't think I have spent so much time in the company of so many warm, easygoing souls.  Thank you very much for organising this marvellous week.  You are both the best of hosts."
"The numbers were just right, the people were great, the organisation was spot on and the balance of activity/idle time was just right!"
"It was a great week of rest, relaxation and learning in a perfect setting. Thank you!"
Prices are from £1,199 per person, including all food, drink and classes. Secure your place now with a £500 deposit.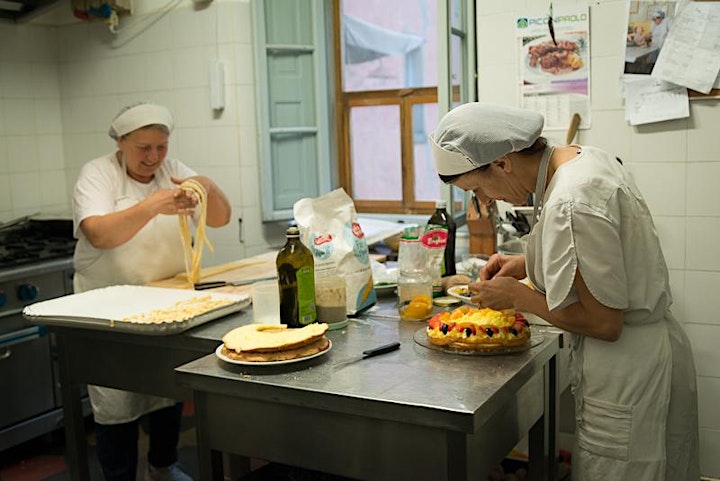 Trips
We'll visit the beautiful hill town of Cortona, birthplace of the great Renaissance painter Luca Signorelli, where we will see some of his finest works, as well as an Annunciation by the early Renaissance master Fra Angelico.
Foraging Walk: rambling through the Umbrian countryside with a local expert, we'll identify and pick wild local food, including mushrooms, berries and many wild salad plants and herbs.
Trip to the medieval town of Monterchi: We'll see Piero della Francesca's Madonna del Parto, the radical painting of a pregnant Madonna. Monterchi is a beautiful two mile walk from Villa Pia. If you'd rather not walk, alternative transport can be arranged.
Optional Extras
Cooking Class. Villa Pia's cooks are local women who learned to cook from their grandmothers. They'll be teaching you to make pasta the traditional way, or to make a dish that you have enjoyed during your stay. We'll finish the class with Prosecco. Price around 20 Euro.
Truffle Hunting. Spend a morning ambling in the woods with a local truffler and his dogs and bring back truffles for dinner. Price around 30 Euro depending on numbers.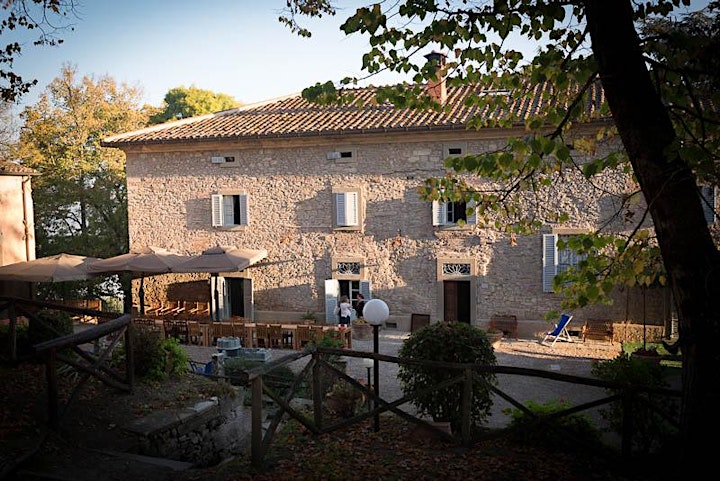 About the Tutors
Idler editor Tom Hodgkinson will lead sessions on idling in Eastern philosophy. Tom will speak on the idling traditions of the East, from Taoism and yogic practices to the work of Lin Yutang and Alan Watts. He'll give two talks on oriental idling through history and one class which will closely study the Lao Tzu, the original Chinese book which introduced the philosophy of wu wei.
Tom is the author of seven books including How to be Idle, How to be Free and a history of the ukulele. He founded the Idler in 1993.
Mark Vernon will teach us about two seminal texts in Eastern philosophy, the Bhagavad Gita and the Chuang Tzu.
Mark will focus his thoughts on two key texts in Eastern philosophy, the Bhagavad Gita and the Chuang Tzu. We will read sections together to let them speak to us, as well as unpack the key insights, practices and ideas that lie behind them. In this way, we will seek something of the spirit of the Eastern approach to life and find something new, whether Indian and Daoist ideas are new to us or not.
Dr Mark Vernon is a broadcaster, author and therapist. Mark runs the ancient and modern philosophy courses at the Idler Academy. He works as a therapist at the Maudsley Hospital in south London. Mark is a wonderful communicator, with a unique ability to speak on difficult subjects with clarity and precision.
Prices
£1,199 per person if sharing a bedroom (with one other person), and a bathroom (shared with one other room)
£1,249 per person sharing a bedroom with en suite bathroom
£1,399 per person, single occupancy if sharing a bathroom
£1,459 per person, single occupancy with en-suite bathroom
A non-refundable deposit of £500 is payable now. The remainder is due a month before the Retreat. Please select the type of room you'd like to book above and pay the £500 deposit via Eventbrite. Email cathleen@idler.co.uk with any queries.
Included:
All tuition, talks, lectures and trips.
Dinner for six nights out of the seven including wine. This leaves one evening free to explore. There are wonderful places to eat and drink in nearby Monterchi and Lippiano.
All breakfasts and lunches plus fruit, coffee, tea, alcohol and soft drinks at any time of the day or night.
Not included:
Flights and transport to Villa Pia. Where possible group transport can be arranged.
Tickets to galleries.
Massage, pilates, and beauty treatments which you can book before, or once you have arrived.
Truffle hunting.
Cookery lesson.
For more information about any part of the holiday please email Cathleen at cathleen@idler.co.uk.
Transport
All being well we can arrange group transport (around 50Euro pp depending on numbers) from Florence airport to Villa Pia for the following flights:
Vueling VY6209, Gatwick to Florence, 9.10am
Vueling, VY6206, Florence to Gatwick, 14.05pm
The nearest airport is Perugia. Florence is an hour away by car. Our nearest station is Arezzo, a short train ride from Florence. Arezzo is only 20 mins from Villa Pia and there are plenty of taxis outside the station, costing approx €50.
Terms and Conditions
If your booking is cancelled less than 8 weeks before the start of your holiday 100% of the total price is forfeited. Please ensure that your travel insurance is arranged at the time of booking.
Holiday Insurance: It is a condition of accepting your booking that you have personal travel insurance, including cancellation insurance for medical reasons, coronavirus, redundancy, jury service etc. for all members of your party. Please note that the use of Villa Pia, its facilities, grounds, and swimming pool are entirely at the user's risk.