Description
Soul food inspired by India and Italy.
Join us for this special evening, which will be all about 'food for good'. A seasonal tasting menu featuring six inventive vegetarian courses will be created by top chefs Alfred Prasad and Antonio Favuzzi at the beautiful L'Anima restaurant. This delicious culinary journey will also include short talks by food personalities, and a fantastic silent auction. 
All proceeds from the event will go towards helping The Akshaya Patra Foundation eradicate classroom hunger in India through the Food For Education Programme. Your ticket will enable us to serve a hot, nourishing and life changing lunch to 10 school children for a whole year!
The Cause: Today Akshaya Patra is the world's largest non-profit school lunch provider, serving wholesome food to over 1.5 million school children across 11 states in India every day. To gain an understanding of our operations and impact, please visit: https://www.youtube.com/watch?v=3D4I07m1L38
If you are unable to join us, please do consider making a donation. Just £10 enables us to provide a freshly cooked school lunch to a child in India every day for an entire year. Select the donation option here on Eventbrite to give a gift of your choice, or text MEALS to 70300 to give £10.
For enquiries, please contact The Akshaya Patra Foundation UK on 020 7422 6612.
The Chefs: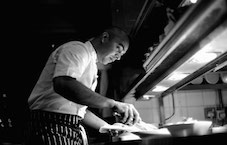 Alfred Prasad: Alfred was born in Wardha (Central India) and lived all over the sub-continent, which expanded his mind to the immense possibilities of eclectic Indian cuisines. As with most chefs, his family played a huge role in his initial culinary orientation. In 2002 he became the youngest Indian chef to earn a Michelin star. As Director Cuisine and Executive Chef of Tamarind Collection, he was the creative energy behind Tamarind (Mayfair and Newport Beach), Imli Street and Zaika of Kensington. He has held the Michelin star for 13 years among several other accolades. He is currently working on his own restaurant and his first book. He is a founding member of JRE (Jeunes Restaurateurs Europe) UK which launched in March 2016. He is passionate about fighting food poverty and food waste, and actively volunteers his time to organisations doing high-impact work in these areas.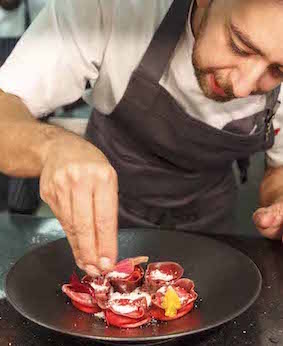 Antonio Favuzzi: True to the Italian tradition, Antonio learnt to cook in his parents' kitchen from an early age and regularly helped his grandmother make fresh, home-made bread, pasta and more. Born in Sassari, Sardinia, he grew up there with his Sicilian mother and Puglian father. After catering college he worked for two seasons at the five-star hotel, Cervo in Sardinia, La Gritta restaurant (1 Michelin star) in Palau, Italy and co-launched Santini restaurant in Milan. His London journey began in 2003 when he began working as Sous Chef at restauranteur Alan Yau's Anda in Marylebone. He had a successful stint at Franco's on Jermyn Street, after which he moved to The Wolseley before becoming Sous Chef at former Corbin & King restaurant, St Alban. In 2008, he was part of the opening team at L'Anima as Sous Chef. In January 2014 he became Head Chef. L'Anima means 'soul' in Italian, and the food that Antonio and his team produce is created with this passion in mind. The high-end menu is reflective of Moorish cuisine, with a focus on Southern, authentic dishes such as Sardinian Fregola, Black Cod, Seafood Malloreddus and Beetroot Tortelli with Smoked Burrata – his Sardinian roots are a notable influence in his cooking and inspire all his menus.