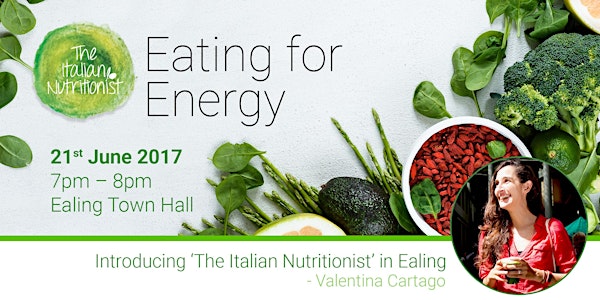 Eating for Energy - with 'The Italian Nutritionist'
Event Information
Location
Ealing Town Hall
New Broadway
London
W5 2BY
United Kingdom
Description
Eating for Energy
Introducing 'The Italian Nutritionist' in Ealing – Valentina Cartago
21st June 7pm – 8pm | Ealing Town Hall
£5 (with a free Cytoplan supplement & goodie bag upon attendance)
Low energy? Stressed out? You aren't alone. Stress is something that, for many of us, has become part of the fabric of 21st century living. Indeed, around 12 million adults in the UK alone visit their GP for stress-related reasons every year. Whether your stress stems from money worries, work life, or family problems, research suggests that it can have a negative impact on mood, sleep, weight and energy levels. This event which will show how nutrition and lifestyle interventions can help your body cope with stress and improve energy levels.
Nutritional therapist Valentina Cartago ('The Italian Nutritionist') and Helen Drake a nutritional therapist for Cytoplan, will host an interactive workshop to demonstrate how you can optimise energy, sleep, mood and stress levels as well as some great food and recipe ideas.
Come along and receive a free Cytoplan supplement & goodie bag!
---
Valentina Cartago
Valentina is a Registered Nutritional Therapist, she trained at The Institute for Optimum Nutrition in London, and is a member of The British Association for Applied Nutrition and Nutritional Therapy (BANT), in addition to being CNHC registered.
She holds one to one consultations at The Optimum Nutrition Clinic in Richmond.
Her passion is brain health, and she is training in Nutrition for Alzheimer's Prevention.
Before turning to nutrition, Valentina had a 20 years' career as an actress, and she is still using her skills in front of the camera on the youtube show 'Tasty Bites', where she is the current Nutritional Therapist.
Helen Drake
Helen joined Cytoplan in June 2016 as Nutritional Therapist based in the South East, she offers tailored expert advice to all Cytoplan customers and support to practitioners and students.
Helen has a BSc (Hons) in Biological Sciences from Lancaster University and a Diploma in Nutritional Therapy from the College of Naturopathic Medicine where she graduated in 2009.
As a BANT and CNHC Registered Nutritional Therapist, Helen has worked in private practice in both South East London and Kent, working with clients suffering from a wide range of conditions including fertility and hormonal imbalances, digestive issues, skin conditions, arthritis and weight management. In September 2012, Helen also became a lecturer at the College of Naturopathic Medicine in both London and Brighton.
Date and time
Location
Ealing Town Hall
New Broadway
London
W5 2BY
United Kingdom