Full Attendance to the 2021 Africa Investments Risk & Compliance Summit: Current Investment Opportunities In Africa
About this event
Africa Investments Risk & Compliance Summit 2021
The 2021 Africa Investments Risk & Compliance Summit is a call to action for African political leaders, policymakers, regulatory authorities, leading bilateral/multilateral development finance institutions; private equity and impact investments funds; banks and other financial institutions to come together reflect on these issues, and share their insights on the prospects of ESG and financial crime compliance in supporting growth and development of the African continent. Our annual summit creates the opportunity for African institutions, regulatory bodies and governments to reposition firmly as vanguards of the policy environment and, in so doing, purposefully change the narratives around investment risk in Africa. This is an opportunity for our attendees to access African expertise and gain clarity on investment risks and mitigations of the African markets.
Keynotes
Keynote address by Special Guest of Honour
H.E. Nana Addo Dankwa Akufo-Addo, President of the Republic of Ghana
Keynote Panel – Current Investment Opportunities In Africa
Discussions on this panel shall highlight the current investment opportunities and trends in the different sectors and countries, respectively. The Covid-19 pandemic has dealt a severe blow to certain industries while others have been strengthened; similarly, some countries on the continent have weathered it relatively well while others continue to struggle. Investors want to understand these trends. Therefore, this panel shall consider critical questions on where to invest, how to invest and factors to consider when making investments.
Panels
Panel 1 - Current Financial Crime Compliance Trends In Africa Since Covid-19 And How To Mitigate Them
Discussions on this panel shall highlight the current trends in financial crime compliance, regulatory changes due to COVID-19 and the role technology has played in managing financial crime risk due since the start of the COVID-19 pandemic. The panel will also focus on data sharing for identity verification, public-private partnerships to tackle terrorism financing, organised crime, and money laundering.
Panel 2 - What Correspondent Banks Must Do Post Covid-19 To Avoid Being De-Risked
The rapid uptake of many digital services, including in correspondent banking, has amplified risks, and the pandemic also has complicated politics and international relations in ways that are going to have consequences for financial crime compliance (FCC). This panel will discuss what banks must do to mitigate the risk of being de-risked.
Panel 3 - The Role Regulators Are Currently Playing In Ensuring The Threats Posed By Money Laundering (ML) And Terrorist Financing (TF) Are Effectively Addressed.
This panel will shine a light on some of the great work African regulators are doing in the fight against ML/TF and the impact on the economic growth. The discussion should provide answers to common questions that foreign investors may have and provide solutions that they can incorporate into their compliance programmes as they pursue their investment proposition.
Panel 4 - How Important Is ESG For Africa And How Ready Is Africa In Implementing ESG Principles and What Are The Key Compliance Issues To Consider In ESG Investment In Africa, And What Mechanisms Can Organisations Put In Place To Assess Them?
This panel will focus on what Africa is doing in the ESG space and where it needs to be for growth. For example, the importance of ESG on the African continent and who the drivers of ESG investments coming to Africa are (incl. start-ups), and also how African businesses can incorporate a robust ESG framework into their operations at a cost that is not prohibitive. The following questions will be discussed: What instruments and institutions are responsible for the measurement and reporting of these ESG standards and what lessons do they have for firms on the continent; what role are governments and multilateral institutions on the African continent playing to leverage ESG investments for the long-term sustainable development of the African continent; which governments are working closely with the private sector to address challenges across sectors; which companies are a good model for green investments and environmentally friendly operations?
Panel 5 - Benefiting from African Diasporas; The Role They Can Play In Driving Investment Flow Into Africa
This panel will analyse the main channels through which the African Diaspora can influence economic development in Africa and how their full participation can be effectively facilitated.
Panel 6 - Future preparation - How Do Sustainable Investments Support Africa's Long-Term Growth and Development
ESG data issues: How can investors manage data gaps? This relates to the future opportunities and the growth both in ESG topics, sustainability and opportunities for African companies.
Recap and Vote of Thanks
For more information about the EBII Africa Investment Risk & Compliance Summit visit https://www.ebiigroup.com/africa-summit/programme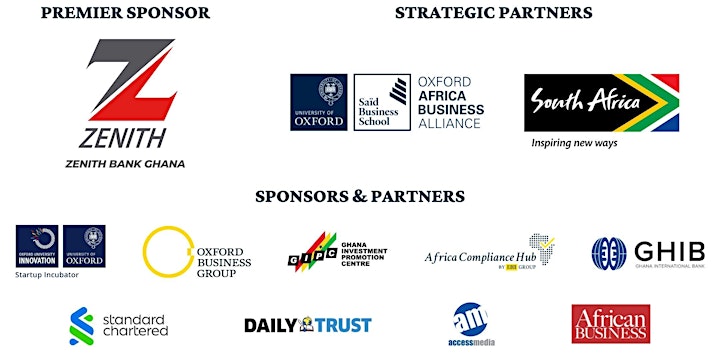 Date and time
Location
Refund policy
Organiser of EBII Africa Investments Risk & Compliance Summit 2021