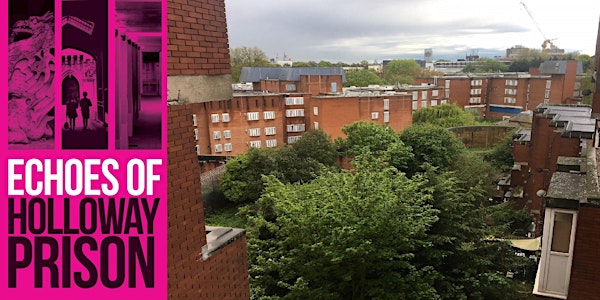 Echoes of Holloway Prison: Discover Stories from Behind the Walls
Location
Islington West Library
107 Bridgeman Road
London
N1 1BD
United Kingdom
Description
Our Echoes of Holloway Prison project is coming to an end. Join us as we share stories from behind the walls. This day is for everyone who would like to know more about Holloway Prison and learn about our project. All welcome!
On the day, we will:
Hear the stories of women held at the prison

Learn about the history of the prison

Explore our pop-up exhibition including films, oral histories, objects, photographs and music from the project

Have a chance to reflect on what Holloway Prison meant and what will happen next


Time-table for the day:
10 to 10:30 - Welcome to the Day, Tea & Coffee
Welcoming everyone to the event and introducing our project
10:30 to 11:00 -Echoes of Holloway Prison Film Showing
Showing the films produced during our project
11:00 to 12:30 -Former Prisoners of Holloway Prison Sharing Session
Introducing the stories of women held at Holloway Prison.
Including:
Personal testimony from a former prisoner

A film by Erika Flowers of the postcards she drew during her sentence

Clips of oral history and a film produced using the oral histories from the project
Followed by discussion about these stories.

12:30 to 13:30 - Lunch will be provided. Please let us know if you have specific needs.
13:30 to 13:40- Welcome to the second half of the day
13:30 to 15:30- Exploration of the Project
This is the chance for everyone to explore our project, talk to people who have worked at or know about the prison and share their personal experiences. Read our pop-up exhibition, listen to oral histories from the project and look at photographs of the prison. We will also have project outputs including songs written by our artist in residence and a film about the work we did with young people about the prison available for you to see. You will have the chance to talk to people with lived experience of the prison and ask questions.
15:30 to 16:15 -Final Reflections and Discussion
We will invite those who have spoken during the day to be part of a panel discussion with questions from the audience reflecting on the project, Holloway Prison and its closure.
16:15 to 16:30 -Thanks and closing statements
Evaluation
Our Project
Until summer 2016 Holloway Prison was the largest women's prison in Britain. Many well-known prisoners have passed through the prison since it opened in 1852, but there remain diverse voices unknown and unrecorded. Echoes of Holloway Prison has been a year-long project to record, explore and understand these stories. Find out more on our website.