Great Green Creative Industries, 21st of April with overview of ECIS Program, Speakers and Break out Sessions for this year.
About this event
This year's #ECIS22 GREEN Conference stands for the re-imagination, re-focusing and re-framing of policies for the cultural creative sectors and industries (CCSI). The CCSIs are known for its potential of cross-sectorial innovations and the capacity to help other enterprises to manage change. In recent decades, European creative entrepreneurs have demonstrated their direct and indirect impact not only on the economy, but also on urban development, social cohesion, external relations, integration and social change. Today, the overarching paradigm for economic development and social relevance is measured by CCSI's contribution to the Green Deal and theCircular Economy. The guiding question for the next decade will be:
How can CCSI contribute to the race to zero emissions and make Europe the first climate-neutral continent?*
AGENDA
Conference starts at 10.00 CET
09.00 Door Open / Zoom open for informal networking
09.45 Welcome
Bernd Fesel, ECBN Director
Gerin Trautenberger, ECBN Board and KAT President
10.00 Policy Forum
Ursula von der Leyen, President of the European Commission
Mariya Gabriel, Commissioner for Innovation, Research, Culture, Education and Youth
Mgr. Martin Baxa, Minister of Culture, Czech Republic
Dr. Christian Ehler, MEP
11.00 Stakeholder Forum
Michela Magas, Chair Industry Commons Foundation, Stockholm
Mathias Rauch, Director European Research Area Fraunhofer-Gesellschaft
Alison Tickell, Director Julie´s Bicycle, London
Prof. David Crombie, HKU University of the Arts, Utrecht
11.45 Debate and Q&As with speakers and audience in parallel Breakout Room
12.30 The Next Renaissance - Book Launch
Panel Radio-Interview Style, Moderation: Paolo Montemurro
Bernd Fesel, ICE Consortium
Laure Kaltenbach, Creative Tech, Paris
Alejandra Panighi, MediaPro, Barcelona
Matthias Hauser, Media Solution Centre, German High Computing Centre, Stuttgart
Charles Landry, Creative Bureaucracy, Falling Walls, Berlin
Alexandre Menais, ATOS, Paris
Georg Sedlbauer, MMag, Vienna Business Agency
13.15 Concluding Words
Caroline Norbury and Michal Hladky, ECBN Chairs
13.30 End of Assembly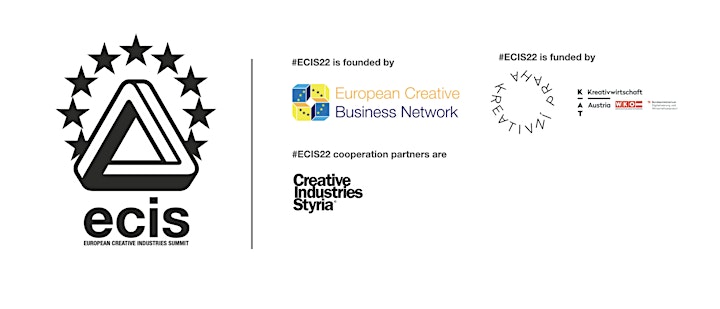 This year's European Creative Industries Summit (#ECIS22) "GREEN" is a collaborative event of the European Creative Business Network (ECBN) and Creative Prague. The #ECIS22 consists of four parts and starts with the ECIS Assembly on April 21, the United Nations Day for Creativity and Innovation and is organized under the auspices of the Czech EU Presidency 2022.
For more information please visit our webpage: www.ecis22.ecbnetwork.eu