Eclectic Music Sundays live from Mothership Studios
About this event
Hailing all eclectic music lovers from the Mothership!
We have 5 hours of fantastic music plus interviews, chat and videos - A perfect Sunday afternoon to watch, listen and chat on
or just listen on
12 NOON girl in a gale - live streams her legendary two hour improvised techno brunch from Ely
2PM we have chat and videos from the Mothership Collective - featuring some of the finest eclectic music makers from East Anglia and beyondVideo show and chat …
2 PM girl in a gale (chat)
2.15 Tel's Aloud
2.30 Jan Pulsford
2.45 Tristan Burfield
3.00 Nick Nicholson
3.15 Carter takes a train
3.30 Slow Down Missy
3.45 Jahbang
4 PM Phil Jackson
4.15 Escape Pods
4.30 Night Passenger
4.45 Hardwired
5.00 see you down the virtual pub
Cheers!
The Mothership
Keeping music alive in the lockdown and beyond . . .
If you'd like to perform do get in touch - we hold these events on the second Sunday of each month and all kinds of music/video/spoken word is welcome.
Watch this space …. http://mothershipstudios.info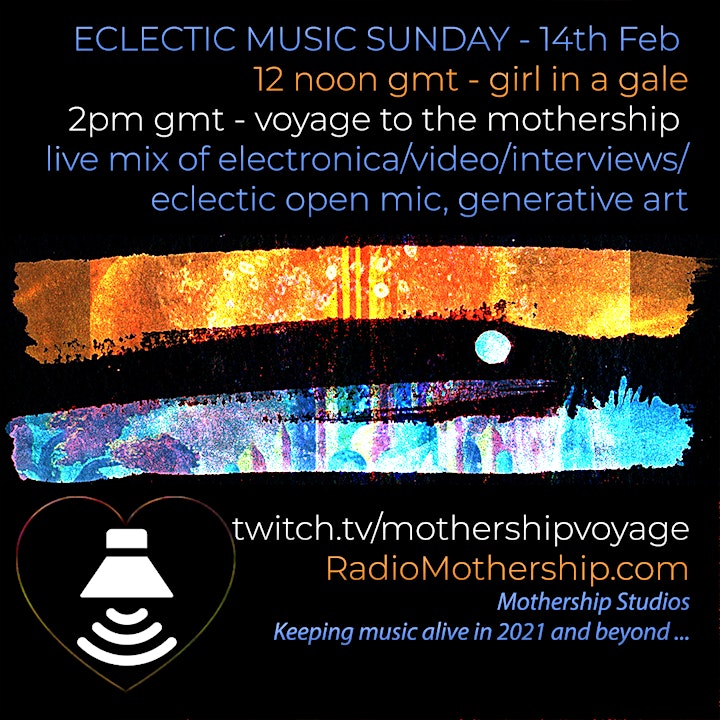 Organiser of Eclectic Music Sunday
The term 'Spirit of Place' refers to the unique, distinctive and cherished aspects of an area, celebrated by artists, musicians and poets with festivals and gatherings.
Sadly, most events were cancelled in 2020 because of COVID-19 restrictions.
We are hosting a series of 7 Sunday afternoon events entitled 'Spirit of Place', June -November 2021, with live Music, Words, Film and Art Installations.
The first 5 events will be held outside under Marquees at the Angel, Theatre St.
Aimed at raising the Spirit of the local and creative community plus a far-reaching online audience, the series will provide a welcome post-virus respite.
Thanks to our sponsors The Arts Council, Mothership Studios, SilkRose Suffolk, Claudia Myatt illustrations, Living in Suffolk Magazine, 5 Angel Lane, 5thWoodbridge Sea Scouts, Angel Woodbridge, East Suffolk Council, Choose Woodbridge et al
http://spiritofwoodbridge.com
http://facebook.com/spiritofwoodbridge