About this Event
Eco-homes' expert panel and local residents talk about practical ways to green your house. Followed by Q and A session.
Register now! Practical ideas. Solar panels/thermal, heat pumps, insulation, Green Home grants and more!
We hear a lot about various measures to green our homes..but what do they actually mean - in practical terms. Suitable for specialists and beginners, and everyone interested in how they can reduce carbon emissions in their houses or business buildings.
Opportunity to put your questions to the experts on how to make your home more environmentally friendly...questions about cost, pay-back, disruption, technical issues, and practical advice...?
Expert panel:
- Andy Tunstall from The Green Group - on the St Albans Solar Streets initiative - 25% discount on solar panels for residents and local businesses across St Albans, Harpenden and the villages.
- Giles Hanford - from the Small Solar Company - on solar thermal and the government's new Green Homes' grants.
- Tomas Larsson - Director & Founder of Better Planet– Expert in designing high efficiency systems, helping homes move away from fossil fuel.
- Dr Peter L. Block - local St Albans resident Peter has been passionate about renewable and sustainable energy since it was called alternative energy.
- Linda Shall - local resident and proud inhabitant of a Passivhaus Plus, that she commissioned, together with her husband, and moved into just before lockdown.
Submit Your Questions
It would be great to have some of your questions before - hand. Please email us at info@sustainablestalbans.org with any questions and queries you have for the panel. Please put 'Eco Homes Question' in the subject heading of the email.
You can also ask questions on the night!
Register Now!
Once you register you will get the zoom log-in details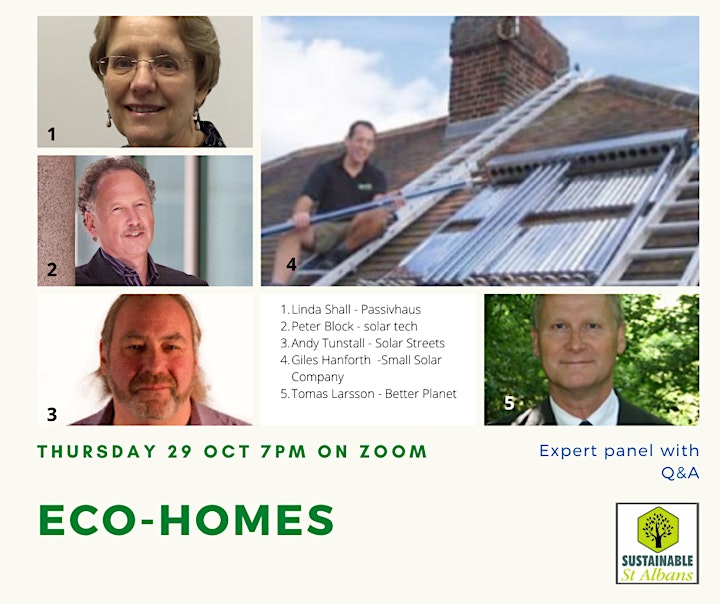 More information about the panel
After 30 years in the utility industries, oil, water and energy in mainly sales, marketing & strategy roles, Andy decided to start his own businesses with his wife, Cat Noble, including an interest in Renewable Energy - The Green Group UK, Limited.  To expand his knowledge in this sector he studied for an MSc in Renewable Energy at the University of Reading.
As well as some environmental consulting, The Green Group is mainly a sales & marketing business and its main client is IDDEA Renewable Energy who invented the Solar Streets scheme.  The Green Group works with the council and local green groups to produce the marketing plan that attracts people into the Solar Streets scheme which offers discounted solar PV panels with a community donation angle.  The Green Group has launched Solar Streets in St Albans and Henley on Thames and is working on many other towns.
"We are a Microgeneration certification scheme registered independent solar installation and repair company based in St Albans. We offer a friendly, professional installation service without the usual hefty mark-ups and pressure sales. We believe this technology is part of the future of domestic energy and wish to share our enthusiasm."
Better Planet was founded in 2004 with a vision to make it easier and more affordable to use renewable alternatives for heating and electricity.
Since then, we have successfully delivered several thousands of installations.We are the market leader for design and installation of ground source heat pump systems in the South East of England, but we also do water source, air source and exhaust air heat pumps.
Linda Shall - Passivhaus Plus
Linda and her husband David, commissioned the build of a Passivhaus Plus that they moved into just before lockdown.  Their home benefits from self-selected and controlled, even temperatures throughout; no cold corners and draught-proof windows and doors; maximum, self-set internal temperatures during hot spells; fresh, filtered, pollution-free air; reduced noise transfer from outside due to triple-glazed windows and thick wall insulation; mainly off-grid electric power; abundant, soft rainwater to flush their toilets and feed the washing machine; and vastly reduced bills for power and water services.
Dr Peter L. Block - local resident
Peter has been passionate about renewable and sustainable energy since it was called alternative energy. He built one of the first solar thermal panels in the UK at Hatfield Poly much to the bemusement of many visitors. Hot water from four old radiators painted black under glass on the roof of the engineering building. He went onto to design a solar thermal heat pump but the technology wasn't available to make the system viable. He was an early adopter of a 4 Kw solar panel system and had the Small Solar Company install a novel solar thermal system linked to the existing hot water tank. Between them these systems reduced the household's grid energy consumption by between 30% - 40%.
Last year Peter was one of the repair workshop team as part of the Sustainable Festival. He occasionally writes about repairing, restoring and designing items on his blog:- https://gettingstufftowork.wordpress.com/