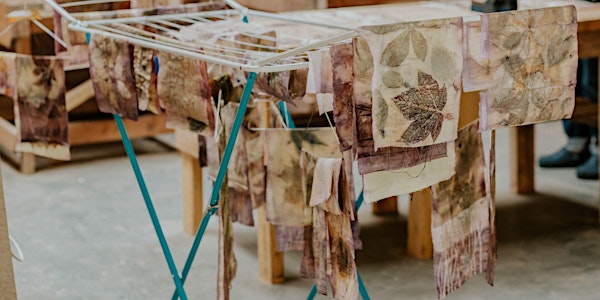 Eco Print your Scottish leaves on Silk Week end workshop
Spend a week end in my lovely West end of Glasgow based studio learning the ropes of Eco Printing on Silk. From preps to Scarf printing
About this event
You will spend two days in my lovely West end of Glasgow based studio learning the ropes of Eco Printing on Silk.
We will learn to select and prepare our material and the basics of Printing with leaves. We will tackle simple natural dyes and learn to create coloured back ground for our print by pre-dyeing as well as via blanket work where the print and the coloured background are created in the one session.
We will trouble shoot and learn to work with simple, readily available dyes and leaves as well as work with more sophisticated dyes like the exciting Sapanwood I bring back from my travels in Asia.
You will learn with new knowledge to explore further, some samples to take home and one to two scarfs to wear and love for years to come.
The material used on the day is very suitable for textile art if scarves are not your thing...
All material (including one 35 cms x 150 cms silk scarf) is included in the price of the course
My studio is located in the West end of Glasgow easily accessible from the M8 but also from local public transport (from main train station/bus station). Parking is plentiful but metered.
This workshop is perfect wether you are a total beginner or a more advanced printer. It is not suitable for children.
Please note my studio is based in our lower old Victorian kitchen and you need to walk down our stairs. The location is not suitable if you have access issues.
Read about my Eco Work on my blog www.thelansdownehouseofstencils.com
Contact me for any questions bettysbeautifullife@gmail.com
There will be no refund for this workshop, in exceptional circumstances I will try and resell your ticket and when successful I will refund the whole fee back to you. You may share your ticket with a friend if you are unable to attend but you may not make a profit on the price. In very exceptional circumstances and at my entire discretion I will offer you a space on a future workshop should you not be able to attend this one for health reasons.