Ecosystems and biodiversity, science based policies in European Green Deal
CALL FOR PARTNERS - Matchmaking session
About this event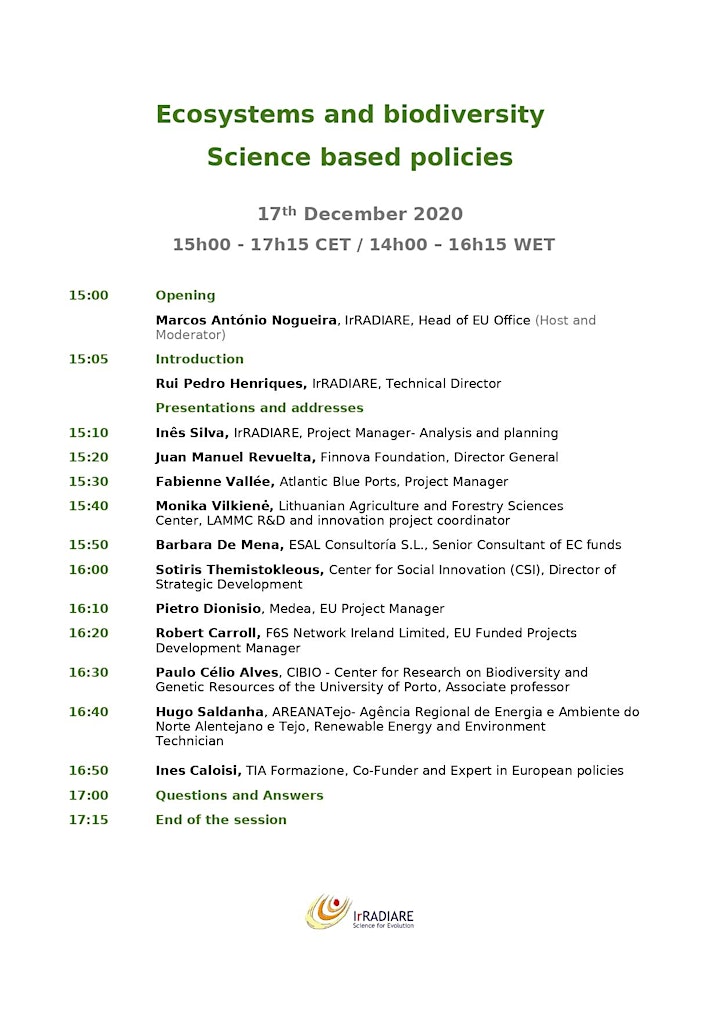 This is a matchmaking events for facilitating consortium building for H2020-European Green Deal call for proposals (deadline Jan.26th).
The event will be held on December 17th, 2020 and it is intended to present best practices coming from all our Europe to show the actual impact investment in nature restoration can have to face the world's current overlapping crisis. The event will also focus on the European Biodiversity strategy, a brainstorming session will address the importance to design a tailored maid Biodiversity strategy at local level. 
This event topic also includes Science-based policies, on which interested partners may present a case-study related to the their city .
Achieving European Green Deal's bold targets is likely to require scientific expertise from many different scientific areas. This Science based policies in the European Green Deal aims to discuss the most effective ways to integrate new research results into the EGD. This virtual gathering will bring scientists and policymakers together to discuss how the sciences can support the EU Green Deal and ensure that its ambitious biodiversity and zero-pollution targets are reached.
Policymakers and scientists will discuss the role that scientists should play in the EU Green Deal and where research is most needed.
- When and where -
December 17th, 2020, 15:00- 17:15 CET
The session will be held on ZOOM platform. Link will be shared with all participants registered.
See you online!
Organiser of Ecosystems and biodiversity, science based policies in European Green Deal