EcoTantra™ Retreat – Nature - Love - Spirit / Portugal, September 12-19th,...
Description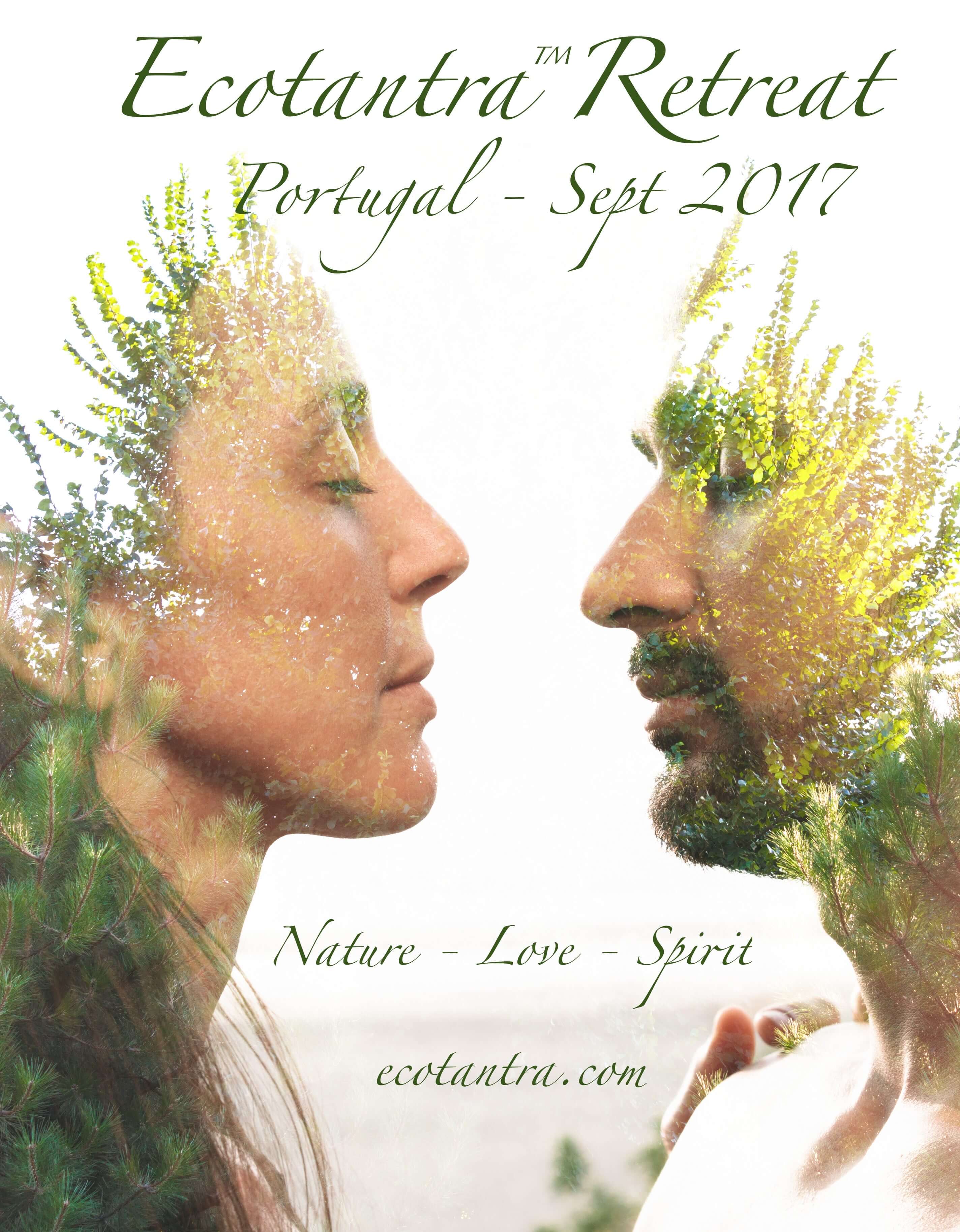 EcoTantra™ Retreat – Portugal, September 12-19th, 2017
Nature – Love – Spirit
Ecotantra™- the Healing and Initiation retreat
This 7-day eco Tantric journey is an invitation to the profound affirmation of your natural sexuality. Learn to honour your personal boundaries, learn to enjoy your desire for intimate contact, and to communicate both with authenticity. Become more grounded and vital, more sensual and more connected with your feelings and your heart.
This 7-day process is an invitation to experience new levels of intimacy, trust and connection. It is designed to encourage and guide you into the rich experience of being fully in touch with yourself, with others and with Nature.
You will meet and connect with others in a safe and nourishing space where you can relax into discovering your way of being intimate as man or woman. You will be supported to keep opening your heart and to say a deeper and softer yes to who you are.
The aim of the Ecotantra™ retreat is to give you a space where you can grow into celebrating your natural, healthy sexuality with ease, tenderness, integrity and joy.
Where: A rural retreat centre in Portugal, 1 hour from Faro airport. The option of camping is available to keep the cost down. Also, there is an under 40's discount.
When: September 12th-19th (Portugal is still very warm in September 25-28 degrees!)
How much? Normally Tantra courses are out of the price range for a lot of younger people. Often because they are set in expensive retreat centres that can sometimes, double or even triple the cost of the retreat itself. With this retreat, we have provided an affordable option for camping and shared accommodation to make this work accessible.
Our aim with EcoTantra is to make this work, affordable and down-to-earth. We feel the world needs this work and want to offer it as cost effective as possible without diminishing it's worth.
Price includes: food (vegetarian) and accommodation (camping) plus the 7-day course:
Super Earlybird – if booked by August 1st 2017
Earlybird – if booked by August 31st 2017 – Normal price after.
Camping – Super Earlybird under 40's – £360

Camping – Super Earlybird over 40 – £460

Camping – Earlybird under 40's – £410

Camping – Earlybird over 40 – £510

Camping – Regular price – £610
For shared rooms, indoors add £70.
For couples: there is a choice of Yurt, Forest Cabin, Sahara Tent
Facilitated by Seth Newman.
Seth is a certified Art of Being© teacher, Certificate in the therapeutic use of the arts (IATE), a graduate of the Humanistic Alchemy facilitator training (the Open Centre) and founder of the URUBU School of Transformational Arts
Seth is also graduate of a number of Tantra trainings including: Jewels Wingfield's 1 year "Deep Diving" and Jan Day's 18 month "Living Tantra" training, and is endorsed by Jan to teach. He has trained with and assisted Jan for the last 7 years on numberous Tantra courses and brings his unique approach to this work. His background is in Body Psychotherapy, Humanistic Personal Growthwork, Bioenergetics and Ecstatic Dance.
Feedback from Tantra groups led by Seth:
"At the end of the group, I feel a greater sense of my own identity. I feel accepted. During the course, I have taken risks with emotional connections. I found people exceptionally loving and supportive and tolerant. It gave me great strength and confidence." E
"I want to thank you all for being part of my journey. I've really enjoyed sharing my time and space with you and feeling that connection – I can still feel it. I think I'll always remember "meeting" people in such an intimate way, trusting and loving and sharing." J
"Thank you, Seth, for your facilitation of a very grounding and loving EcoTantra group. I have done quite a few tantric events, but Seth's was different and special for me. We grew in trust and friendship, together.
When I think back over the highlights, it was the music and dancing, the open circles and all the sharing closeness and humour. I grew to love all of you. The regularity and certainty that we would meet was comforting and helped to create the tenderness and depth of spirit. It was fun and safe. It was a soft and gentle process and it was perfect. I felt safe." A
*Please note we reserve the right to cancel any booking as we will need to make sure we have a gender balanced group.