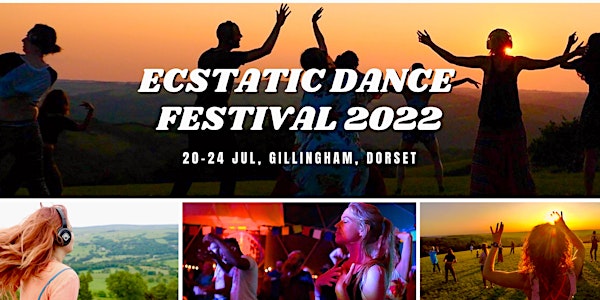 Ecstatic Dance Festival® 2022 - Conscious Dance, Music and Healthy Living
Location
ECSTATIC DANCE FESTIVAL® 2022
(Exact address provided in the festival description)
Gillingham
SP8 4RE
United Kingdom
Join us for ecstatic experiences - dance, live music, meditations, singing, drumming, sauna, fire, massages, hammocks, cacao and much more!
About this event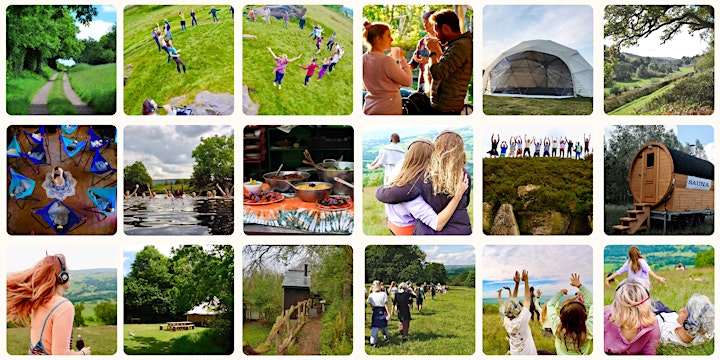 ECSTATIC DANCE FESTIVAL® 2022
Find your path. Unlock your potential. Learn. Explore. Create.
~ WHEN? July 20-24th, 2022
~ WHERE? Gillingham, North Dorset
This is a wonderful invitation to get your dancing feet ready! Our very own festival devoted to Ecstatic Dance, movement and holistic wellbeing! No experience required to join the festival. All welcome! We invite you to co-create this unique experience of togetherness with us! Attune to Nature, Dance on the Earth and beneath the Summer Sky. A transformational adventure!
Get your camping gear ready & join fellow conscious dance, music, nature and healthy living enthusiasts! Our intention is to help spread inner peace, joy, relaxation and, a kind-hearted soul connection with Nature and your wider circle.
💙RSVP and invite your friends on Facebook: https://www.facebook.com/events/1203234123544876
WHAT TO EXPECT?
Beautiful dance and workshop spaces with great sound systems including 2 indoor spaces, large Marquee, large Geo Dome, plus dancing outdoors and around the campfire (we will also have Silent Disco Headphone outdoor dances!)
Great Ecstatic Dance DJ's and daily Live Music with the amazing URUBU Collective (Alua, Jansen, Carl & Seth)
MVMNT Drum & Bass & Breakbeat sessions with James Blowfelt and his powerful sound system!
A variety of Transformational Embodiment, Wellbeing, Movement and Ecstatic Dance workshops with different facilitators (Active Meditations, Yoga, Breathwork, Bioenergetics, Playfulness, Connection, Intimacy, Conscious Touch, Hugging, Drumming, Singing, Cacao Ceremonies, Sound Journeys, Hammocks , Contact Impro, Authentic Movement, Ecstatic Dance and much more!)
Alcohol and drug-free environment
Delicious vegetarian meals
Indoor Cafe (for coffee and cake)
Hangout on the sofas
Campfire & Storytelling, Singing
Saunas at lunchtime & evenings
Swimming in the nearby river
Beautiful nature walks
Camping (bring your own camping gear), Campervan (stay in your own campervan) or Indoor Accommodation (limited availability)
Facilities: Shower & Toilet block with hot running water, covered indoor/outdoor dining areas, tea/coffee available at any time, coffee/cake shop, phone charging station, 2 indoor workshop/dance spaces + large Marque, large Geo Dome and plenty of outdoor space for outdoor activities (slacklining, frisbee etc) and camping!
Photos/Videos: We live in the age of social media and so to capture our alcohol and drug free festival, we want to share to the world that we can have a great time without intoxicants. We will be photographing and videoing this festival. We thank you in advance for accepting this fact, and ask please not to attend if you're not happy being captured. Kevin, our amazing videographer, will of course be sensitive, and will only use the best shots of you.
♥ EXAMPLE DAILY *SCHEDULE
7:30 AM – 9:00 AM Good Morning Meditation/ Yoga/Singing Circle
9:00 AM – 10:00 AM Yummy Breakfast
10:00 AM - 10:30 AM Free time
10:30 AM – 1:30 PM Morning Workshops/Ecstatic Dance
1:30 PM – 2:30 PM Magnificent Lunch
2:30 PM – 6:00 PM Free time/ Sauna/ Nature Walk / Massages/ Relaxation/ Yoga/ Workshops
6:00 PM – 7:00 PM Delicious Dinner
7:00PM - 8:00 PM Free time
8:00 PM – 10:00 PM Evening Workshops/Ecstatic Dance
10:00 PM – 11:30 PM Campfire/ Singing/ Drumming/ Sauna
*PLEASE NOTE: there will be few different workshop/dance spaces and schedules, this is just an example schedule, all workshops and timings might change slightly as as want to offer some flexibility with the schedule during the festival.
DJ'S/ FACILITATORS/ MUSICIANS (Full line-up TBC)
We are super excited about our confirmed line-up of wonderful Dj's, facilitators & musicians to co-create this amazing festival with us! Our intention is to make this a really beautiful gathering and hopefully the first one of many so we are really happy to welcome them to the Ecstatic Dance Festival team! Full bio's and details of all workshops -please scroll down the page.
-Ecstatic Dance DJ's: OSARA, Mixwell, Annalisa, Brailla May, Tara, Jane, Seth, James Blowfelt, Jan-Michael, Liath
-Facilitators: Dominik Schnell, Ailon Freedman, Julia Samel, Richard Parker, Seth Newman, Georgie Hare, Emilia Gzyl, Nina Z
-Musicians: Alua, Jansen, Carl, Seth (URUBU Collective), Scott & Maria, Omnivibes, Diana, Mystery School of Sound (Paul & Mark)
-Festival Organizers & Hosts: Seth Newman & Diana Upite
BELOW IS VIDEO OF OUR 2019 ECSTATIC DANCE FESTIVAL® IN PORTUGAL!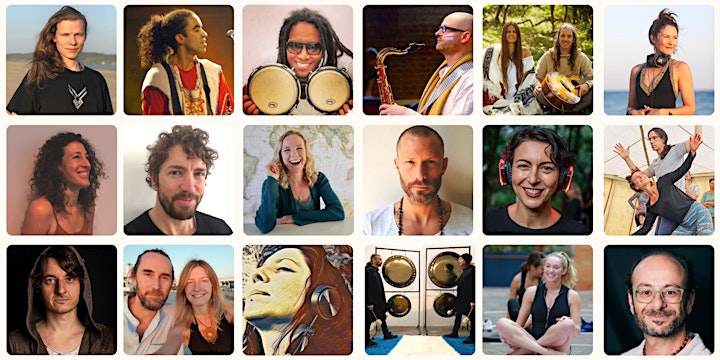 WHAT IS THE ECSTATIC DANCE FESTIVAL ABOUT:
Ecstatic Dance Festival® is an invitation to awaken the dancer within! Dance to feel alive, find your creativity and freedom through conscious dance!
An experiential playground for co-creating transformational experiences through dance and other movement and embodiment practices
It is full of Life-affirming transformational workshops beyond the old Drug and Alcohol paradigm
Live music with outstanding musicians
Connection with ourselves and our bodies explored through a cross-section of approaches.
Learn powerful exercises for grounding, releasing fear/stress/ tension/ trauma from the body and developing deeper presence and body awareness.
Explore as individuals and a group, a wide variety of ecstatic dance and active meditation processes.
Using music, movement, ritual, and connection to achieve a unified field of being.
Rest, Relax & Rejuvenate
Attune to Nature and the living environment, release stress and come home to your Ecstatic-Self!
Experiential not-to-be-missed festival!
Whether you are looking for a way to better deal with the everyday stresses of life, get away from the City life and connect to Nature or whether you just simply want to try new body-mind based exercises, dance & laugh, meet and connect with new people, relax in the sauna, we invite you to explore the tools & practices during this deep dive of 4 days or day/weekend and discover positive benefits for yourself.
BELOW IS THE VIDEO OF OUR ECSTATIC CAMPOUT IN UK 2020.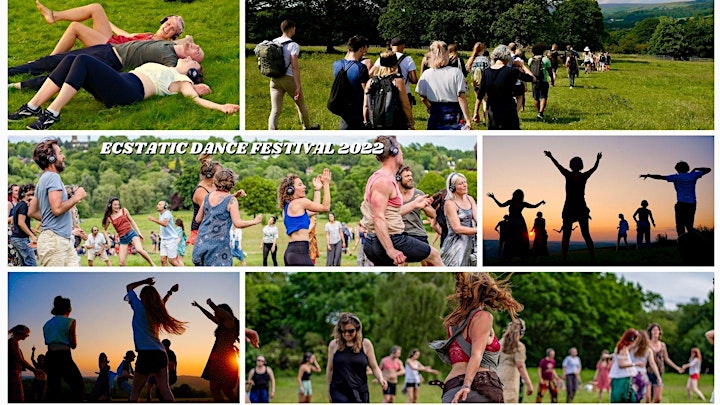 <<<<<*~ PRACTICAL INFORMATION ~*>>>>>
PRICES: Included in the price: All workshops, 4x nights camping with own gear, 3 vegetarian meals per day (12 meals in total), teas/coffees, lunchtime & evening sauna sessions.
-REGULAR £360 + £8.64 fee (or pay 2 instalments of £180 balance due by 20 June we will send a second instalment payment link via Eventbrite on 19 June)
FACILITATORS/DJ'S/MUSICIANS: If you are interested in sharing your skills at the festival please get in touch: youareyoubeyou@gmail.com
HELPER TICKETS: Limited availability! Please complete the crew sign up form and we will get in touch to discuss the helper ticket deal: https://forms.gle/uXVr8kK9Eos7hjbK6
CAMPING: Please bring your own camping gear: tent, mattress, sleeping bag or duvet, pillow, extra blanket etc. If coming by car, there is car park on site.
CAMPERVAN SPACES - LIMITED AVAILABILITY: (CURRENTLY SOLD OUT) Extra charge £40 for 4 nights if you are coming with your own campervan/live in vehicle. Hook-up is also available for an additional cost of £12 for 4 nights if needed. Please select appropriate ticket.
INDOOR ACCOMMODATION - LIMITED AVAILABILITY: (CURRENTLY SOLD OUT!) There is very limited indoor accommodation for an additional price. If you would like to join the waiting list (not guaranteed!!) for the indoor accommodation (dormitory/private room/private room for a couple) please let us know when completing the order form on Eventbrite and we will contact you at least 30 days prior to the festival start with available accommodation options and booking links if any available. -Dorms £40 for 4 nights, -Private room large £180 for 4 nights, -Private room in mobile home £140 for 4 nights, -Private small room in mobile home £100 for 4 nights.
NEARBY ACCOMODATION: Please check local Airbnb options if you prefer.
LIFT SHARES/TRAINS: Attendees will receive a link to a WhatsApp group to arrange lift shares and train journeys. Link will be sent at the beginning of June. Group discount applies on trains if travelling in a group of 3 or more, please check https://www.thetrainline.com for train tickets and train schedule. Nearest train station Gillingham, Dorset. There are local taxi services and we will send a list in June with contact details to all participants. One way journey from station to venue will cost under £10. We do encourage car & taxi sharing if possible as it's more eco friendly.
CAR PARK ON SITE: there is a car park available on site free of charge to all festival attendees. As much as possible, please arrange car shares to limit the carbon footprint and reduce the amount of cars on site. There will be wheelbarrows available to transport your camping gear etc to the camping fields and everything is located short walking distance.
PAYMENT: Limited spaces & ticket availability once regular ticket sales open on 31 March. We have set a donation option to reduce your ticket fee cost. Please enter amount to purchase your ticket. Any tickets booked below the indicated donation amount will be refunded immediately. 1 ticket per transaction please. Limited spaces & ticket availability.
EVENTBRITE ORDER CONFIRMATION: Email might be in the spam folder. Please check. Do not print any paper tickets, we will check you in by your name.
CANCELLATION POLICY: All tickets are non-refundable.
VENUE:
Festival site is located 10 minute drive by car from Gillingham train station in North Dorset
ADDRESS: Osho Leela Personal Development Centre, Thorngrove House, Common Mead Ln, Gillingham SP8 4RE
DIRECTIONS AND HOW TO GET THERE: https://osholeela.uk/getting-here/
WHEN: Wed 20 July - Sun, 24 July. Come along for all 4 days to get the most out of the experience! We might also release weekend tickets closer to the festival start date.
ARRIVAL & DEPARTURE: We ask participants to arrive between 4-6pm on the first day to allow time to check-in, set up tents, explore the grounds and settle in before we start. Festival will start with dinner at 6:30pm followed by a welcome session from 8pm. The festival will end at 2:30pm after lunch on the last day and there will be plenty of time to pack down tents and depart. Please do not leave before the end of the festival.
FACILITIES: Shower & Toilet block with hot running water, covered indoor/outdoor dining areas, tea/coffee available at any time, coffee/cake shop, phone charging station, 2 indoor workshop/dance spaces + large Marque, large Geo Dome and plenty of outdoor space for outdoor activities (slacklining, frisbee etc) and camping as well as a relaxing set up to enjoy sauna/ outdoor showers or relaxing in hammocks.
MASSAGES: Available for additional cost, card payments will be accepted. More details and sign up at the festival.
FOOD: All meals are included (3 meals per day, total 12 meals). Venue runs a vegetarian/vegan kitchen and does its best to meet the most common food requirements for guests such as gluten free/ lactose free/ vegan and all dishes will be clearly labelled. Venue might not be able to cater for other special diets. Please complete dietary requirement section in the Eventbrite booking form. They try to source their ingredients, either from their veg garden or from local sources. Very delicious meals! All utensils are provided however you are welcome to bring your own if you wish to. Teas/Coffees available at anytime with a selection of alternative milks. Filtered drinking water also available to refill your water bottles.
WHAT TO BRING:
We encourage all participants to have a Digital Detox during the festival. There will be a secure place for everyone to leave their phones. Maybe bring a simple alarm clock so you can wake up for morning activities.
-Camping gear (tent, pegs, mattress, sleeping bag or duvet, pillow, extra blanket, hot water bottle etc.)
-Camping chair if you have one (more comfortable for sitting around the fire)
-Reusable water bottle
-Yoga Mat & blanket
-Coffee & Cafetiere for coffee lovers (venue has limited cafetiere's so please bring your own if you have one)
-Torch (head torches are really useful)
-Lights to put inside the tent or around (solar powered or with batteries are a great option)
-Clothing in layers suitable for movement/ dancing
-Clothing & boots/shoes suitable for hiking/ outdoors
-Waterproofs or umbrella in case of rain
-Warm jacket or jumper for evenings as temperature will drop during the night
-Swimsuit/ swim shorts for sunbathing, sauna & river swims
-Towel, extra towels for sunbathing & sauna
-Ear-plugs (if you're a light sleeper)
-Toiletries: (natural & biodegradable products please)
-Suncream & a hat/scarf for sunny weather
-Acoustic music instruments if you wish to such as guitar, ukulele, drums etc.
-Snacks such as nuts/dried fruit/flapjacks/ chocolate etc for when you get peckish
-Personal items such as phone/ charger/ card/ keys etc.
-Anything else you think will make the festival and camping more comfortable for you!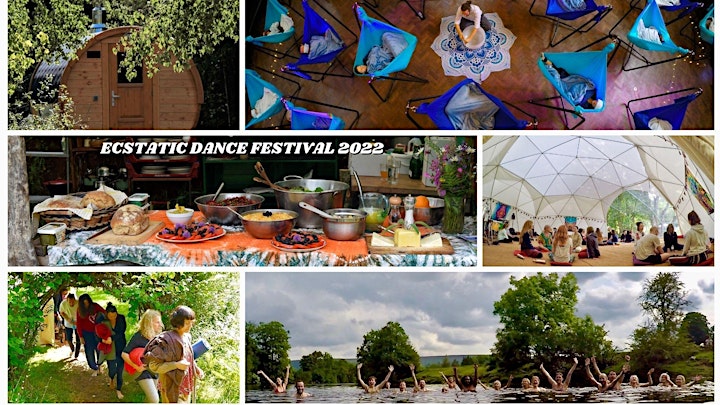 THE SMALL PRINT, DO READ THE SMALL PRINT!
We offer this festival in order to support the growth of physical and mental wellness as well as nature awareness in the world. It requires many hours of organisation and planning. We ensure we have sufficient funds to do this with the following policy:
- Participants join the festival at their own risk. Urubu School of Transformational Arts accepts no responsibility for spontaneous joy, open-heartedness or sore cheeks from too much smiling.
- Unfortunately no dogs/ other pets are permitted on site.
- Children/kids: Unfortunately this year's festival will not be suitable for under 18's. We are hoping to make this festival suitable for children & teens in the future as we understand it can be challenging to arrange childcare and we also understand that parents would like to spend summer holidays together with their kids and share the experience of the festival.
- Pictures/Videos: We live in the age of social media and so to capture our alcohol and drug free festival, we want to share to the world that we can have a great time without intoxicants. We will be photographing and videoing this festival. We thank you in advance for accepting this fact, and ask please not to attend if you're not happy being captured. Kevin, our amazing videographer, will of course be sensitive, and will only use the best shots of you. Please be aware that by entering the festival, you irrevocably consent to and authorise without compensation Ecstatic Dance Festival, its successors, assigns and licensees to use your voice and likeness and to photograph you and/or make sound, audio and/or audio-visual recordings of you and to use the same worldwide for promotional purposes in any and all media, whether now known or hereafter devised, for any purpose whatsoever in perpetuity. All such photographs and recordings to be the sole property of Ecstatic Dance Festival and you release Ecstatic Dance Festival and its successors, assigns and licensees from any liability on account of such usage.
CANCELLATION POLICY: All tickets are non-refundable. You are welcome to pass on your ticket to a friend, colleague or family member or consider gifting your place to someone else - there are many people in our network who do not have the funds to attend such festival. However please let us know name and email address of the person attending in your place by sending us an email with replacement person's details to: youareyoubeyou@gmail.com
Due to situations beyond our control, URUBU School or Transformational Arts reserves the right to change booking or cancel the festival and shall inform the customer as soon as possible. You may transfer your full payment to another festival or you may request a refund of your payment to us, constituting a full settlement. Alternative arrangements will be offered but we do not accept responsibility for any costs incurred, including travel. URUBU School or Transformational Arts is not responsible for your expenses incurred in preparation for any cancelled festival such as travel costs, loss of work, and/or other costs associated with preparing for your trip. As organizers of this festival, we do not take any responsibility for any matters beyond our control or for any COVID related matters that occur during the festival.

FESTIVAL ORGANISERS & HOSTS:
♥ Seth Newman: As the founder of the URUBU School of Transformational Arts, he integrates the roots of Humanistic therapies, Bioenergetics & Body Psychotherapy, Transpersonal Psychology and Tantra in creative and life-transforming workshops, retreats, festival and trainings. As a coach, Seth is dedicated to helping people calm, empower and rejuvenate their busy minds and bodies to achieve the best versions of themselves. Seth brings a wealth of experience holding heart-centered spaces. His in-depth studies, trainings and personal experiences of many therapeutic modalities infuse his approach to living a creative, holistic & embodied life and sharing his unique offerings with others. Seth has been facilitating regular workshops for many years.
As a musician, Seth is very passionate about rhythm & drumming, has an MA in Community Music from Goldsmith College, worked as a world music percussion teacher in East London schools for almost 20 years and started URUBU collective back in 2009 as a Live Music Ecstatic Dance experience with Afro-Brazilian drummers & musicians, started his journey as an avid DJ with a love for Afro-Beat, Cuban and Brazilian music and created an Ecstatic Dance scene in London and the UK. Seth has a life-long passion for 5 Rhythms and other movement and Ecstatic Dance practices.
URUBU has since evolved into a School of Transformational Arts - offering a variety of powerful holistic body-mind tools and practices.
♥ Diana Upite: Trained in classical music from a young age, and later in contemporary music, Diana carries a life-long passion for singing, improvising and re-imagining traditional Celtic and folk songs with her own melodic vision.  A singer at heart, she connects deeply with the melodies and harmonies of ancient Europe and beyond.
She is passionate about bringing practices of rest and embodiment to others. Through her singing, her intention is to guide you on a journey of reconnection and self-discovery, reuniting you with the source of who you are.
Diana also has a keen interest in making delicious raw chocolates and raw cacao drinks for cacao ceremonies, private clients and is constantly experimenting with new flavours. She is a co-creator and co-facilitator of many URUBU wellbeing classes, workshops, retreats and festivals and is a multitasking fairy!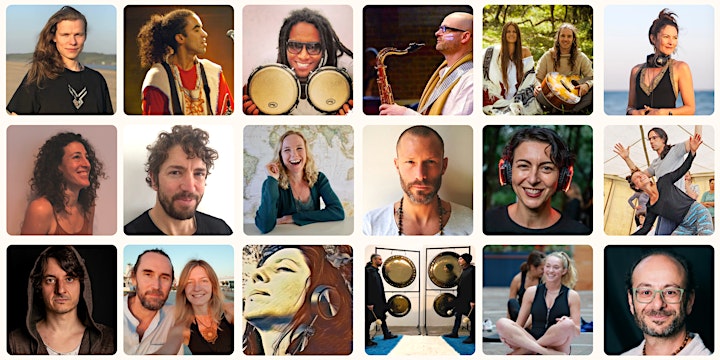 DJ'S/ FACILITATORS/ MUSICIANS: (FULL LINE-UP TBC)
♥ DJ OSARA: Father, Artist & Visionary Founder of Ecstatic Dance Bristol. Taking influence from tribal, sacred sound and underground dance music, OSARA creates deep, powerful and uplifting dance journeys inspired by universal wisdom and the healing power of dance. -Ecstatic Dance: Every journey he creates is totally unique and responds to the spirit of time, community and place. Instagram:@osarasound Facebook:@osarasound
♥ ALUA NASCIMENTO (Urubu Collective): Alua is a multi-instrumentalist, music teacher and performer who studied popular Brazilian percussion and vibraphone at Free Music University of Sao Paulo and classical percussion at Sao Paulo Municipal School of Music. Alua is an ex-member of STOMP. His first public performance was at the age of 8, having learnt percussion from his father, the percussionist Dinho Nascimento.
♥ JANSEN SANTANA (Urubu Collective): Percussionist multi-instrumentalist from Salvador-Bahia-Brazil based in London.Love to afro-jazz, soul, R&B and of course Brazilian flavours. He began his music career very early, with only 3 years of age he accompanied his father, the Artist Peu Meurray on his shows, who is his biggest musical influence, as well as his mother, Cida Nunes, who is also a singer. Jansen has been involved in projects with different concepts and music genres, national and international percussion festivals, cultural and environmental projects. MUSIC is his 1st priority and way of life!
♥ CARL DAVIES (Urubu Collective): Saxophone supremo, vocalist, songwriter, keys player & producer at Horman, an East London based four piece band who create Alt-pop. Carl has have worked in various school, youth centre, residential and day centre settings since qualifying as a music therapist in 2006, currently works as a Clinical music therapist in schools and for Chroma arts therapies and the Edpsy practice Marylebone.
♥ SCOTT & MARIA: Brighton (UK) based Scott & Maria create acoustic music straight from the heart, immersed in soulful harmonies. Their beautiful indie folk sound rouses the spirit and soothes the soul. They take great inspiration from nature and the human journey, and their music invokes a deep reconnection with Mother Earth. -Voice workshop: Singing from the sacred belly and breath of life, through the heart to find and feel one's own essence. Exploring harmony through the voice, dancing with the voice as a full body experience. Scott & Maria offer a mixture of original heart songs and sanskrit mantras for this workshop. The singers can sit but they will be encouraging physical standing warm ups and the option to sing whilst moving the body or laying in relaxation positions.-Live music concert: Scott & Maria will offer live music concerts and accompany Dj Annalisa for a special collaboration of live opening and closing to her journey and during the dance journey set with optional rose water blessing. Instagram:@scott_and_maria
♥ DJ ANNALISA: Annalisa has a pure love of creating transformation, expression and expansion through the body. Weaving her knowledge and experience from energetic, physical, therapeutic and creative trainings she creates layered dance landscapes to explore, reflect and process our inner worlds. She is an Ecstatic Dance Facilitator, DJ, Tao Master, Art Therapist & Mother based in Brighton. -Essensually Ecstatic: Drop into an ecstatic dance experience that allows you freedom to move with care, sensuality and expansive opening. A playfully guided connective mini warm up flows into a soundscape of soft beats, melody and heartfelt lyrics with ecstatic peaks, a touch of spice and meditative culmination. For solo or connective dancers to open the heart space and connect in fun and gentle ways with their sensuality, passion and capacity for heart connection.-Ecstatic Dance: Unguided Ecstatic DJ Set with Annalisa creating flowing waves of diverse world and contemporary genres. Hot beats, wild drums, heartfelt melody, dirty bass and the occasional twist of popular dance. No trance :) Instagram:@anna.lisa.drew
♥ JULIA SAMEL: Julia has been teaching Brazilian Forró for over 10 years as part of London's "Forró Family" and she has more recently expanded her offerings to incorporate elements of other forms as she shares her passion for moving connections in a variety of welcoming and refreshing ways. She has undertaken many dance training programmes over the last 20 years including a year-long self enquiry through Moving Soul, Ecstatic Awakening teacher training and more. Julia strongly believes everyone and anyone can dance. -Forró Brazilian Partner Dancing: An easy-to-learn partner dance for everyone to connect! The steps begin in a simple way that we can all get to grips with.. and the dance is inspired by the lovely folkloric sounds of the Forró rhythms themselves.. The essence of forró is about the connection between the dancers. Julia brings our attention to this sense of connection in many ways. -Moving Connections: This workshop invites us on a journey through simple exercises with various different partners, to offer an exquisite experience of moving with others in the most authentic and pleasurable way, that is utterly accessible, fully embodied and most importantly simple, involving absolutely no steps or technical skill at all. Instagram:@juliamovingconnections @forrofamily
♥ DJ JAMES BLOWFELT: Blowfelts' passion for drum & bass was born growing up in London and was influenced by the music of the day. Pirate radio, Drum & Bass clubs, and the UK Bass Music scene. His creativity was kindled with the potential of the finely detailed dynamics of high-quality speakers with which to deliver a digital sound experience in the best possible way. Once he lovingly built the sound system, he realised only certain music translates to his finely detailed speakers. That is his mission, and deep intention.. to combine great music with high-quality speakers that deliver the detail and sonics that our very fine ears deserve! -Ecstatic Dance MVMNT Drum & Bass: And so, we are in for a real treat. As well as Blowfelts' delectable taste in Drum & Bass, we will be offered the ecstatic experience and sonic delight of his sound system! Facebook:@blowfelt
♥ DJ BRAILLA MAY: Brailla May is an Ecstatic Dance DJ, Community Choir Leader & Conscious Event Creatrix, creating experiences to uplift, empower & celebrate life together. -Dance Liberation: Ecstatic Dance Journey through tribal beats, disco house, melodic techno, drum and bass, landing in deep house. Raise your kundalini with a high energy dance experience and drop into your somatic groove.-Singing Your Essence: Express your Natural Voice in a safe space, singing a variety of heartwarming, soulful, toe-tapping songs from around the world and from different traditions, all taught by ear. Celebrate your essence and the joy of living! Open and welcoming to all, no experience necessary. Instagram:@braillamay Facebook:@SongbirdsChoirUK, @SustainablePleasur
♥ DJ JAN-MICHAEL: London based ecstatic dance DJ and facilitator. He runs a regular ecstatic dance event in London called "Rapture - High energy ecstatic dance". He is a musician & DJ and loves conscious dance. He curates his Rapture ecstatic dances as the conscious dance club fusion - gathering the energy usually spared for the peak of the ecstatic dance wave and giving it to you in bucket loads! -Ecstatic Dance: His style is a bit more upbeat with a mixture of bass heavy genres such as Electro House, Funky House, Trance, Techno, Afro Tribal and DnB with some slower, softer tracks interwoven in the set, following the traditional musical wave that is well known in Ecstatic dance and 5Rhythms. An invitation to dance your wild dance, let loose and shift the inertia! Instagram:@ecstaticdance_rapture Facebook:@janmichael.wild.dancer, @rapturedanceuk
♥ DJ JANE: Jane's passion for dance goes back to the 90s, when she discovered the joy of clubbing and first learned to DJ. Going on to develop a more meditative approach to life, just over 10 years ago Jane discovered the transformative power of Seth's bio-energetics and ecstatic dance sessions, for which she is eternally grateful. Over the last few years she has been running her own "Dancing Freedom" events in her local woods in Hackney, as well as guest Djing for other event organisers. She also currently offers both individual therapy and group workshops applying the Human Givens approach to emotional health, as well as teaching Embodied Resilience: a meditative movement practice which focuses on tuning in to the sensations being generated in the body, promoting deep relaxation of body and mind.-Ecstatic Dance: Jane's high-energy ecstatic dances comprise a range of music genres from spiritual to tribal beats, progressive house and melodic techno. Infusing her dances with lively enthusiasm, spirituality and love, she will help you to completely let go into the magic of your own presence. Facebook:@dancetofeelhuman
♥ RICHARD PARKER: Richard is passionate about creating safe and accessible spaces within Contact Improvisation dance, which allows participants to easily drop deeply into this profound practice. He has been passionately developing his skills and knowledge as a Contact Improvisation (CI) dancer since 2006. Over the years he has extensively trained with many amazing international teachers within CI. Since 2011 he has shared his teaching of CI within Professional, Educational, Festival & Community Organisations as well as organising his own CI Festivals and Camps. -Contact Improvisation: Moving Together: Contact Improvisation is a practice of how two or more bodies move together as one in physical contact, within a spontaneously unfolding improvised dance. It can be playful, sensitive, quiet or energetic, with lots of dynamic movements ranging anywhere from standing to rolling and sliding across the floor. Within this workshop, we will explore the basics of how two bodies can move together as one within an improvised contact dance... as well as offer a clear understanding of the boundaries to support safe practice. -Contact Improvisation: Evening Jam: A guided warm-up into a creative exploration of Contact Improvisation. The warm-up facilitates participants into a state of readiness for Contact Improvisation. This leads to a Jam, which is a chance to explore the practice. With recorded DJ'ed music. Facebook:@richardparkercontactimprovisation
♥ DJ LIATH: ("Grey" in celtic) grew up in Paris surrounded by music, born in a family of musicians and singers. He explored conscious movement for more than 12 years through ecstatic dance, 5 rhythms, contact improvisation, yoga as well as aikido and climbing.-Ecstatic Dance: His ecstatic dance sets explore contrasts, journeying between light, ambient and melodic songs to darker, deeper and more energized and provocative sounds. Instagram:@djliath
♥ SETH & DEE: Festival organizers & hosts.
♥ DJ TARA: Tara is the founder of Tribalheart and Divine Body Bliss. She is a qualified hypnotherapist, body/massage therapist and mental health nurse. She is passionate about connecting with what brings us pleasure and moving beyond mind, using embodiment tools and breath to enter the sacred realms. She is a lover of all types of dance, meditation, massage, breathwork and many other nourishing things. -Ecstatic Dance: Ecstatic Dance and shamanic vibes. Mix of LOVE, active Meditation, conscious clubbing, tribal grooves n dance tunes with tantric ritual. A medley of Tribal, Bass, folktronica, afro, dance, house, techo, psy, dub, world, electronic, downtempo, ambient and everything in between! We aim to assist a natural flow peaking and resting to mirror the rhythm and energy of life. Instagram:@tribal_heart_ecstatic_dance Facebook:@tribalheartecstatictrancedance
♥ MYSTERY SCHOOL OF SOUND: Paul & Mark are twin brothers and have been performing with the gongs for over 6 years and have been developing a healing programme to complement their practice. This practice has been developed through the healing arts and esoteric teachings from Eastern and Western traditions. The primary influences are European mysticism as well as shamanic practices from around the world. As a duet, they play together with a number of symphonic and tuned gongs, the virtue of two performers playing the gongs allows for a binaural experience, that extends one's consciousness that much further. Together they create a layered soundscape experience for you to deeply relax and meditate into. They also complement the gongs with other instruments such as singing bowls, flute and the kalimba. -Gong bath: Enter an epic gong performance, a wonderful sound journey where you travel through your own inner landscape. A performance that puts you into a deep meditational state that will enable you to totally relax, de-stress and heal physically & mentally. Gongs provide the most immediate way to relax by inducing a wakeful dream. Theta brainwaves occur most often just before sleep and waking but are also present in deep meditation. In this state, the external world diminishes, the senses withdraw to the inner self. This state is where archetypal imagery takes on a new focus. In this personal space, you can access and work on your shadow self, control unconscious habits and past traumas as well as any other dis-ease one needs to face and clear. Instagram:@mysteryschoolofsound Facebook:@themysteryschoolofsound
♥ GEORGIE HARE: Georgie is a yoga instructor, as well as professional dancer, and swears by the life changing benefits of a regular practise. Teaching us to listen to our bodies and self-reflect, Georgie guides you through a flow that works on both strength building and restorative stretching. Encouraging you to move intuitively and be kind to yourself. You can find her teaching regular classes in London, as well as events, festivals and retreats, across the UK and abroad. -Yoga: All levels are welcome to Georgie's Vinyasa Flow style yoga class. Here you can explore your body and give appreciation for your own personal journey, all in a safe space without judgement. Instagram: @yogawithgeorgie_ , @georgie_hare
♥ AILON FREEDMAN: Ailon's adult life has been devoted to the synthesis and marriage of spiritual practice with humour and playfulness. He has worked as a yoga teacher, corporate facilitator and public speaking coach, as well as an artist, comedian, clown and drummer. He has brought many of these elements together in his trainings Clown Healing, Speak from the Heart and Free your Inner Artist. Ailon's mission is to help people discover their sense of freedom, wellness and inner balance through not only yoga and mindfulness but also creativity, celebration and fun. He is currently developing a programme called Mandala of You at Colet House in London. -Yoga: An accessible and focussed Hatha Yoga class designed to release muscular tension, bring awareness into the body and let the mind settle into the present moment. No bells and whistles, no complicated gymnastics- just good ole fashioned yoga asanas. Suitable for all ages. -Drumming: Come and learn the sounds of the Djembe drum -the bass, tone and slap -and from there take a journey into the highly energising world of African drumming as well as funky rhythmic jamming. Becoming immersed in rhythm and beats is one of the most liberating ways to free your mind and open your heart. -Playfulness Workshop: Who says your spiritual practice needs to be serious? What if playfulness could become a pathway towards self-discovery and wholeness? Come and try our playfulness session where we'll draw from the worlds of clowning, improv, mime and dance to reconnect with our buried sense of childlike play. Expect spontaneous silliness and generalised irreverence as well as high doses of endorphins.' You should call this getting drunk with no alcohol.' Instagram:@ailonfree
♥ DOMINIK SCHELL: Dominik has been passionately engaged in dance for two decades, exploring performance, contemporary, contact dance as well as many forms of expressive dance workshop styles. He draws from his experience as a facilitator, combining dance, tantra and process work.-HeartWave: A HeartWave Movement Workshop creates a powerful opportunity for you to drop deeply within and connect with self and other in new and liberating ways. A HeartWave is about connecting us to the deepest parts of ourselves through the power of dance, held in an unfolding of our collective wisdom as we journey in and out of relating, in and out of shadow, in and out of our fear. Above all HeartWave is a deeply liberating exploration of our inert yearning for belonging, connection and togetherness. Facebook:@HeartWaveDance
♥ MIXWELL: A San Francisco Bay Area native, DJ Mixwell set out to conquer the entertainment scene over 15 years ago. Starting out as a trained drummer, Mixwell's ear for beat matching and blending tempos gives him expert-level knowledge to seamlessly mix tracks ranging from Pink Floyd to Jay-Z. With a laser focused passion for mixing an extensive range of musical genres and a keen eye for reading the crowd, Mixwell has become a leading force in entertainment. He has played at Festivals and Ecstatic Dances Worldwide -Ecstatic Dance: Mixwell weaves together a vibrational tapestry to create a sound that gets embodied on the dancefloor. Mixing is an art. Songs are only transitioned seamlessly when a dj is mindful of the tracks tempo, key and energy. Beyond the technical aspect of the mix, what really makes a great dj is his/her ability to read the crowd, take requests, and test boundaries! Expect and epic ecstatic dance set! Instagram:@mixwellmusic
♥ OMNIVIBES: Paul Jackson: sitarist/guitarist/composer and performer. A unique, contemporary take on traditional Classical Indian Ragas, infused in original songs with Delta-Blues slide style, played on sitar.. interchanged with original multi-style songs played on guitar, complemented with conscious emotive vocals. Paul's performances at Ecstatic Dance Festival will be concentrated on sitar www.omnivibes.co.uk
MORE INFO ABOUT OUR WORKSHOPS:
ECSTATIC DANCE - Enter an open space...and with your bare feet explore the exhilarating feeling of moving your body freely. You are invited to move, play, connect, sweat, stretch, sound, unwind, renew, release, improvise, transform. Be true to yourself, while respecting your body, in this space that we co-create together. Warm-up: stretch, move/dance and reflect on the intention for the dance to a gentle sound wave. The Practice: freestyle dancing to a large sound wave featuring Live DJ set. Some guidance & facilitation will be provided. And then we will let the music, the community and our own inner space direct our steps, our movements, our expression, our journey. Ecstatic Dance usually ends with a relaxation. WHAT MUSIC TO EXPECT: "Enlightened Electro, World Beat, Deep House and Downtempo Bliss, plus a few surprises slipped in for good measure! Ecstatic Music Journeys for Conscious Movement and Sacred Celebration." With various Ecstatic Dance DJ's.
BIOENERGETIC ALCHEMY™ - We work with our bodies to transform and to heal. A unique movement experience, where we begin to soften the muscular tension and chronic holding in our bodies through a series of gentle stretches, grounding and self-expression exercises.
BREATHWORK TRANSFORMATIONAL HEALING - Release Energetic, Emotional & Physical layers of negative imprints & conditioning. We will be exploring Neo-Reichian Breathwork- practice is a deep conscious, circular connected breathing and is a beautiful way to peel back the layers of the self, connect to essence, and embrace every part of yourself. Each participant becomes the leader of their own healing journey, towards wholeness and health.
DRUMMING - this is an off-grid Eco-Camping workshop. There is no power! We will have drumming & percussion workshops, drum circles. Experience the uplifting power of rhythm. Realign with yourself, aligning with others and go deep through rhythm & trance. Drums have been utilised in every culture down through the ages, for many purposes from religious rituals, ceremonies, and as a way to communicate. There is this interesting phenomenon called "Entrainment" which occurs when different vibrating objects/ particles/ or even people come into proximity: they will often start, after a little time, to vibrate together at the same frequency. They "sync up/entrain," sometimes in ways that can seem mysterious.
SINGING - As everything is vibrating so are we. There can be no sound without a vibration. Explore and let your voice be heard in a safe environment. Discover the joy of singing, the non-judgmental aspect of singing, the communal part of it, the part where differences are reconciled and we're all just in it together, that's the truly uplifting power of singing. The history of music and singing has always been communal. Meditate, sing or listen. Yes, even just listening can activate some of the oxytocin release, that social bonding hormone. A beautiful and powerful way to start/end our day together at the festival.
AERIAL RELAXATION PODS™ - Each day we'll offer Relaxation/Breathwork/Sound journey in hammocks. Repetitive motions, like those experienced in the gentle rocking of a hammock, can soothe anxiety. Dr. Herbert Benson, founder of Harvard's Mind/Body Medical Institute, recommends repetitive movement to elicit your body's relaxation response. This reaction allows a lower heart rate, blood pressure, and muscle tension.
SOUND JOURNEYS - Multi-sensory sound journey experience with live ambient music, and aromatherapy to soothe your stresses away and lift your spirit! An immersive restorative experience inviting your body and nervous system into a deeply relaxed state. An opportunity to relax and reconnect with yourself through deep relaxation and guided meditation while basking in Cosmic, Ethereal Vocals and Electronic Soundscapes, Textures, Crystal Singing Bowls, Gongs and much much more .
YOGA NIDRA - Conscious Sleep Guided Meditation for Deep Body Relaxation and Mind Alertness. Yoga Nidra is an ancient form of guided meditative practice that focuses on breathing techniques, body sensing, emotional relaxation, and guided consciousness meditation. Be supported by our Aerial Relaxation Hammocks while you dive deep into the relaxation Journey. A very unique experience!
ACTIVE MEDITATIONS / YOGA - Get present with a selection of powerful meditation practices, wake up your body and ease your way into the day.
TRIBAL TRANCE DANCE - Dive deep into your Wild Nature. It's an invitation into deep liberation, driven by our breath, our intentions, and energy, and not controlled by our conditioned mind, we let go. Natural body movements and intuitive expressive dance are simply forms of an ancient pre-verbal language. It is an expression of intelligence of our creative unconscious. Honouring the evolutionary intelligence encoded in our cells!
GROUP SHARINGS / HEART CIRCLES - Speak your truth & let yourself be heard in Community. There will be many opportunities to share openly and intimately (small group sharings).
TANTRA / CONSCIOUS CONNECTIONS - For us, Tantra is the total experience of life, multi-dimensional human life! Of course, sex and sexuality are a part of life, we wouldn't be here without it. But it is not the main focus of our work. The main focus is on deepening our connection to the Heart! Tantra is an invitation to slow down and bring your awareness back into the present, back to your body and felt sense and to simple, yet, precious moments. Creating a safe and respectful space, we will explore simple exercises aimed at strengthening our ability to connect to one another and to become more comfortable with honesty and vulnerability. Learn to honour your personal boundaries, learn to enjoy your desire for intimate contact, and to communicate both with authenticity. Become more grounded and vital, more sensual and more connected with your feelings and your heart. Tantra is about: -Developing our sensitivity to ourselves and what we are experiencing, - Allowing ourselves to be, and to be seen,- Developing love and acceptance for ourselves, - Becoming aware of the ways we shut down. Physical contact: all exercises are designed not to involve any physical contact due to Covid, however if guidelines are eased at the time of festival, physical contact will be optional. ''You never have to do anything you don't want to do'' is our mantra.
CACAO - Expansion of the Heart and Spirit through Cacao - the Elixir of the Gods! Cacao is the ultimate heart opener, it will give you energy, revitalise your BodyMind inviting you to express, release & unleash your creativity during the dance! Our Raw Vegan Cacao is prepared lovingly by Diana (who makes the best, velvety tasting cacao in town for sure!). She uses ethically sourced, highest quality ingredients from Guatemala, directly from a reliable cacao bean farmer.
... and much, much more with amazing people who love Nature, music and dance!
♥ VIDEOS OF THE SOME OF THE WORK WE WILL BE EXPLORING:
♥ FEEDBACK FROM PREVIOUS RETREATS/FESTIVALS:
"That was a very beautiful experience. An amazing journey inward & out. To express in a free space filled with joyful vibes & gorgeous smiling faces. In sound, in rhythm, in motion, in colour, in sweat, the Dance, the Soul." Cath
"The smiles, the kind eyes, the bits when I lost myself in the music, the joy of the moments when it felt as if the whole room was jumping in unison." Salvo
" What a profound experience! The music was so beautiful ... it carried me effortlessly inward facilitating a deep connection to Spirit, moving my body in a way that I felt I had little control over. It was magical! Thank you " Ashley
"Thank you guys. This was an exceptional experience of deep healing, awakening, and opening. I feel so light, peaceful, and full of Love. Through the workshops we took, I touched some of my wounds, gently but deeply releasing and healing what was ready to be alchemised. Thank you to all the other lovely participants. Please organise the next one soon! " Tanja
" The workshop gave me the opportunity to go deeper into my body and discover new experiences which I hadn't been able to tap into before. It was a good mix of different exercises, and I had a really blissful experience with the breathwork." Vijay
" I feel so grateful I had the opportunity to attend this workshop. I felt that Seth, through his presence, allowing, way of being, created a very unique, safe space in which I could release, discover, explore and meet different aspects of myself. I was amazed how during the two days I was – often unexpectedly and gently – led to bring forth and embrace a child, an ancient woman, an animal, a spoiled brat, a mother, a lover, a goddess… Also through Seth's guidance and suggestions I felt within very short spaces of time both my immense sorrow/yearning/pain and my immense joy/gratitude, realising how close to each other these seemingly opposites are. Today I feel a more solid belonging in the world, and a heightened awareness of the soles of my feet on the floor, like the earth, was more magnetic!" Maria