Multiple Dates
Ecstatic Dance London Outdoor Sessions Wed & Fri - Ecstatic Dance & Cacao
Event Information
Location
20 min walk from Gospel Oak station
Exact Location will be in your Eventbrite order confirmation email
please check spam folder
London
NW5 1LT
United Kingdom
Join us for our Ecstatic Dance sessions! Amazing music and vibe plus Cacao Ceremony! Group Exercise/ Fitness with Silent-Disco headphones!
About this event
ECSTATIC DANCE LONDON presents: OUTDOOR SESSIONS 5:45pm-8:30pm
Outdoor Ecstatic Dance Session with Silent-Disco Headphones Plus *Cacao Ceremony! Dance on the Earth and beneath the Sky! (weather permitting)
💙 RSVP and invite your friends on Facebook: https://fb.me/e/2HFIJlxd8
💜 See all our upcoming wellbeing events: ecstaticdancelondon.com/events
UPCOMING DATES:
Please join here for more info about our outdoor classes and you'll get priority booking before we announce our outdoor classes to the general public: https://www.facebook.com/groups/ecstaticdancelondon
Brought to you by: Ecstatic Dance London - We love to dance. We love music. We love to inspire, to connect, to heal and transform! Using our Silent Disco - Head-Phones based sound system, we will journey together, dancing on the Earth and with the music to inspire our movements and expression. No experience necessary. All welcome.
*Please remember this is an Ecstatic Dance class and not a party! If you are coming with friends, please ensure they understand what Ecstatic Dance is, see below Ecstatic Dance explanation and guidelines .
This is a unique dance class in London! Very limited spaces available, online registration only!
Enjoy our Ecstatic Dance classes outdoors, keep the wonderful spirit of ecstatic dance awake, alive, and aligned!
*Respectfully Socially Distanced & Covid compliant* *Alcohol and drug free environment*
SCHEDULE:
◈ 5:45pm-6:00pm Meet at the dance location and receive headphones (No entry after 6:15pm at the latest... this is so we can all journey together)
◈ 6:00pm-8:30pm Dance Warm-up and Stretch/ Cacao / Ecstatic Dance SoundWave
◈ 8:30pm Class ends (we usually dance a bit longer)
LOCATION:
Exact location coordinates of the dance will be in your Eventbrite order confirmation email 'Additional Information', please check your spam folder. We will send another email via Eventbrite with location & map 1.5h before the dance start time.
-Nearest stations: 20 min walk from Gospel Oak/Hampstead Heath stations. Please check tfl.gov.uk for latest travel updates.
-If cycling, you can bring your bike to the dance location.
-If driving, please check the parking parkopedia.com (you can select more accurate location once you've booked your ticket and have exact dance location details).
WHAT TO BRING:
We will check the weather forecast closer to the time and will send an email update via Eventbrite to all registered attendees, however do dress in layers and bring waterproofs with a hood/umbrella in case of a light rain to protect the headphones. In case of a heavy rain forecast, we will cancel the dance at least 3h prior to the event
1. Loose-fitting clothes that let you move your body and free yourself. Dress in layers in case you get warm/cool. Bring a warm jumper/ jacket and waterproof jacket with a hood in case of a light rain.
2. Bandana headband - we will provide a clean one but you are welcome to bring your own one to secure headphones which will allow you to move your head more freely!
3. Ensure that you wear comfortable shoes and your feet are warm though you are welcome to dance barefoot.
4. Reusable water bottle, extra water to keep hydrated and maybe a flask with a hot drink and something to eat after the dance.
5. Bring a torch/ flashlight as it will be dark on the way to/from the dance location.
6. Bring something waterproof to put your bag/jacket on as the ground can be a bit damp.
7. Feel free to bring some fairy-lights, led lights for our evening dance sessions.
FEEDBACK FROM OUR OUTDOOR DANCES:
"Blissful! The open skies above, the bountiful trees surrounding the periphery, the grass and earth beneath my feet. There was a moment when I wanted to have a little cry, because of the abundance of beauty... And then there were those moments when I was completely lost in the music... Thank YOU. ♥ "
"It was amazing!! Thank you for a wonderful afternoon with amazing tunes in a splendid environment!! Thank you everyone for your lovely presence and jubilant energy!!"
" Thank you! it was amazing to dance in the nature and connect with so many wonderful people! "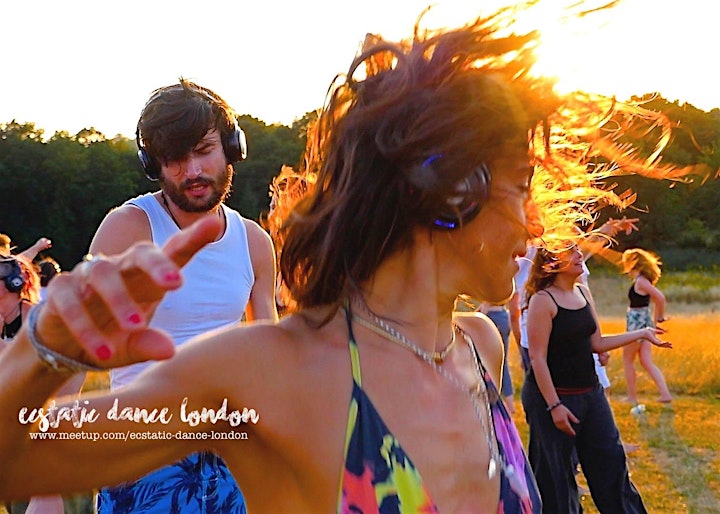 WHAT IS ECSTATIC DANCE?
Ecstatic Dance is a dance/movement practice to explore the exhilarating feeling of moving your body freely. You are invited to move, play, connect, sweat, stretch, sound, unwind, renew, release, improvise, transform. Be true to yourself, while respecting your body, in this space that we co-create together. Move your body, unleash the wild dancing self without caring what people think, claim your freedom, open your heart & touch the infinite!
Our Ecstatic Dance classes create a safe and respectful environment that embraces 'all ways'. We offer a movement practice that supports your free expression of emotions and inner space through movement and music. Our intention for these Ecstatic Dance classes is self-exploration, connection, fun, healing, expanding human potential and community building through freestyle ecstatic dance.
Enter an open space...and with your bare feet explore the exhilarating feeling of moving your body freely. You are invited to move, play, connect, sweat, stretch, sound, unwind, renew, release, improvise, transform. Be true to yourself, while respecting your body, in this space that we co-create together.
WHAT TO EXPECT:
1. Next-level, conscious, inspiring electronic dance music
2. A beautiful, sacred, heartful and fun dance journey
3. A safe space for you to dance freely in
4. Vibrant people who love to dance and love music!
PRACTICE SPECIFICS: Warm-up: stretch, move/dance and reflect on the intention for the dance to a gentle sound wave. The Practice: freestyle dancing to a large sound wave featuring Live DJ set. Some guidance & facilitation will be provided. And then we will let the music, the community and our own inner space direct our steps, our movements, our expression, our journey. Relaxation: Ecstatic Dance usually ends with a deep relaxation.
WHY CACAO? At Ecstatic Dance London we LOVE chocolate, RAW chocolate-CACAO! We will provide complimentary Raw Vegan Cacao to superfood charge your dance with us! Cacao is the ultimate heart opener, it will give you energy, revitalise your BodyMind inviting you to express, release & unleash your creativity during the dance! Our Raw Vegan Cacao is prepared lovingly by Diana (who makes the best, velvety tasting cacao in town for sure!). She uses ethically sourced, highest quality ingredients from Guatemala, directly from a reliable cacao bean farmer. Join us to explore Cacao + Ecstatic Dance as a potent synthesis for Transformation! Release what no longer serves you, and invite in what you want more of in your life!
ECSTATIC DANCE GUIDELINES:
No late comers please. This is a shared journey from the beginning to the end and we aim to create a safe container for all dancers. If you are more than 30 min late (arriving after 6:45pm), we won't be able to let you join the session.
1. No talking during the dance. When we dance without the chitchat, something alchemical can happen on the dancefloor. A unified field of Being emerges and we feel both wild and free, contained within ourselves And connected to something much, much greater than our individual selves.
2. Drug-Free, Smoke-Free, Alcohol-Free environment
3. No photos or videos, Mobile phones muted and out of sight
4. Care/Awareness for the co-created space and each other
5. Move your body however you wish
6. No spectating. Stay connected to your own body, sensations, emotions, and feelings. Ecstatic Dance is about you and your relationship to the Dance. Dancers feel uncomfortable when being spectated at. Come prepared to Dance yourself free from inhibitions!
7. You can dance alone, or with as many partners as (you) like to join. (If you'd rather not dance with someone, thank them for the offer by placing your hands in prayer position at your heart – Namaste.)
8. This is not a pick up place. Please respect all dancers (especially women) and do not ask for anyone's contact details. If you wish to stay in touch with someone, give them your email instead of asking for their contact details. No means no.
9. Dogs - only well behaved dogs allowed off the lead. If dogs disturb the dancers, we will ask that dogs are put back on the lead to create a safe space for all. Thank you.
"Our bodies instinctively know what feels good or bad, right or wrong. However, often our heads get in the way. Ecstatic Dance is about finding our way through to what feels good. How can we use dance to consciously transform towards finding joy, without denying our anger or sadness?  Ask yourself: what's my body feeling in this moment? Does it feel good moving this way, or that? Does it feel nourishing to dance with another, or dance solo? Where do I most feel connected with Self? Let your body lead the way." ~ Abigail Harris
Seth, Dee & Ecstatic Dance London team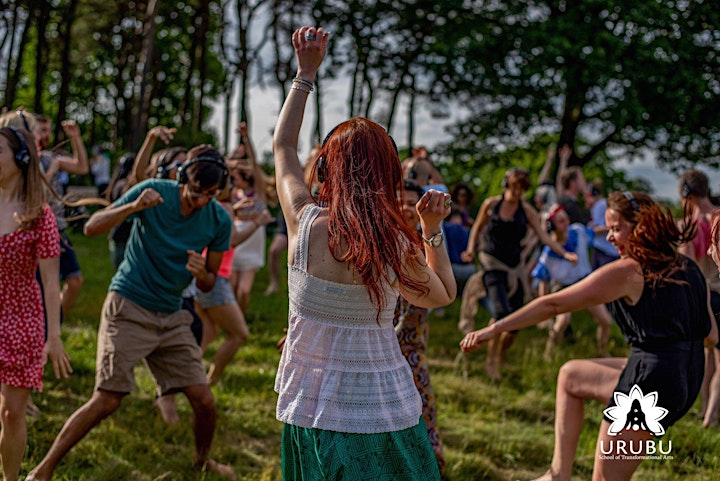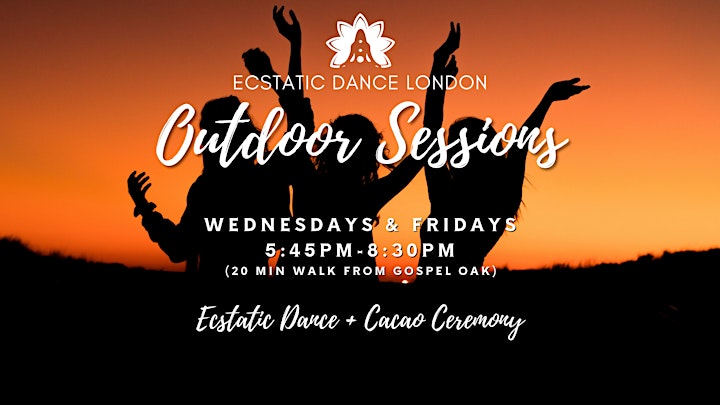 COST:
PAYMENT: We have set a donation option to reduce your ticket fee cost, feel free to donate more and give from abundance. Thank you in advance! Any tickets booked below the indicated donation amount will be refunded immediately. 1 ticket per transaction please. Limited spaces & ticket availability. Please book via Eventbrite .
£10-15 Low Waged/ Concession
£15- £20 Regular for those who are financially secure
Children under the age of 9 can join for free (limited availability) Parents with children are welcome! However, we ask that you register a free ticket for your child/children as we cannot provide extra headsets on location. We ask that there is at least 1 adult per child. Adults need to book a ticket.
Dogs - only well behaved dogs allowed off the lead, please ensure they have lights so dancers can see the dog. If dogs disturb the dancers, we will ask that dogs are put back on the lead to create a safe space for all. Thank you
We would like to remind all participants to look after our headphones and take extra care to ensure they don't get dropped/ stepped on/ broken etc otherwise we will charge additional £20 for any damaged headsets.
CANCELLATION POLICY: We do not offer refunds or ticket transfers to another date if you cannot attend and you give us less than 72h notice. If we need to cancel class due to a *heavy rain, we will issue a full refund . *In case of a heavy rain forecast, we will cancel the dance at least 3h prior to the event and notify all attendees via Eventbrite.
EVENTBRITE ORDER CONFIRMATION: Email might be in the spam folder. Please check. Do not print any paper tickets, we will check you in by your name.
ANY QUESTIONS? PLEASE FEEL FREE TO SEND US AN EMAIL: youareyoubeyou@gmail.com
SAFETY GUIDELINES & PREVENTION MEASURES:
- We will provide a clean headset & bandana headband (you're welcome to bring your own headband to secure headphones which will allow you to move your head more freely!)
- We will provide antibacterial wipes and hand sanitisers during the class.
- We ask that all participants keep at least 2m physical distance at all times and dance in groups of max 6 dancers. We reserve the right to take away headset of any participant who does not honour physical distancing rules.
- Our Raw Vegan Cacao is carefully prepared in a clean kitchen and will be poured in eco friendly paper cups and served on a tray. Bring your own hot drink if you do not wish to drink cacao.
ABOUT DJ AND FACILITATOR:
◈ Sessions are facilitated and DJed by Seth Newman, Seth is the pioneer of Ecstatic Dance in the UK, who started Ecstatic Dance classes with his band Urubu & Ecstatic Dance London in 2009 and has been running conscious dance as well as various body-mind integration classes and workshops for many years.
◈ His inspiration for these classes come from many sources including Humanistic & Body Psychotherapy, the Human Potential Movement, 5 Rhythms, Active meditations and from the teachings of the Indian Mystic Osho whom he grew up with in India in the 1970s. Seth brings a wealth of experience holding heart-centered spaces.

Location
20 min walk from Gospel Oak station
Exact Location will be in your Eventbrite order confirmation email
please check spam folder
London
NW5 1LT
United Kingdom
Organiser of Ecstatic Dance London Outdoor Sessions Wed & Fri - Ecstatic Dance & Cacao
Pioneering Conscious and Wellbeing Events since 2009 in London and UK! Home to Ecstatic Dance London and much more!
Our intention is to offer a variety of transformational experiences designed for supporting you in your personal life journey, enhancing community wellness and togetherness. We bring a wealth of experience, knowledge, heart centred and humanistic approach into all our work. We create and facilitate all our workshops and continue to develop new practices which we are very excited to share! URUBU was first formed in 2008 as a Live Music Ecstatic Dance Collective 'Urubu' by founder Seth Newman, has since developed into a holistic wellness event organiser based in London facilitating Workshops, Classes, Retreats, Campouts & Trainings for living a Healthy and Embodied Life!
URUBU is a School of Transformational Arts!
Ecstatic Dance London (DJ, Live Music, Indoors & Outdoors with Headphones)
Body-mind Integration and Embodiment Practices
Active Guided Meditations & Trance Dances
Creativity Coaching & Closed Groups
Cacao Ceremonies & Rituals
Gong Baths & Live Music Sound Journeys
Drumming & Singing
Aerial Relaxation Pods & Sunday Hammock Sessions
Conscious Connections & EcoTantra
Retreats, Campouts, Festivals and much much more!
Come on a journey with us!

URUBU - You are you, be you! 
Instagram: @urubu_school_of_transformation
Instagram:  @ecstaticdance_london 
Facebook: www.facebook.com/EcstaticDanceLondon
Facebook: www.facebook.com/urubucollective  
Website: www.ecstaticdancelondon.com