Event Information
Refund Policy
Contact the organizer to request a refund.
Eventbrite's fee is nonrefundable.
About this Event
Come and dance with us from the comfort and safety of your own home!
Ecstatic dance is a form of creative self-expression, connection & intimacy with your feelings in which the dancers, mostly without the need to follow specific steps, abandon themselves to the rhythm and move freely as the music takes them, relieving pent up stress & can often lead to trance and a feeling of natural ecstasy/ empowerment/ feel-good emotions.
Ecstatic Dance empowers people of all shapes, sizes, and backgrounds to freely express themselves; the liberating atmosphere creates a melting pot of acceptance and the fearlessness with which others move gives newbies permission and courage to dance without inhibition.
However, you may choose to be still & simply enjoy the atmosphere or meditate instead!
You are fully accepted and embraced as you are.
Dance, walk or sidestep to your own rhythm.
In order to make the most out of your session, we recommend you find a spot with a high-speed Internet connection and plug your computer or mobile phone into high-quality speakers or headphones.
Join us via Zoom & Twitch (free access)
Please note this is MAINSTREAM music & introduction to ECSTATIC DANCE for the general public.
This is about getting great exercise, freeing your mind and body, and connecting with yourself and others in vibrant health, celebrating life & enjoying the power of music to heal and transform Mental, Emotional & Physical blocks to our higher potential.
HOW DOES IT WORK?
You will receive a Zoom link & a link to Twitch (you do not need an App)
Keep both windows open so you can still watch us all dancing together live!
ZOOM ETIQUETTE
Participating in an online dance is obviously different from attending a regular dance. While the general guidelines are the same (no talking, no mobiles, no shoes, and intoxicants), here is the etiquette for our Livestream sessions:
1. You'll automatically be muted when you enter the room (we'll give you the opportunity to unmute your mic only after the session at 1 pm)
2. Turn your video 'on'. The overall energy and vibe of the group is so much better if we can all see each other!
3. Choose 'Gallery view' so you can see everyone in the room, not just the DJ or facilitator.
4. Use the chat box to introduce yourself and greet your fellow dancers between 10:00 and 10:30. No chatting once the opening circle starts!
5. Dance, don't spectate. Ecstatic Dance is a practice, not a show. If you want to take a break, you can of course lie or sit down, but do so in your own space, not by sitting in front of your computer.
Help us spread the word by RSVP'ing and inviting your friends on Facebook:
Come join the party & let's have some fun together!
Davinder & Dean
www.medyoga.co.uk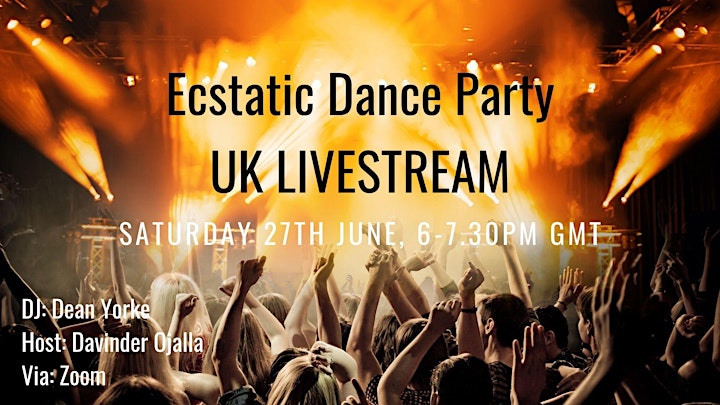 Date and Time
Location
Refund Policy
Contact the organizer to request a refund.
Eventbrite's fee is nonrefundable.