Ecstatic Dance Temple DJ & Facilitator Training - Spain 2020
About this Event

Join us for this 7 day immersive, experiential adventure and heart based training into becoming an Ecstatic Dance Temple DJ & Facilitator. Train with experienced teachers: Seth Newman(Ecstatic Dance facilitation) and Scott Nice (Ecstatic Dance DJ skills)
THIS TRAINING IS FOR YOU IF YOU ARE LOOKING TO:
Deepen your knowledge of Ecstatic Dance and other transformational movement practices
Learn facilitation skills, tools, principles and history of Ecstatic Dance
Develop DJ skills with master DJ & Producer Scott Nice, no previous experience required
Empower yourself on a journey to become an Ecstatic Dance Temple Facilitator and DJ (and the possibility of joining our Ecstatic Dance Temple team!)
Design exciting classes, events, music selection and authentic marketing
Learn to create safe spaces and transformational dance events
Start a local dance community in your area
Connect with like minded people and be part of Ecstatic Dance Temple's growing conscious dance community
Discover and journey deep into becoming an Ecstatic Dance Temple leader
WHAT IS UNIQUE ABOUT THIS TRAINING?
- Learn both DJ Skills + Facilitation skills in one training! Other trainings either offer you one or the other. On our course you will have the opportunity to learn both DJ skills and facilitation skills in one course! Essential for any aspiring Ecstatic Dance leader!
- Learn from experienced leaders in the field! Scott & Seth have been immersed within the Ecstatic Dance movement for 40 years combined. In that time, they have developed effective methods for Djing and running Ecstatic Dance events. Learn from the best!
EXAMPLE DAILY SCHEDULE:

WHEN: Tue, 7th July - Tue, 14th July 2020, Nearest airports: ​Granada or Malaga​. For the best flight deals check out https://www.skyscanner.net/
Arrival on the first day from 15:00
Departure on the last day at 12:00
Airport shuttle pick up/drop off will be available for additional cost of around €30-40 Euros per person each way. There are not many busses available.
Car hire is also possible, please look online for options and costs.
WHERE: Ecstatic Dance Temple DJ & Facilitator training takes place on the beautiful property of HIDDEN PARADISE. A family-run retreat centre nestled in the foothills of the Alpujarra mountain range, located nearby Orgiva, a beautiful town in the South of Spain. The address of Hidden Paradise is kept secret and only available for retreat participants. If you have booked a retreat at Hidden Paradise, you will receive the "how to get here" if you need it.
PLEASE SEE PHOTO GALLERY to give you an idea of this beautiful retreat centre or WATCH VIDEO about the Hidden Paradise .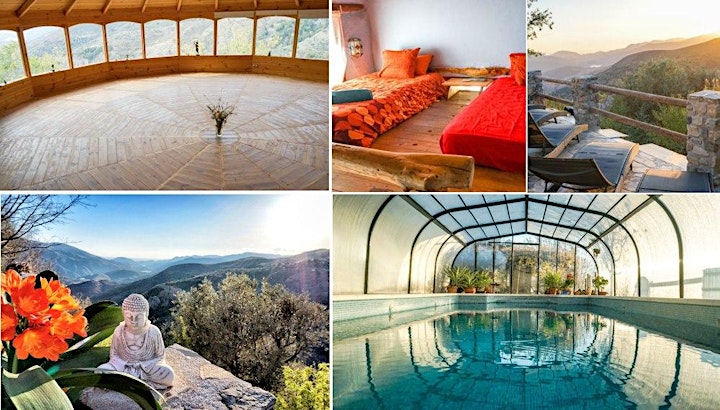 TRAINING COST:
-Super Earlybird £500 (deposit of £250 to be paid by 31st Dec 2019, remaining £250 to be paid via bank transfer by 1st March 2020 )
-Earlybird £800 (deposit of £400 to be paid by 1st March 2020, remaining £400 to be paid via bank transfer by 1st May 2020)
-Regular £1200 (deposit of £600 to be paid by 1st March 2020, remaining £600 to be paid via bank transfer by 1st July 2020)
FOOD AND SHARED ACCOMODATION COST:
€460 Euros (deposit of €230 Euros to be paid via bank transfer, details will be provided once you have paid the deposit for the training, remaining €230 Euros to be paid in cash upon arrival)
3 delicious vegetarian/vegan meals a day, including gluten free
including variety of fruits throughout the day, teas, filtered spring water and lemon water
(If you would like a private room, extra charge of €150 Euros for 7 days applies on top of €460 Euros, to be paid in cash upon arrival. Single rooms are subject to availability)
CANCELLATION POLICY
Due to teacher cancellations or other situations beyond our control, URUBU School or Transformational Arts reserves the right to change bookings or cancel the retreat/ training/ event and shall inform the customer as soon as possible. You may transfer your full payment to another retreat/ training/ event or you may request a refund of your payment to us, constituting a full settlement. Alternative arrangements will be offered but we do not accept responsibility for any costs incurred, including airfare. URUBU School or Transformational Arts is not responsible for your expenses incurred in preparation for any cancelled retreat/ training/ event, such as airline tickets, loss of work, and/or other costs associated with preparing for your trip.

ABOUT YOUR TEACHERS:
SETH NEWMAN
Founder of Ecstatic Dance London and URUBU - School of Transformational Arts. As well as growing up with the Indian Mystic Osho in India in the 1970's, Seth has trained in many modalities including: Living Tantra, Bioenergetics, Humanistic Psychotherapy and Active Meditation. He is a long-term student at the Open Centre (the longest running personal growth centre in the UK), and has trained with Guy Gladston (Bioenergetics), Amadis Cammell (Core-energetics), Michael Gavin (Radix Neo Reichian bodywork), Silke Zeihl (Postural Integration) and Tim Brown (Dance of Awareness). Seth brings a holistic approach to his work with groups and individuals.
SCOTT NICE
Northern California producer Scott Nice brings the listeners mind and heart into a flowing adventure through world music colors, sounds of the jungle, and dance music aesthetics. This is art rooted in indigenous cultures and traditions; the vibrations find a home in nature's resplendent environs. Nice, a former turntablist who has logged time in the skateboard and snowboard industries, returned to making music with a newfound clarity and focus following health challenges that saw him stop making music for an extended period. Through inner journey and personal triumph, Nice has arrived at an exotic cross-section of styles, yet maintains a sound all his own.
Mr. Nice places the artistic focus on creating music that stands the test of time, art that has a replay value for years to come. There are no fads chased here, no genre-of-the-moment, no tried and true formulas at play. Instead, the producer leans heavily on his own world view, and the globalized rhythms that pulsate throughout his music are a testament to his wide-eyed approach.
SEVEN REASONS TO TRAIN WITH US:
1) We are an established school of ecstatic dance and transformational arts
Ecstatic Dance Temple is part of the URUBU - School of Transformational Arts who have been creating a global health-conscious community, a transformational community that celebrates life through music, dance and embodied living practices. Since 2009, we have hosted over 1000 events in London!
We are experienced facilitators with over 40 years combined in the work and we both fully embrace ecstatic dance as a lifestyle and path of liberation. We've run our first Ecstatic Dance Temple training in 2017, Bali and host regular festivals and retreats worldwide.
2) We are non-dogmatic
Our school embraces ecstatic dance, tantra, humanistic values and modern psychotherapeutic research as part of the ecstatic dance teacher training course, whilst maintaining a non-dogmatic and open minded approach, as foundation pillars of the school.
3) We are a heart school:
Ecstatic Dance Temple is based on the development of qualities of the heart such as embracing our emotions, self-love, kindness & compassion.
4) Our program is exceptional:
Our non-dogmatic & scientific approach allows us to provide an exceptionally complete, organic program of training.
5) We provide an intensive ecstatic dance DJ and Facilitator training course in a fun, relaxing environment for you to learn:
We believe that life is for learning but also for celebrating, therefore on this training we provide a fun, relaxing environment where learning & celebration go hand-in-hand.
6) We offer a free internship for recently graduated students:
Our program offers a free internship to run ecstatic dance at some of our events in the UK (for select students). (Certification will be assessed after 6 extra sessions).
7) Amazing Location & Facilities:
Our Ecstatic Dance Temple training takes place in a beautiful retreat centre in the mountains of Spain, providing onsite accommodation and facilities that allow you to immerse into the teacher training course. The retreat centre has botanical indoor and outdoor pools, woodfired sauna, nourishing food, and beautiful surroundings.
VIDEOS ABOUT TRAINING:
VIDEOS WITH TESTIMONIALS FROM OUR GRADUATES:
CONNECT WITH US:
For more information or if you have any questions, please contact us: info@urubu.com
Facebook Pages:
Facebook Groups:
Instagram:
Meetup:
Youtube: