About this Event
Come and dance with us from the comfort and safety of your own home! Or go out and dance from your favourite park or nature spot if you're not in complete lockdown.
We're keeping the exact same time and format to make your experience as close as possible to our regular dances. We're working hard to bring you the best-quality sound and event possible, so in order to make the most out of your session, we recommend you find a spot with a high-speed Internet connection and plug your computer or mobile phone into high-quality speakers or headphones.
DJ LINEUP
May 31Benjamin Crystal (India)
June 7 Renée Lacroix (UK)
June 14 OSARA (UK)
June 21 Kareem Raïhani (Thailand)
FORMAT (UK TIME)
10.00 Warm-up music
10.30 Doors open + Opening circle
11.00 Ecstatic Dance
12.40 Sound healing + Closing circle
13.00 Hangout & chat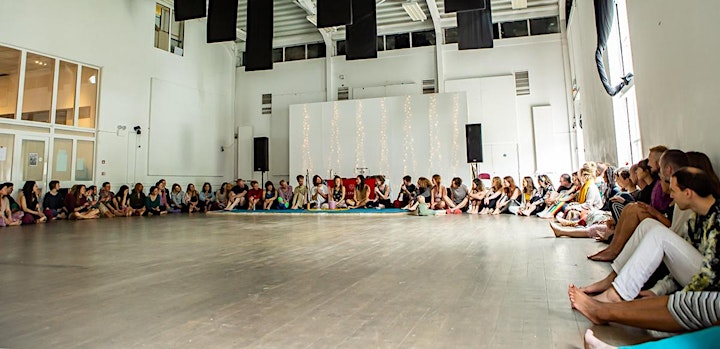 How does this work?
1. Register through Eventbrite
2. Your registration email will include the link to Zoom (click orange button 'View Now')
3. Join the session anytime from 10:00 onwards
4. Dance!
How much does it cost?
In these times of economic crisis, we're offering our dances on a donation-based model. We suggest a donation of £5-10/person, but you can give as little or as much as you wish. Your donations support our self-employed DJs and organiser, whom are spending a lot of their time and energy putting together our brilliant events.
ZOOM ETIQUETTE
Participating in an online dance is obviously different from attending a regular dance. While the general guidelines are the same (no talking, no mobiles, no shoes and intoxicants), here is the etiquette for our livestream sessions:
1. You'll automatically be muted when you enter the room (we'll give you the opportunity to unmute your mic only after the session at 1pm)
2. Turn your video 'on'. The overall energy and vibe of the group is so much better if we can all see each other!
3. Choose 'Gallery view' so you can see everyone in the room, not just the DJ or facilitator.
4. Use the chatbox to introduce yourself and greet your fellow dancers between 10:00 and 10:30. No chatting once the opening circle starts!
5. Dance, don't spectate. Ecstatic Dance is a practice, not a show. If you want to take a break, you can of course lie or sit down, but do so in your own space, not by sitting in front of your computer.
Help us spread the word by RSVP'ing and inviting your friends on Facebook: https://www.facebook.com/events/653426282164375/
We can't wait to see you there!
Renée & the Ecstatic Dance UK team