Location
Trades Hall
85
Glassford Street
Glasgow
G1 1UH
United Kingdom
Ecto-Con Glasgow is a one day fan event to celebrate EVERYTHING Ghostbusters! We'll be holding the event at the Trades Hall in Glasgow!
About this event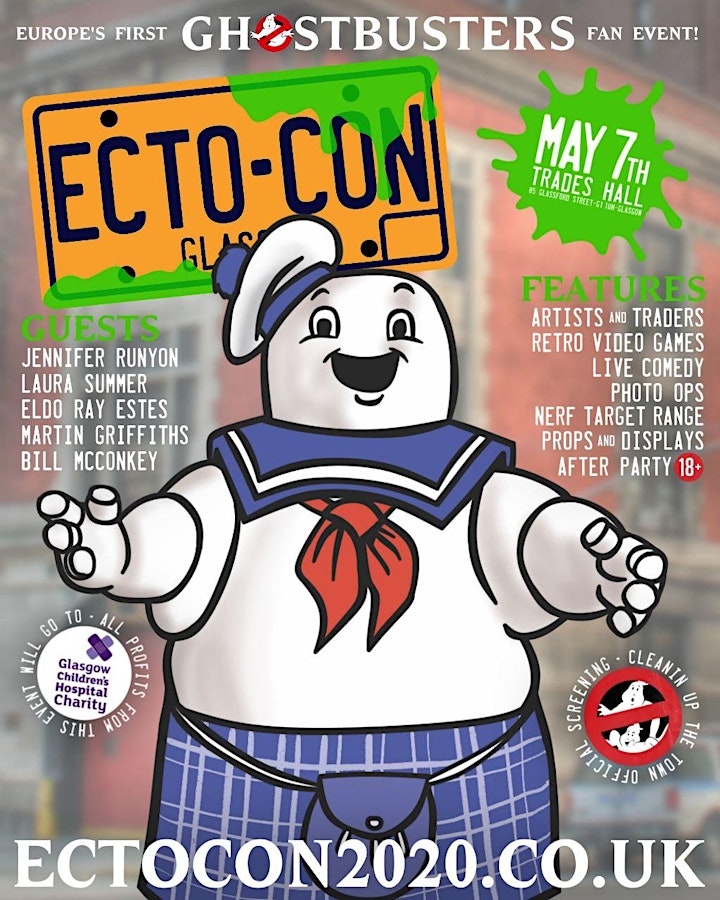 Hello and Welcome! Ecto-Con is a one day fan event to celebrate EVERYTHING Ghostbusters! We'll be holding the event in Glasgow on May7th 2021 and all you Ghostheads are invited!
On the day there will be talks, photographs, props, cosplay competitions, merchandise to drool over, shows to watch, raising money for charity and many Ghostbusters fans as possible to meet! All profits will be donated directly to the Glasgow Children's Hospital Charity!
We can't think of a better reason to get together and celebrate with our fellow Ghostheads!
A full one day event with traders and artists for you to explore
The chance to meet comic book legends Bill McConkey and Martin Griffiths
Meet Eldo Ray Estes from the original Ghostbusters film
Jennifer Runyon aka Jennifer has just been announced!
Laura Summer aka Janine Melntiz from The Real Ghostbusters has been added to our roster of guests!
Replica props and features from Ghostbusters and Ghostbusters 2 including a giant Stay Puft Marshmallow Man for you to get your photo with
Retro Video Games to Play
Des O'Gorman's One Man Ghostbusters comedy show, "Still Ready To Believe You"
Green Screen Photography that will put you in the heart of the films
A chance to meet Ghostheads from around the world
An exclusive screening of "Cleanin' Up The Town" the hotly anticipated documentary followed by a Q and A from the creators
"The Containment Unit" our exclusive after party in the Trades Hall with live comedy and music, DJs, bars and the ultimate Ghostbusters Fan Quiz!
All whilst raising money for the Glasgow Children's Hospital Charity
Here is some information before visiting our event!
CASH OR CARD
Our Ecto-Con Glasgow merch table will accept cash and card, we would think our traders would be able to offer both options too. However our guests will only be able to accept cash on the day. There are multiple cash points and ATMs around the venue, so please be sure to check before arriving.
COLLECTING YOUR MERCHANDISE
Ecto-Crank will be hosting a MERCH table on the FIRST FLOOR where you can buy your EXCLUSIVE Ecto-Con Glasgow Posters by Dan Shoening and Erik Burnham, Ecto-Con badges, stickers, pins and tote bags.
You can also collect your pre-paid merchandise items along with your ticket at this table.
GUEST AUTOGRAPHS
Attendees will be able to purchase guest photographs from Laura Summer, Eldo Ray Estes and Jennifer Runyon, at their respective tables. A price list will be available at their tables.
Our comic book artists, Bill McConkey and Martin Griffiths, will be offering their own artwork and signatures throughout the day at their tables.
GUEST PHOTOGRAPHS
You will be able to purchase your Guest Photograph ticket at our MERCHANDISE STALL on the day of the event.
We advise you bring cash on the day.
EARLY ACCESS TOUR WITH ECTO-CRANK AND GUEST MEET AND GREETS
We have been in contact with those who have paid for the Early Access Tour with Ecto-Crank and those entitled to a short meet and greet with our guests, just prior to the event with details on where to be and when.
FOOD AND DRINK
Tempo Tea Bar will be on hand to sell their Bubble Tea on the day and Galloway Fudge will be offering sweet treats. There are plenty of cafes and supermarkets (as well as fast food restaurants) in the city of Glasgow for you to explore for all your breakfast, lunch and dinner needs.
DISABILITY ACCESS
Taken from the Venue's website:
Disabled facilities are situated on the ground floor and first floor. We have a lift which enables access to the first and second floors. The maximum load weight for this is 190 kg.
Please note that whilst we do everything possible to make your visit to Trades Hall as accessible as possible, the building is very old. There are, therefore, unfortunately some areas that are more difficult to access.
https://www.tradeshallglasgow.co.uk/about/
CHILDREN'S TICKETS
For children under 6 due to capacity of the venue we can allow up to TWO children FREE for each paying adult. Tickets not required. For children 6-12 years old tickets are available to buy.
Please be aware that tickets for the event are non-refundable except if the event is cancelled. Tickets for guest photoshoots may be exchanged for another guest or refunded only if the original guest cancels. No 3rd party sales or resale is permitted.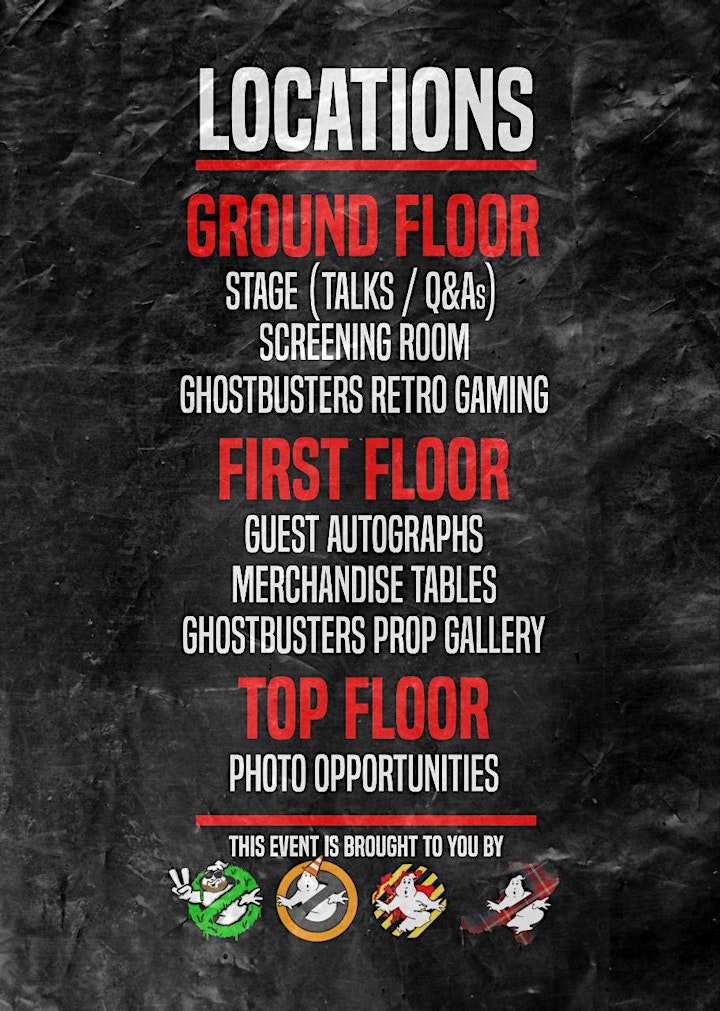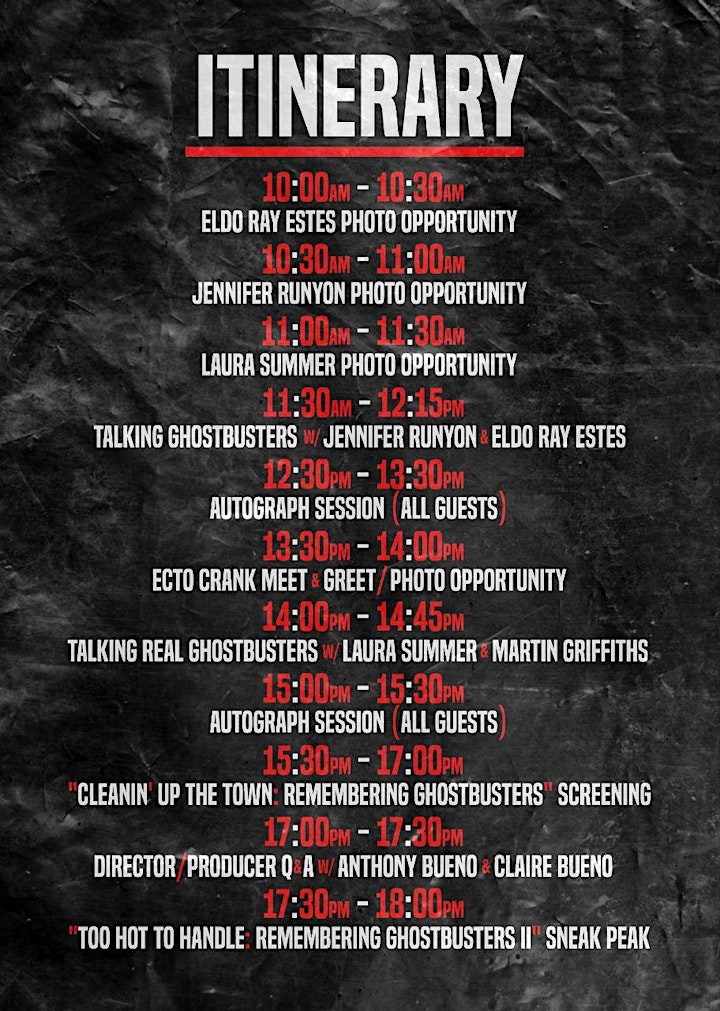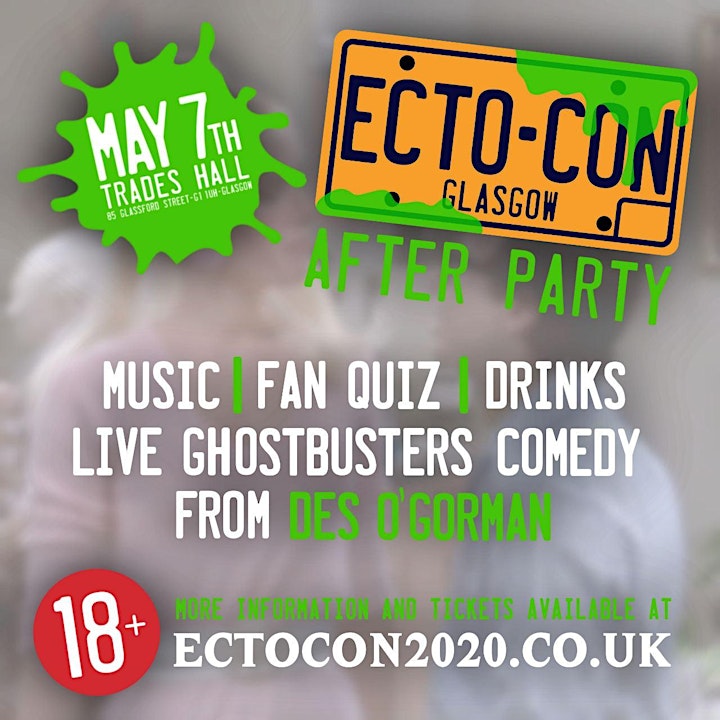 THE CONTAINMENT UNIT AFTER PARTY!
Join us at the Trades Hall in Glasgow from 7pm for music, the ultimate Ghostbusters fan quiz, drinks and live Ghostbusters comedy from Des O'Gorman!
Tickets are £10 and can be purchased on our website.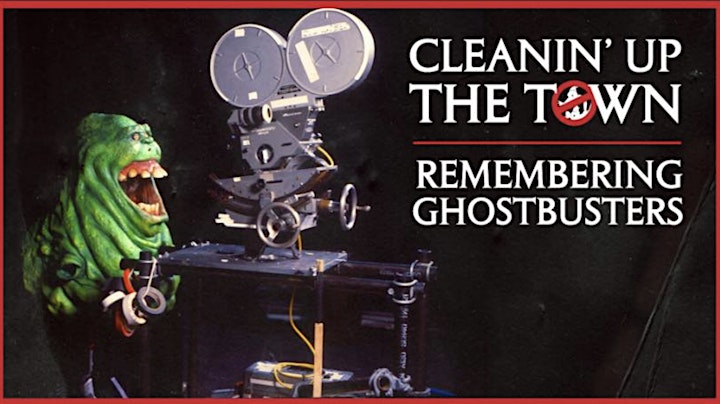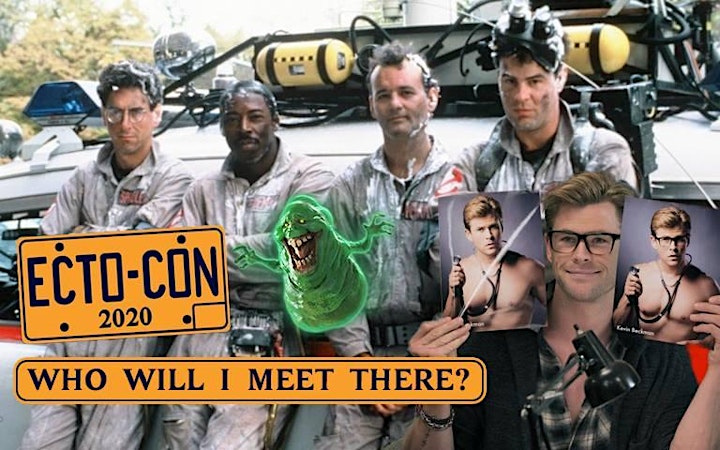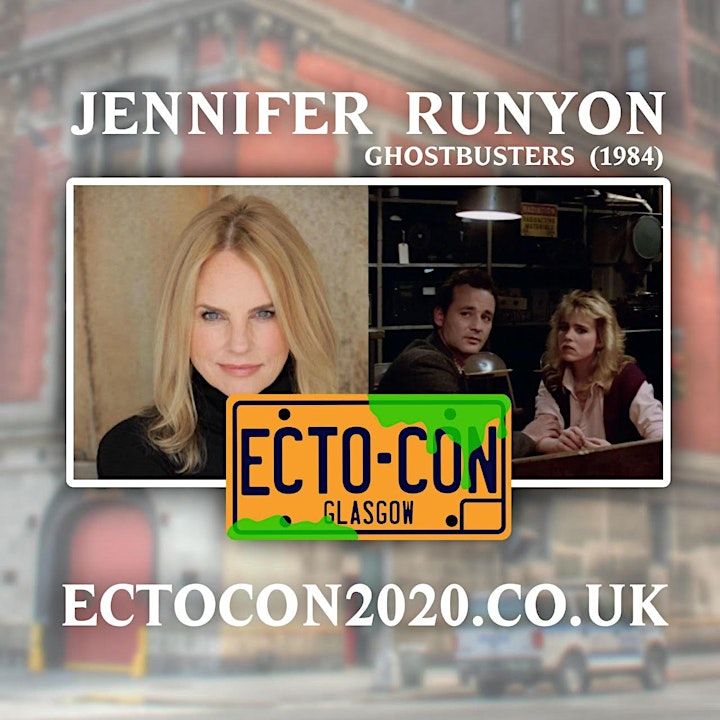 Is it a star? Why yes, it is! The amazing Jennifer Runyon Corman who played Jennifer opposite Bill Murray in Ghostbusters (1984) is our latest guest to appear at Ecto-Con 2020 on June 20th 2020! Jennifer has appeared in over 35 movies and TV shows including Quantum Leap, Beverly Hills 90210, A Very Brady Christmas and Charles in Charge!
We can't wait for you all to meet Jennifer and listen to her panel talking about working with the cast and crew of Ghostbusters. And we can guarantee some GREAT Bill Murray stories!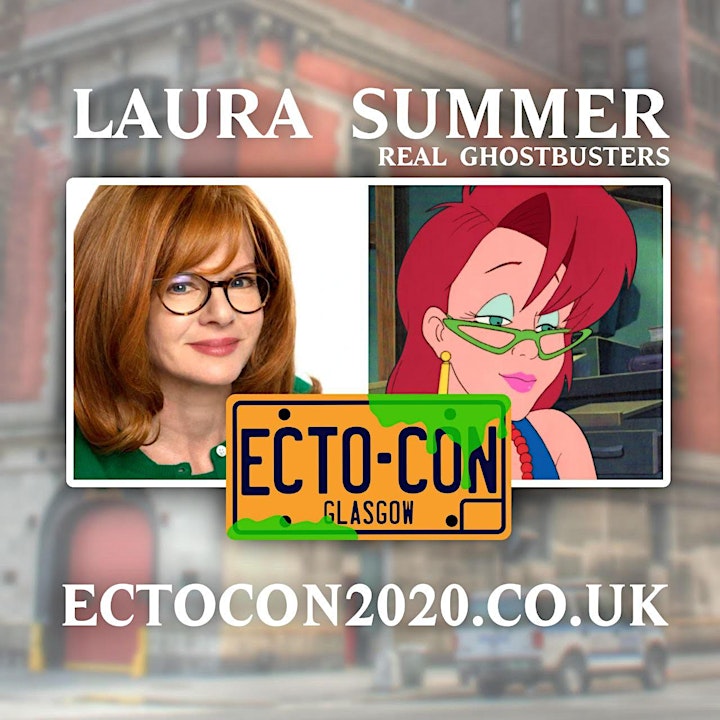 Laura Summer who voiced Janine Melntiz, trusty receptionist for the team in The Real Ghostbusters for over 90 episodes, is coming to Scotland! Come meet Laura at Ecto-Con 2020 with the chance to win an exclusive lunch with her and her Garfield co-star, Jason Marsden!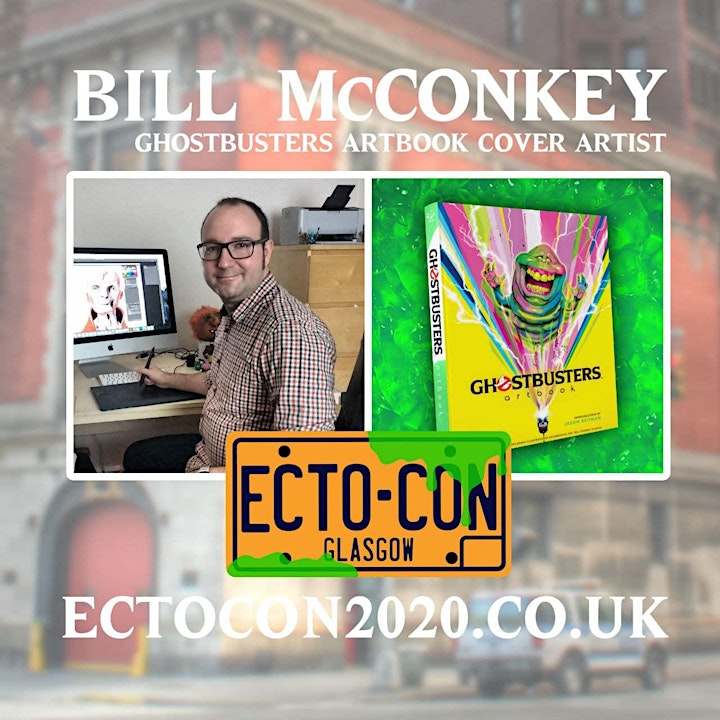 Bill McConkey is an award-winning illustrator and also Visual Contributing Editor to Empire magazine, as well as being the cover artist to Titan Book's Ghostbusters Artbook, his clients include: Marvel, Netflix, Warner Bros, Square Enix, GQ, & The Guardian amongst many others.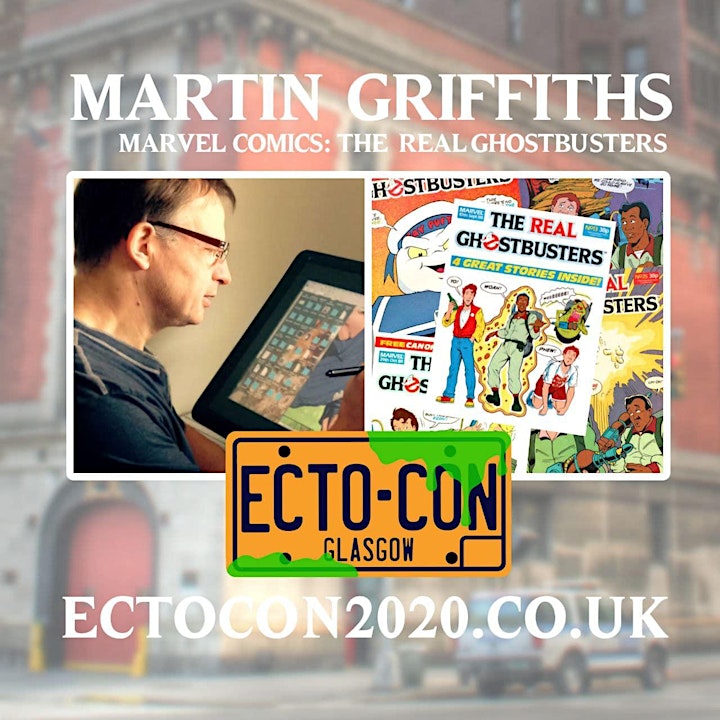 Martin has been a professional artist since 1986. Beginning his freelance career with Marvel UK, on titles including, Transformers, Thundercats, Ghostbusters, Action Force and Doctor Who. In the early 90's Marvel UK begin producing comics for the American market. Martin contributed to titles including, Knights of Pendragon, Deaths Head, Killpower and many more. This led to working with other companies. He signed a one year contract with the Daily Mirror newspaper producing art for the Teenage Mutant Ninja Turtles daily strip.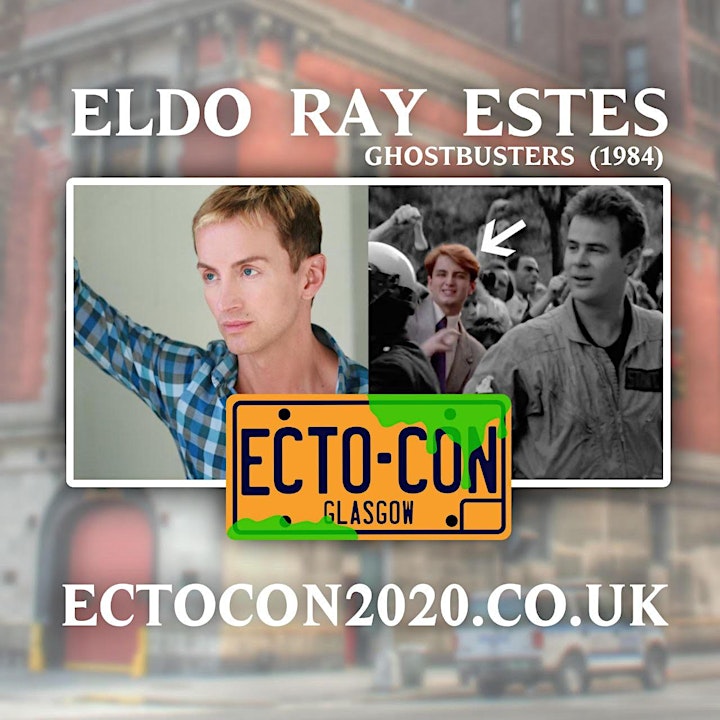 Four time Emmy Award winning makeup artist Eldo Ray Estes is our latest guest for Ecto-Con 2020! Eldo is very much part of the Ghostbusters family, playing one of their more vocal supporters, sporting stunning red hair, cheering them on as they arrive at Dana's apartment to take on the villainous Gozer in the final battle. With his iconic line, "Ghostbusters, all right!". His recent work can be seen in films such as "A Simple Favour" with Anna Kendrick, "First Reformed" with Ethan Hawke and the Darren Star television series, "Younger" with Sutton Foster. We are delighted to have Eldo come to Scotland to meet the fans, talk about his time on Ghostbusters and his career in film and television!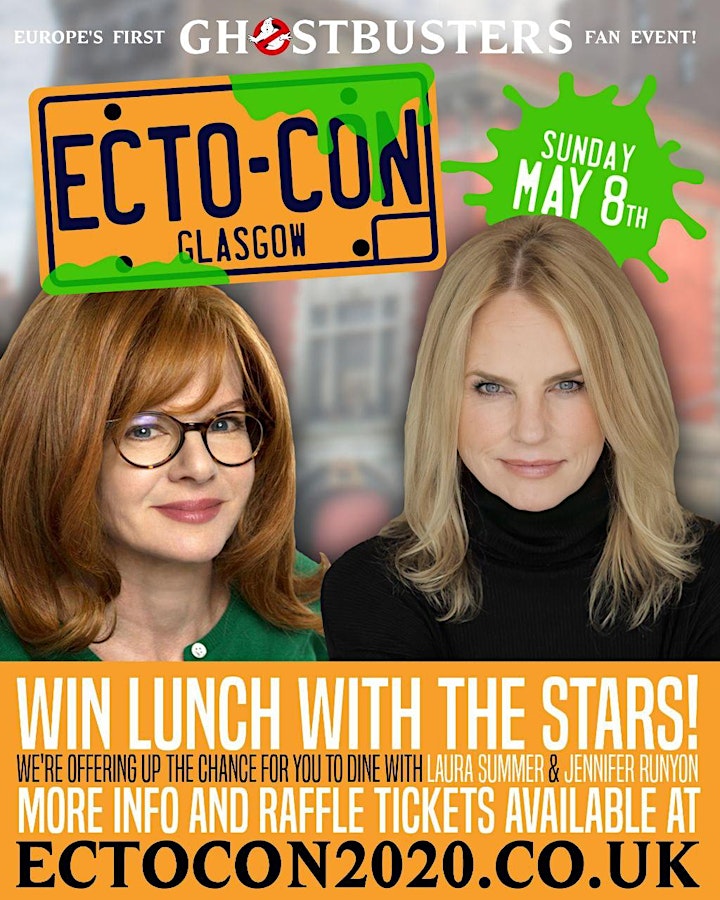 We're offering you the chance to win Lunch with the Stars - Laura Summer (Janine from The Real Ghostbusters) and Jennifer Ruynon (Jennifer from Ghostbusters) has kindly offered to have lunch with two lucky winners on the 18th of April 2021 in Glasgow. Tickets are available in our Ticket Section, costing £7 for 1 or £10 for 2. Winners will be announced during Ecto-Con 2020 and all profits will be donated to the Glasgow Children's Hospital Charity. Don't miss out on your chance to win!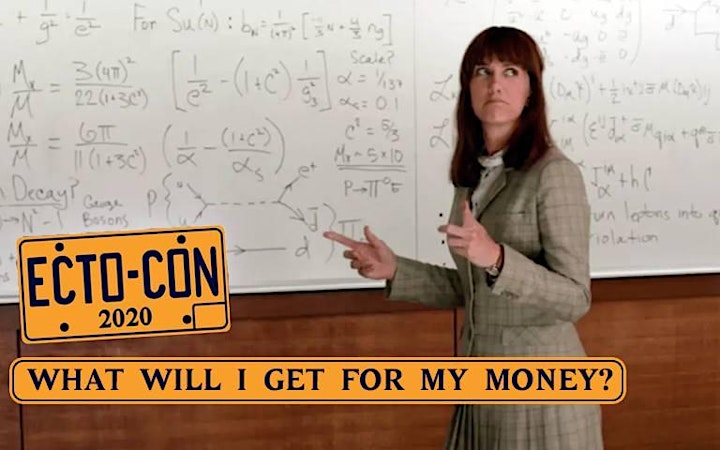 Ticket Options:
500 tickets are available to buy from this website - but when they're gone, they're gone! Tickets may be available on the day but is likely to be a "one in, one out" system in place.
GENERAL ENTRY (£15) will allow you access from 9am until 5pm with access to guest talks, traders, artists, guests, retro video games, green screen photography and the screening of "Cleanin' Up The Town".
YOU'VE JUST BEEN HOLTZMANN'D (£20) SOLD OUT! as above but with access to our after party at the same venue from 7pm until midnight. We'll be hosting the ultimate fan quiz, a DJ for dancing the night away and Des O'Gorman's one man show "Still Ready to Believe You". You can also buy the after party ticket separately for £10. (Over 18+s)
LITTLE GHOULS PACKAGE (35) will gain access to the day event for TWO adults and TWO children between 6 and 11 years old. All children MUST be accompanied by a parent or guardian.
UNDER 5'S GET IN FOR FREE
KEYMASTER TICKETS (£70) will give you access to both the day event and our after party, 1 free professional guest autograph (Guest TBC), supervised access to the green room and an Ecto-Con 2020 patch and pin.
GATEKEEPER TICKETS (£100) as above but with an exclusive poster from Dan Shoening, a spot at a VIP table at our after party and a THANK YOU in our programme.
THE GOZERIAN (£350) will give you access to the event BEFORE the public with a tour from Ecto Crank, lunch with Laura and Jason, reserved seatings at our panels and screenings, reserved space at our after party, a mention in our show programme, an exclusive Ghostbusters pack lunch, exclusive Ecto Crank merch and more!
FRANCHISE TICKETS are also available with details below. This will gain you and your franchise access to the daytime event only. After party tickets will need to be bought separately.
All proceeds will be donated to the Glasgow Children's Hospital Charity.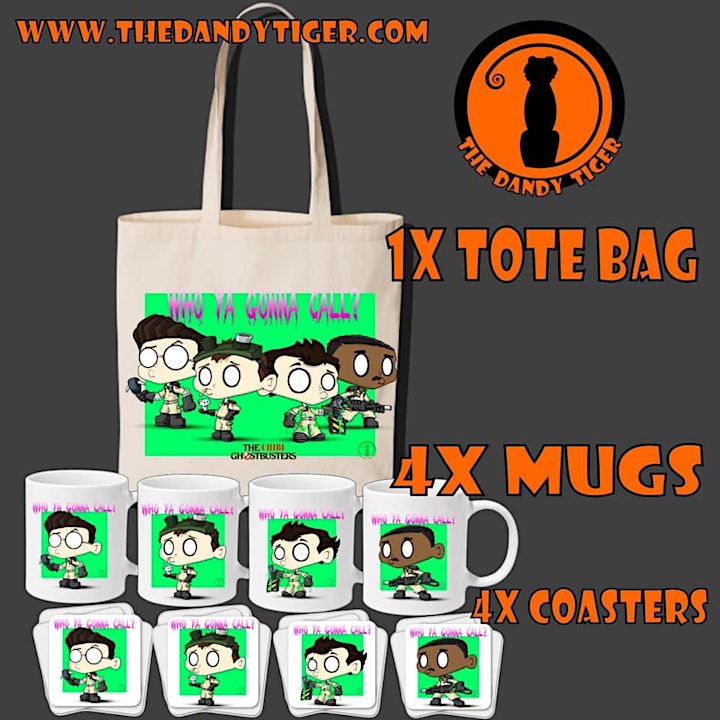 We're also offering Exclusive Ghostbuster Chibi Merchandise from The Dandy Tiger, which includes:
1x Containment Unit
4x Slime Receptacles
4x Ectoplasmic Residue Catchers
aka-
1x Tote Bag
4x Mugs
4x Coasters
Plus 1 General Entry Ticket, for £60.
You can also just purchase the merchandise for £50, down from £57 as a special Ecto-Con 2020 Promotion.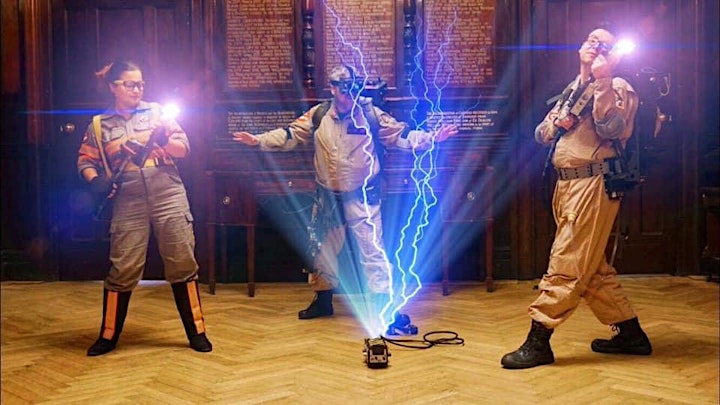 Please be aware that tickets for the event are non-refundable except if the event is cancelled. Tickets for guest photoshoots may be exchanged for another guest or refunded only if the original guest cancels. No 3rd party sales or resale is permitted.