ECU101 - The SMART Method to Teach Chess - Chess Didactics
About this event

The course is innovative in terms of content and delivery. It uses the SMART method developed by the professional ChessPlus team based upon years of practical experience supplemented by action research.
The course is suitable for teachers and tutors who want to make chess an exciting and educational experience for children. The course helps you to build up your teaching skills in chess so as to improve the general educational attainment of children. You can showcase this qualification on your CV and LinkedIn profile. The course qualifies towards Continuing Professional Development and is recognised across Europe by virtue of being accredited by the European Chess Union.
If you are a chess teacher/tutor looking for help to make your chess lessons successful this is the course for you.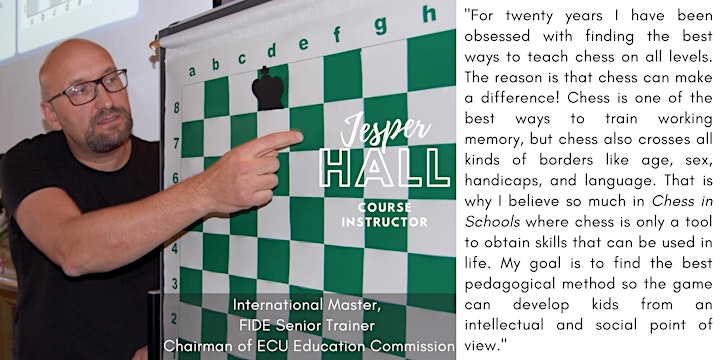 The ECU101 - The SMART Method to Teach Chess training course was designed by the leading chess educationists in Europe and is validated by the ECU Advisory Board which is an international academic panel with experts in disciplines from cognitive science and psychology to statistics and pedagogy. The certification was developed following the Declaration by the European Parliament on 15th March 2012 that Chess in Schools should be encouraged for educational purposes.
Course information:
Course ID: ECU101
Duration: 2 days
Dates: 24-25 August 2020
Time: Please note, all times are Central European Time (Stockholm)
DAY 1:
Part 1: 10:00-12:30
Part 2: 13:30-16:00
DAY 2:
Part 3: 10:00-12:30
Part 4: 13:30-16:00
Language: English
Fee: €150
Venue: on ZOOM (Link to join is given after registration)
Course Instructor: Jesper Hall
Course description:
Day 1
Introduction
Classroom Chess
Language of Chess
History of Chess
The Pieces
Minigames
Didactic Model
Teaching Checkmate
Organising Competitions
Day 2
Lesson Planning
Behaviour
Teaching tactics
Problem-solving
Social chess
The ECU Certificate is available to those who complete the course and pass an online test taken at the end of the course. The Certificate is endorsed by the Academic Advisory Panel of the Education Commission of the ECU and is recognised by chess federations across Europe.
Please like and follow ChessPlus Facebook Page for updates and more information about our activity.
More information: training@chessplus.net
The European Chess Union is the representative body for 54 national chess federations in Europe and neighbouring regions. Members of the ECU include the English Chess Federation, Scottish Chess, the Welsh Chess Union and the Irish Chess Union. The Education Commission of the ECU promotes chess as a pedagogic tool to develop the social and intellectual skills of children. The Education Commission was established in 2014 to lead the development of Chess in Schools across Europe. It launched a School Chess Teacher Certificate scheme to recognise school teachers who have the knowledge and ability to teach chess in the classroom.