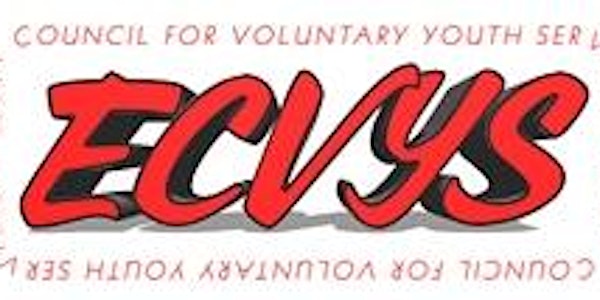 ECVYS Conference 2018 'Raising Youth Aspiration in Essex' (ECVYS Members ON...
Location
Anglia Ruskin University
Chelmsford
CM1 1SH
United Kingdom
Description
This booking link is ONLY for ECVYS members. If you are not an ECVYS member then you need to book via this link https://bit.ly/2NguWwu

If you are not sure, then email officeadmin@ecvys.org.uk


ECVYS are hosting a very unique conference for all those who volunteer or work within a voluntary youth setting in Essex.
The event runs from 9.30am (registration and coffee, 10am start) and finishes at 3pm. The conference promises to be buzzing with volunteers and staff from youth groups across Essex and will be bursting with inspiring youth work, good practice, networking, brilliant Keynotes and workshops plus a *FREE yummy lunch....What more could you want?!
Only £10 for member organisations and £20 for non-members. Please contact officeadmin@ecvys.org.uk if you are unsure.
Our amazing keynote speakers for the day will be-
The Right Revd Roger Morris, The Bishop of Colchester, Chelmsford Diocese
Bishop Roger is passionate about community, engagement and creating a better future for the people of Essex and beyond.
The Youth participation Group, The Childrens Society
These brilliant young people will be speaking from their own current experiences and what has helped them to reach and aspire for greater things.
Professor Iain Martin, The Vice Chancellor of Anglia Ruskin University
Professor Iain Martin has completed extensive research on the 'Essex Picture' of youth aspiration and some of the key factors/ triggers that might affect these.
Workshop choices:
Once you have completed your booking we will email you to ask for your workshop choices. You will have the opportunity to pick one morning workshop and one afternoon workshop.
Morning Workshops:
1.) Promoting positive mental health in young people – Essex Emotional Wellbeing & Mental Health Service

2.) Raising aspirations with the whole family- Kids Inspire

3.) How to use mentoring as a tool to raise youth aspiration- The Wilderness Foundation
4.) Essex Fire & Rescues engagement with young people & how groups can get involved- Essex Fire & Rescue
Afternoon workshops:
5.) Youth Homelessness: Is there an issue in Essex & what can we do to help? – Colchester Korban Housing Project
6.) Funding available for youth work projects in Essex- The Essex Community Foundation
7.) The forgotten few? - Raising aspirations with young people in a rural context - Essex Young Farmers

8.) Working with 'hard to reach young people' & releasing their potential – Essex Youthbuild
So, if you are engaged in youth work across Essex in any way at all, BOOK UP NOW to be a part of this brilliant day!
*The free yummy lunch is only included if you book before the 5th October due to catering reasons.
Parking is available on site and the university parking barriers will be open. If you have any questions about this, or any other details about the day then email officeadmin@ecvys.org.uk
This booking link is ONLY for ECVYS members. If you are not an ECVYS member then you need to book via this link https://bit.ly/2NguWwu If you are not sure then email officeadmin@ecvys.org.uk