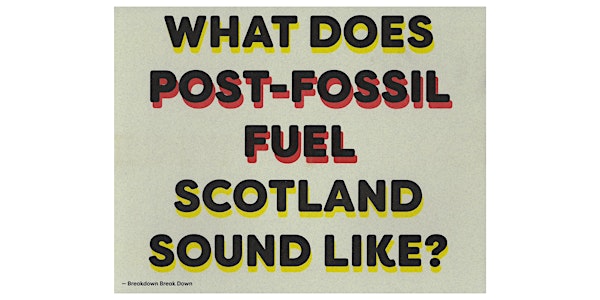 Edge Effects: Breakdown Break Down - Two day workshop in Deep Listening
Description
Edge Effects: Breakdown Break Down - Two day workshop in Deep Listening
Brett Bloom and Ximena Alarcon
Workshop Times:
Thursday 27th July 9am – 5pm
Friday 28th July 9am – 2pm
This intensive Deep Listening workshop invites participants to imagine and immerse themselves into a post fossil fuel Scotland. Over two days you will undertake a range of sonic meditations, body energy exercises and dream work, in order to awaken unexpected connections between creatures, the environment and ourselves.
Devised by Brett Bloom and guided by certified Deep Listening practitioner Ximena Alarcon group exercises will explore the balance between inner and outer environments attempting to dissolve dualities, create empathy and amplify perceptual human possibilities in order to empower present and future actions.
Deep Listening is a practice and philosophy developed by the composer Pauline Oliveros that is informed by expanding the range of audible forms beyond ordinary sound perceptions in daily life. The practice of Deep Listening is intended to heighten awareness of sound, silence and sounding.
https://deeplisteningaphiliateuk.wordpress.com/
http://www.deeplistening.rpi.edu/
If you have any specific access needs please contact arts@ssw.org.uk
About the artists:
This workshop has been devised by Brett Bloom in collaboration with Ximena Alarcon.
Brett Bloom is an artist, environmentalist, publishers and organizes camps to build collective post-oil culture and sense of self. The camps are called: Camp Breakdown Break Down.
Ximena Alarcón is a sonic artist, academic researcher and Deep Listening practitioner interested in listening to interstitial spaces, such as dreams, underground transportation, and the 'in-between' space in the context of migration. To evoke, connect to, and share memories of sonic space her practice involves Deep Listening, telematic sonic improvisation using spoken word and everyday sonic environments, and the creation of online interfaces for relational listening that expand our sense of belonging and place.
Details:
Please bring your own lunch and refreshments will be provided, please wera suitable clothing for movement and being outdoors.
Edge Effects
This event presented as part of Scottish Sculpture Workshop: Edge Effects; a programme of workshops, walks, sound work, film and performance that explore the complex co-dependencies between ecological, social, economic, and political phenomena.
Edge Effects is presented between the 27th - 30th July, at the CCA Glasgow and sites across the city. For more details on the full programme visit: SSW Edge Effects