Description
Refreshments and networking from 6:00 pm.
Synopsis
Artificial Intelligence (née Machine Learning) has transformational potential for the domain of healthcare. At Canon Medical Research Europe, we seek to translate advances in the state-of-the-art into useful and usable technology for the clinic. Medical data is particularly challenging since it may be large, noisy, biased, non-standard in format, and fragmented across multiple systems - whilst the underlying relationships may be complex and poorly understood. The difficulty of accessing and training on large amounts of data with suitable expert labels means that supervised deep learning algorithms are more difficult to train and test than in other domains. In this talk I will discuss some successes, some lessons learned and some solutions going forward, in the context of our research at Canon..
About the speaker...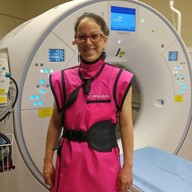 Dr. Alison O'Neil obtained a BSc in Biomedical Sciences and an MEng in Electrical and Electronics Engineering from the University of Edinburgh. She graduated from Heriot-Watt University with an EngD in Optics and Photonics in 2016. She has since worked for Canon Medical Research Europe (formerly Toshiba Medical Visualization Systems) as a scientist for 3 years, and is currently one of the scientific team leads on the AI Research team.
About the organiser: This event is organised by the BCS Edinburgh Branch, find out more about the group at http://www.edinburgh.bcs.org/
Things to note:
For overseas delegates who wish to attend the event please note that BCS does not issue invitation letters.