Description
Edinburgh Family Rides:
Edinburgh Family Rides is a cycling group organised by Sustrans Scotland aimed at families around Edinburgh.
Discover the joy of being out on your bicycle by coming with us on monthly led rides around our beautiful city! We aim to make cycling as a family unit feel safe and fun for all.
---
April Route:
Join Edinburgh Family Rides this April for a special Easter ride from Duddingston Primary to Bridgend Farmhouse and back. This will be a guided, family-friendly ride along cycle paths of the National Cycle Network and some quiet roads, culminating with an Easter egg hunt for the kids and a chance to have a seat and some coffee for the rest of us!
The group will meet outside Duddingston Primary School at 11am and will aim to set off by 11.15am. From here we will cycle along quiet roads, walking on the pavement for a short stretch along Milton Road West between Duddingston Avenue and Duddingston Row, until we join up with the NCR-1 cycle path. We will follow NCR-1 west for a short time, before linking to King's Haugh via a section of shared-use path. At the end of King's Haugh the group will cross Peffermill Road and join another shared-use path taking us through Craigmillar Castle Park and finally to Bridgend Farmhouse at approximately 12.00pm. We will stop here for around an hour, during which there will be an Easter egg hunt for the kids, and an opportunity to explore the farm, have a coffee or grab a bite to eat for everyone else. We will then return to Duddingston Primary along the same route for 2pm.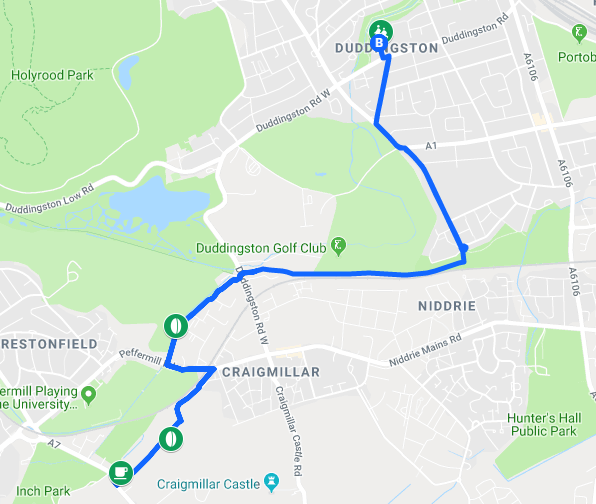 ---
Further information:
The rides are family friendly.
All children need to be accompanied by parent or carer.
You will need to bring your own bike and make sure it is in good working order.
Please make sure you are suitably dressed for the weather.
It is a good idea to bring a drink, snacks, and sunscreen (in case we are lucky enough to have sunny weather!)
Please be prompt at the start so we can get going on time.