Description
This July we at Edinburgh Family Cycles are organising a guided bike ride from Victoria Park to The Yard adventure play centre in King George V Park. If you intend to use the play centre then you must book a space for your child here. Prices are £6 per child for 2 hours (includes 2 adult admissions).
Timings: 10:30 - 14:00
Moving Time: 1h
Start Point: Jac's Coffee, Victoria Park
Destination(s): The Yard
End Point: Jac's Coffee, Victoria Park
Distance: 2.6 miles / 4.2 km
Difficulty: Easy - Suitable for all riders. Entirely off-road on dedicated cycleways.
Ethos and Rules:
The rides are family friendly.
All children need to be accompanied by parent or carer.
You will need to bring your own bike and make sure it is in good working order.
Please make sure you are suitably dressed for the weather.
It is a good idea to bring a drink, snacks, and sunscreen (in case we are lucky enough to have sunny weather!)
Please be prompt at the start so we can get going on time.
---
Route Details:
The ride will start and finish in Victoria Park at Jac's Coffee van. The group will meet at 10:30 and aim to set off by 11:00 at the latest. From here we will follow the Ferry Road Path, a dedicated cycle path, until the junction with the Goldenacre Path where they will turn left. They will follow this path south, continuing straight as it merges with the Warriston Path and passes through the Rodney Street Tunnel. The group should arrive at The Yard by approximately 11:30.
After stopping for 2 hours, the group will return to Victoria Park. They will first head north, back through the Rodney Street Tunnel, before turning right and onto the Warriston Path. This path will take the group north east towards Victoria Park. The group will take the left forks at Stedfastgate and continue on this path until they return to Jac's Coffee can for 14:00.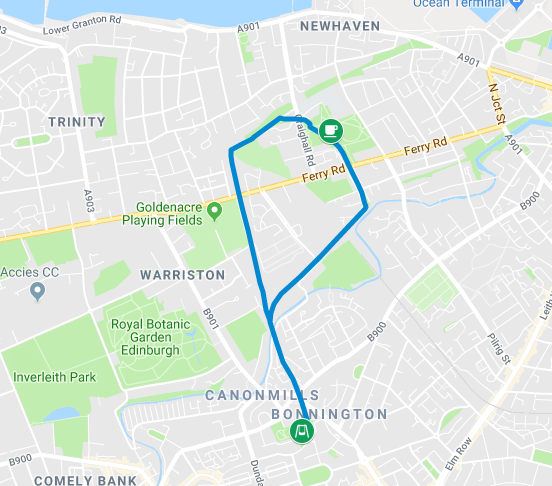 ---
For more information, please visit our website:
https://edinburghfamilyrides.blogspot.com/