Event Information
Location
University of Edinburgh
Wellcome Trust Lecture Theatre
QMRI, Bioquarter Campus
Edinburgh, EH16 4TJ
Description
Due to the generous funding given by many institutes, charities and organisations, resulting in a £14 million makeover to the Edinburgh Imaging facilities, based at QMRI and RIE on the Bioquarter Campus.
Edinburgh Imaging now houses 6 scanners dedicated to research, across 3 imaging facilities, making it one of the largest networks in Europe with ties to clinical care. Our new Edinburgh Imaging facility RIE, is purpose built and houses the 3T Siemens Magnetom Prisma, whilst our recently expanded Edinburgh Imaging facility QMRI, houses the Siemens Biograph mMR system, which is the first PET-MR scanner installed in Scotland.
Both these facilities were officially opened by the University's Chancellor, Her Royal Highness The Princess Royal on Tuesday 14 February 2017.
The Directors of Edinburgh Imaging would like to celebrate our fantastic imaging facilities with all funders, staff and associated clinicians & researchers, by hosting the Edinburgh Imaging Opening Symposium, on 30th June 2017.
We have both superb invited speakers and fantastic local speakers, including Dr Chris Boesch (Zurich), Dr Zahi Fayad (New York) and Dr Steve Williams (London). You will see from the programme, that the speakers will be covering a wide research range, including molecular imaging, cardiovascular imaging, neuroimaging and retinal imaging.
Whilst the symposium is free to all those invited, places will be limited, so please register ASAP to ensure your ticket.
Closing date for registration is 30th April 2017.
Full programme - please click here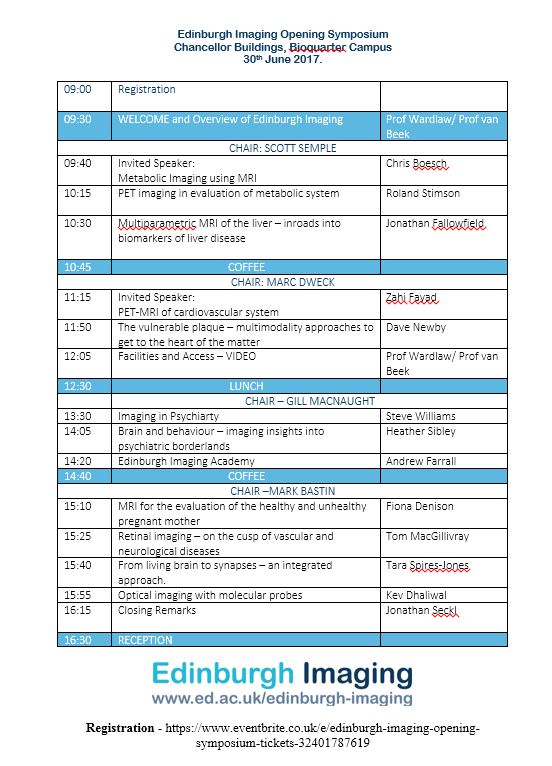 Date and Time
Location
University of Edinburgh
Wellcome Trust Lecture Theatre
QMRI, Bioquarter Campus
Edinburgh, EH16 4TJ