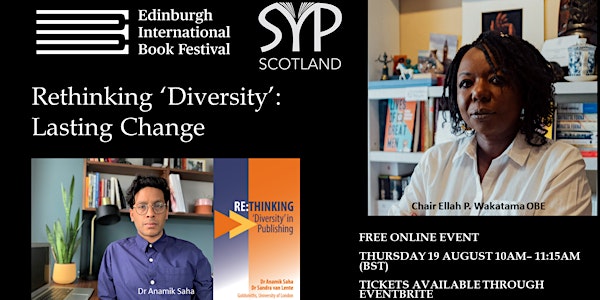 Edinburgh International Book Festival: Rethinking 'Diversity' in Publishing
A forum for shared thinking and debate on how to ensure longstanding change regarding diversity in publishing.
About this event
Rethinking 'diversity' is the first step; action needs to follow. (Rethinking 'Diversity' in Publishing report pub. 2020)
"Rethinking 'Diversity' in Publishing" was the first academic study in the UK that questioned how cultural production itself might disadvantage writers of colour. The study strongly encouraged professionals in the publishing industry to reflect on their practices, challenge their assumptions, and change their behaviour to make the publishing industry fairer for all.
One year on since the publication of this report, this event spotlights actions and initiatives which have been adopted to manifest real change for the benefit of writers and audiences of colour. It invites industry professionals to discuss what needs to be done to ensure these changes are longstanding, sustainable and part of a new structure.
Chaired by Editor-at-Large at Canongate and Chair of the AKO Caine Prize for African Writing, Ellah P. Wakatama OBE with contribution from the author of the Rethinking Diversity Report, Dr Anamik Saha and delivered in partnership with the Society of Young Publishers Scotland, this event offers a forum for discussion and invites everyone in the publishing industry from Scotland, the UK and beyond to join the conversation.
With Margaret Busby CBE, Hon. FRSL (Allison & Busby), Crystal Mahey-Morgan (Own It!), and Samantha Williams (Founder of BookLove)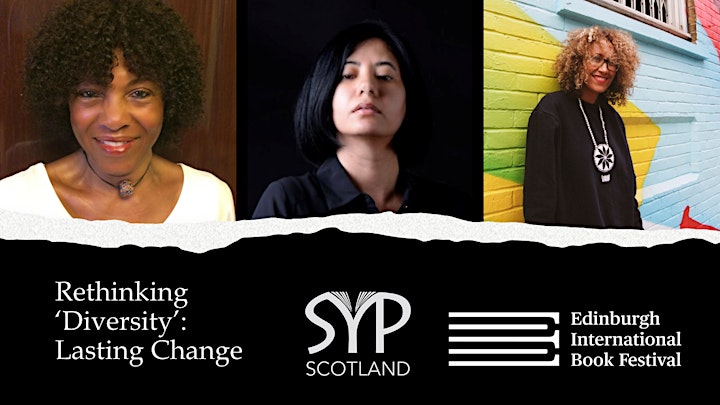 Ellah P. Wakatama OBE (Editor-at-Large at Canongate)
Ellah P. Wakatama OBE is Editor-at-Large at Canongate and was the founding Publishing Director of The Indigo Press. She is also the Creative Manchester Senior Research Fellow at the School of New Writing, University of Manchester and serves as the Chair of the AKO Caine Prize for African Writing. She was a judge for the 2017 Dublin International Literary Award and the 2015 Man Booker Prize. She is former deputy editor of Granta magazine and senior editor at Jonathan Cape, Random House. She is the editor of Africa39 and Safe House: Explorations in Creative Nonfiction. Her journalism has appeared in the Telegraph, Guardian and Observer newspapers and in Spectator and The Griffith Review. She is featured in the 2019 New Daughters of Africa anthology. She is a trustee of The Royal Literary Fund and sits on the Advisory board for Art for Amnesty and the Editorial Advisory Panel of the Johannesburg Review of Books. In 2016 she was Visiting Professor and Global and Intercultural Scholar at Goshen College, Indiana and Guest Master at the Gabriel Garcia Marquez Fellowship in Cartagena, Colombia.
Dr Anamik Saha (Senior Lecturer, Goldsmiths, University of London)
Anamik Saha is a Senior Lecturer in the Department of Media, Communications and Cultural Studies at Goldsmiths, University of London. His research interests are in race and the media, with a particular focus on the cultural industries and issues of 'diversity'. He is the author of Race and the Cultural Industries, published by Polity in 2018. In 2019 he received an Arts and Humanities Research Council Leadership Fellow grant for a project entitled 'Rethinking Diversity in Publishing', which led to a report of the same name published by Goldsmiths Press in June 2020. His research has featured across a range of media, including BBC Radio, The Guardian, TES and The New Statesman. He was included in the The Bookseller's 2020 list of most influential people in the book trade. He latest book Race, Culture, Media, was published by Sage in 2021.
Margaret Busby CBE, Hon. FRSL
Margaret Busby CBE, Hon. FRSL (Nana Akua Ackon) is a major cultural figure in Britain and around the world.
She was born in Ghana and educated in the UK, graduating from London University. She became Britain's youngest and first black woman publisher when she co-founded Allison & Busby in the late 1960s and published notable authors including Buchi Emecheta, Nuruddin Farah, Rosa Guy, C. L. R. James, Michael Moorcock and Jill Murphy.
A writer, editor, broadcaster and literary critic, she has also written drama for BBC radio and the stage. Her radio abridgements and dramatisations encompass work by Henry Louis Gates, Timothy Mo, Walter Mosley, Jean Rhys, Sam Selvon and Wole Soyinka. She has interviewed high-profile writers (among them Toni Morrison and Ngũgĩ wa Thiong'o), judged prestigious literary prizes, including the Booker Prize, and served on the boards of such organisations as the Royal Literary Fund, Wasafiri magazine, Tomorrow's Warriors, and the Africa Centre in London.
A long-time campaigner for diversity in publishing, she is a Fellow of the Royal Society of Literature and recipient of several honorary doctorates and awards, including the Bocas Henry Swanzy Award, the Royal Society of Literature's Benson Medal, the Royal African Society's inaugural Africa Writes Lifetime Achievement Award and the London Book Fair Lifetime Achievement Award.
Crystal Mahey-Morgan (Publisher and Literary Agent)
Crystal Mahey-Morgan began her career as a freelance journalist at the age of 16 writing for publications such as the Guardian and The Face Magazine. While still 16, she promoted a series of open mic events which were a fusion of hip hop and more conventional forms of poetry and was a performance poet herself.
At 19 Mahey-Morgan became Marketing Manager for Raindance Film festival and soon after embarked on a career within Publishing, firstly working as Literary Assistant at Peter, Fraser and Dunlop (PFD), then joining Random House in 2009. While at Random House she worked across Contracts, Sales and Digital and when she left in 2014 she was Group Online/Digital Manager across Penguin Random House. Alongside running OWN IT! she has had a number of roles including: Marketing and Sales Director, Zed Books; Brand Strategy and Marketing Consultant, The Literary Consultancy; MA Publishing Lecturer, Kingston University and Publicist for Patrisse Khan-Cullors, Black Lives Matter Co-Founder.
Samantha Williams (Founder of BookLove)
After 15 years of working in the media, and with no publishing experience, Samantha was frustrated by the lack of diversity and cultural representation in TV and in books. This motivated her to create BookLove, a travelling multicultural book carnival that brings inclusive, anti-racist, multicultural, and bilingual adult and children's books, multicultural toys, and flags from around the world to schools, markets, festivals, and other events across the country.
Samantha is passionate about representing a range of cultures, with an emphasis on marginalised Black and Brown voices in adult and children's literature. There is massive under-representation across all media, especially within books, and BookLove seeks to highlight and amplify marginalised voices, characters, stories, and histories by bringing more representative books into our homes, schools, libraries, and bookshops. BookLove believes that broader and more accurate representation in books helps to empower and educate everyone within our beautifully diverse communities. The award-winning book carnival is now in its fifth year. BookLove also operates an online bookshop and sends out its parcels of books wrapped in pre-used packaging donated by customers.
BookLove recently started the campaign BookLove and Beyond, which raises money to give free books to educational settings. Book lovers can support this mission by donating to BookLove and Beyond at https://gofund.me/195585c6. BookLove also donates 20p from each book sold to this new campaign.
Website and Shop: www.thisisbooklove.com
BOOKLOVEEDINBURGH at checkout for a discount!
Instagram @thisisbooklove_ = https://www.instagram.com/thisisbooklove_/?hl=enInstagram
Instagram @bookloveandbyeond = https://www.instagram.com/bookloveandbeyond/
Twitter @thisisbooklove = https://twitter.com/thisisbooklove
This event is part of the Edinburgh International Book Festival's Business of Books programme, a series of free events dedicated to all those interested and involved in the business of the book world. For more information, visit: www.edbookfest.co.uk