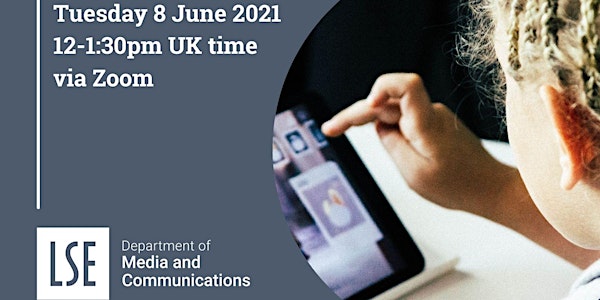 EdTech and the colonisation of our digital future: The role of EU's DSA.
The Digital Services Act/Digital Markets Act legislative packages aim to deliver an accountable digital industry. How is education affected?
About this event
Hosted by Media@LSE and organised by EDDS (Education Data | Digital Sovereignty)
The recent pandemic gave society a glimpse of the potentially disastrous effects of unregulated, hasty deployment of digital services. The health and education sectors offered the most pronounced examples of the vitality of digital services for mitigating the effects of social-distancing and sustaining the global economy. At the same time, it demonstrated the threats that the "inescapable" character of the digital condition poses for human freedom particularly when its governance is almost exclusively in the control of private actors.
The new EU legislation packages aim to address the emerging power asymmetry between Big Tech and society. In its current form the DSA recognises the importance of acting on the avoidance of intermediary liability and the lobbying of platforms to be perceived as mere conduits of communication. Yet, the DSA risks missing its mark by failing to take stock of the critical role and distinct nature of education technology (EdTech) platforms.
The EdTech landscape is currently regulated by GDPR, but this barely succeeds in safeguarding children's rights or their most fundamental freedoms, including their right to self-determination. In the field of education, digital services can collect and sell data but also 'train' their AI-based systems constantly through observation of educational processes. The growing "knowledge capital" acquired by educational technology companies widens the power asymmetry between the industry and society and generates lobbying power and knowledge to reconstruct education systems to suit EdTech business models.
This discussion brings together experts from across sectors to discuss the challenges and opportunities that the DSA/DMA legislation packages create considering two important parameters: a) the "inevitability" of the collaboration of the public and private sector in the process of the digitalisation of education and b) the risks involved in the unchecked deployment of data-driven services in education including the colonisation of society's collective vision about its future by profit-driven businesses.
Panel participants:
Professor Nick Couldry (Chair), Professor of Media, Communications and Social Theory, Department of Media and Communications, LSE.
Dr Ioanna Noula, Visiting Fellow, Department of Media and Communications, LSE.
Dr Velislava Hillman, Visiting Fellow, Department of Media and Communications, LSE.
Eva Kaili, Member of the European Parliament and Chair of European Union's Future of Science and Technology Options Assessment (STOA).
Dr Desmond Bermingham, Chief Executive, Australian Council for Education Research (ACER).
Professor Sonia Livingstone, Professor of Social Psychology, Department of Media and Communications, LSE.
Dr Ben Wagner, Assistant Professor, TU-Delft.
Mitzi László, Head of Strategy, Nextcloud GmbH .