Description
This event is now sold out. To be added to the waiting list please contact rowan.scahill@ednfoundation.org

Brought you to by The Education Foundation, and supported by Jisc and Microsoft, Esri UK, Intel, D2L, Kortext, Pearson, Education Technology Magazine, FutureLearn, Portsmouth College, Tablet Academy, Tech London Advocates & Tech London Advocates Education.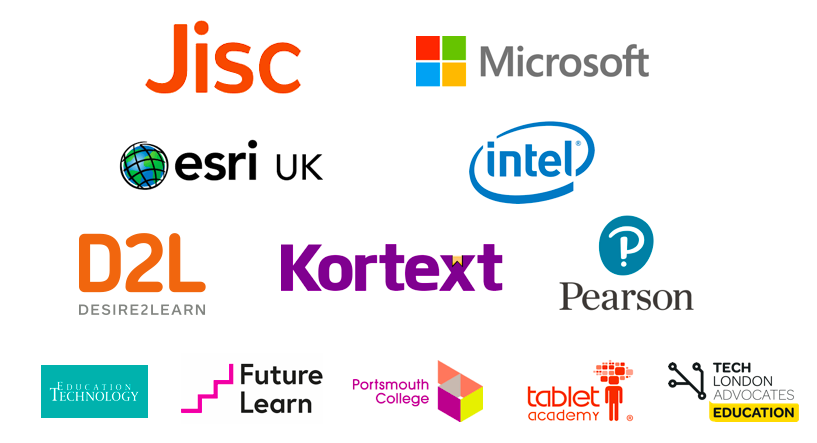 THE SUMMIT 2017
The Edtech UK global summit will continue to set the positive agenda for edtech policy and practice.
This year's event will be as ground-breaking as the first event held in late 2016.
Our summits bring together policy makers, start up's scale up's and industry to learn, share and advance this sector. We curate these events to be more than a one-off conversation – they provide the blueprint for growing this vibrant sector.
Speakers include:
Mark Anderson, @ICTEvangelist
Jeremy Auger, Chief Strategy Officer, D2L
Howard Bell, Chair, Firefly
Vineet Bewtra, Omidyar Network
Osi Ejiofor, Osi's Tech Tips
Paul Feldman, CEO, Jisc
Laurie Forcier, Director, Global Thought Leadership, Pearson
Ian Fordham, Microsoft
Steve Frampton, MBE, Principal, Portsmouth College
Ben Gill, Rocket Fund, Nesta
Priya Guha, Rocketspace
Scott Hayden, Lecturer Basingstoke College of Technology & Digital Innovation Specialist
Bertie Hubbard, CEO, MyTutor
James Kieft, Group Learning and Development manager at Activate Learning
Nick Kind, Impact specialist
Ian Koxvold, PWC
Damien Lanfrey, Chief Innovation Officer, Education Ministry, Italy
Ian Livingstone, CBE, Co-founder Games Workshop/Fighting Fantasy. Co-Author 'Next Gen', Hacking the Curriculum
Mark Martin, Urban Teacher
Hannah Mathias, e-Learning Manager at Cardiff and Vale College & Member of the National Digital Learning Council, Wales
Peter O'Rourke, Director of IT, University of Suffolk
Dr Ross Parry, Associate Professor, Deputy Pro-Vice Chancellor (Digital), University of Leicester
Ian Phillips, Assistant Head, Director Computing & ICT, The Haberdashers' Aske's Boys' School
Jose Picardo, Deputy Head, Hampshire Collegiate Boarding School
James Pickering, Associate Professor in Anatomy, National Teaching Fellow, University of Leeds
Shahneila Saeed, Head of Education for UKIE & Director of the Digital Schoolhouse. Co-author, 'Hacking the Curriculum'
Dan Sandhu, Investor & Entrepreneur
Kathryn Skelton, Director of Strategy, Future Learn
Genevieve Smith-Nunes, Entrepreneur, Founder readysaltedcode & Visiting Lecturer at Roehampton University School of Education
Donatella Solda, Director for Digital Transformation, Cabinet, Ministry for Education, Italy
Jason Sawle, Esri UK
Kellie Williams, Digital Pioneer for Welsh Government and NDLE award winner
Mark Yorke, Managing Director, Tablet Academy
The first summit produced The Edtech Vision 2020 Report that was a catalyst for thinking on edtech across Government and has fed directly into developing a new approach to edtech in England. Our trade missions continue to grow our edtech sector for UK plc.
This 2017 summit will also give delegates exclusive insight into both the industrial strategy and digital strategy and implications for the sector.
Government's approach to edtech will need to fast-forward collaboration, impact studies, assessment and investment.
There will need to be debate, conversations and decisions on curriculum. We will need to prioritise support for educators and pupil learning.
Education and our nation's skill base have never been so crucial.
The innovators move at pace – often educators – but it's also heartening to see the global tech companies prioritise digital skills and build networks of impact and collaboration.
Ecosystem-building and generosity matter. This is the spirit and watchwords of who we are and what the events are about.
This year's summit will include sessions on:
· Insights, future trends, thought leadership and top tip's
· Ed tech Educator big showcase from schools, colleges, universities and other learning settings.
· Impact and efficacy insights and debate.
· Edtech strategy – when and where next?
GDPR – why? And How?
· Digital Skills – from schools to adults – how do we build our digital skills with efficacy and urgency?
· What can we learn from other sectors and countries?
Edtech UK is only two years old and acts as a strategic body to accelerate the growth of the UK's education and learning technology sector in Britain and globally.
Our thought leadership reports audit the scale, size and contribution of this growing sector, guides for senior leaders on the computing curriculum.
We must continue to act as a supportive sector growing start up's, scale up's and listening to educators as they pioneer edtech across schools, colleges, universities and other learning settings. We have to be more focussed on understanding and articulating impact and efficacy.
This event will focus on what can we learn from other sectors, other countries and other models of investment that help support learning for all? And how do we create new trade and investment links between other countries to demonstrate Britain is 'open for business'.
---
"Education technology (edtech) is one of the fastest growing sectors in the UK, accounting for 4% of all digital companies, and UK businesses have become world leaders in developing innovative new technologies for schools. The potential benefits when implemented correctly are considerable, both in teaching and in school administration. We want to make sure our pupils, their parents and techers are able to make use of these opportunities" The Digital Stategy, Feb 2017
"The work of Edtech UK is important in supporting this growing sector. London and the UK lead the world in edtech. Jisc is directly investing and supporting edtech firms and the edtech community to encourage a vital and exciting market for innovative solutions for UK Universities and Colleges" Paul Feldman, CEO, Jisc
"It's our aim is to pioneer the best social learning experiences for everyone, anywhere. Learning should be as social and enjoyable as spending time on Facebook" Simon Nelson, CEO, FutureLearn
"Firefly is a simple and effective online tool used to support homework, resource sharing, progress tracking and engaging parents. As a result, teachers have more time to teach and students can learn in ways that work best for them. Firefly started as a student project and has since setup offices in nearby Hammersmith. Growth has been rapid, with the Firefly team expanding to Sydney and Singapore, and with users now in 35 countries. In November 2016 Firefly secured the largest Series A fundraising in UK EdTech. This investment will be used to grow the company, doubling from our base of 60 people and adding more schools to the hundreds that already use Firefly. We're excited to be working again with Edtech UK, leaning on their expertise and advice as Firefly embarks on this exciting new chapter and heads into new markets." Dr Simon Hay, Founding Partner, Firefly
---
NEARBY ACCOMMODATION
The Good Hotel - 3 minute walk from venue
Crowne Plaza - 5 minute walk from venue
Ibis London Excel - 7 minute walk from venue
---
DIRECTIONS TO THE CRYSTAL
The nearest station to the venue is Royal Victoria Station (Zone 3) on the DLR, only a 3 minute walk from The Crystal. Turn right out of the station onto Seagull Lane. As you pass the Pumping Station you will come to a small roundabout and will see the venue ahead of you.
The Royal Victoria Car Park (L2) offers 750 parking spaces, just a five minute walk away and is located behind Crowne Plaza Hotel on Western Gateway.
You can also get to the Crystal via the Emirates Air Line Cable Car from the Greenwich peninsular.