Educare: A contextual safegurding approach to address sexual assaults in the education setting.
About this event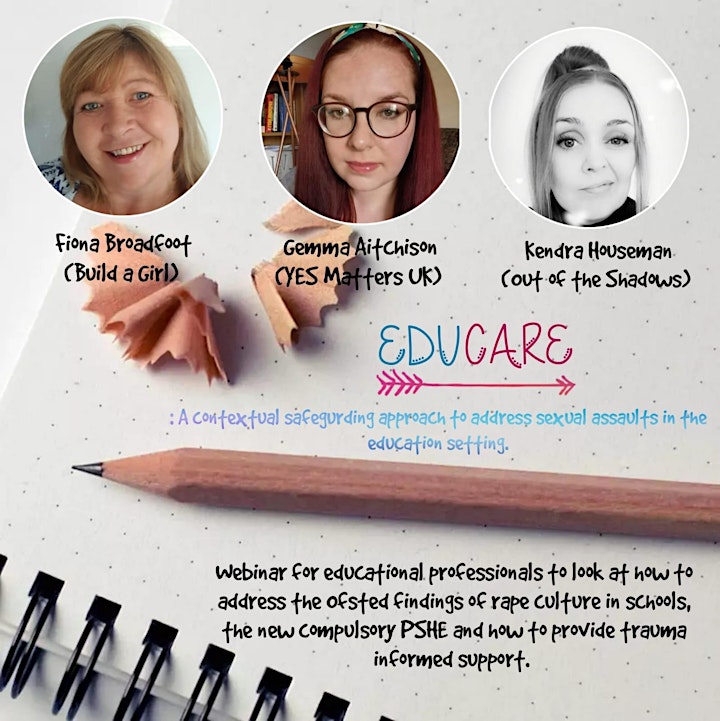 Educare: A contextual safegurding approach to address sexual assaults in the education setting.
We all saw the Ofsted findings. 9 out of 10 girls feel unsafe at school. This tells us that we need to address this culture and create a safe learning environment. But it also tells us that we have pupils who are victims of sexual offenses that need trauma informed support. Let our guests help:
Gemma Aitchison - YES Matters UK.
Gemma is founder of YES Matters UK and successfully campaigned for and helped to shape the new compulsory PSHE. With the new compulsory PSHE coming in many pupils will be coming to the realisation in the classroom that what they thought was acceptable or ok to happen to them, is not. The school response to this will have massive implications for that pupils rehabilitation, mental health, future and family. So it's important that we get it right.
Gemma will take you through her journey of the creation of YES Matters UK, to Westminster, European Parliament and to the creation of the YES Matters Commitment. An inspirational story of a working class woman determined to change the world.
Fiona Broadfoot - Build a Girl.
Fiona Broadfoot has worked to end violence and abuse against women and girls for over 25 years using her own experience of childhood sexual abuse and child and adult sexual exploitation to inform and educate professionals and the wider community of the harsh realities.
Fiona is the founder and CEO of Build a Girl UK; the Project is firmly based on a survivor led perspective and is deeply committed to supporting and empowering victims and survivors of sexual exploitation and abuse and challenging the normalisation of sexism and misogyny that girls and young women are often faced with and constrained by.
Kendra Houseman - Out of the Shadows.
Kendra Houseman, Co-Founder of Out of the Shadows, is a trainer and consultancy advisor for all aspects of safeguarding, specialising in exploitation, CCE, CSE and County lines.
Kendra set up Out of the Shadows in 2017 to share her personal experiences with other professionals and raise awareness of child exploitation, county lines, domestic abuse, parental imprisonment, mental health, and school exclusion. Kendra has worked with many sectors across the UK and has a strong understanding of safeguarding within the education sector.
Kendra is a survivor of all these adverse childhood experiences and more. Kendra brings a unique perspective in understanding how this impacts children, how professionals can make a difference and how the system needs to change to meet the ever-changing and increasing risks facing our children.