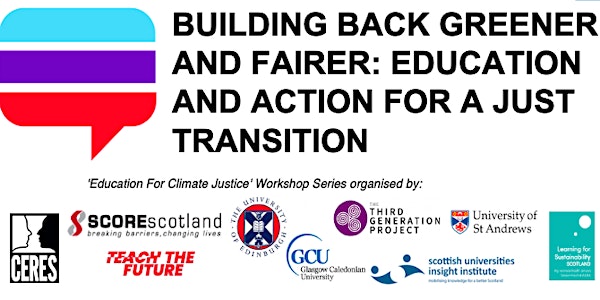 Education for Climate Justice: Building Back Greener (Event 2 of 3)
Building back greener and fairer: education and action for a just transition
About this event
The concept of a 'just transition' is a pathway for social justice involving different groups, including frontline communities, trade unions and governments, concerned with the impact a move away from a high-carbon economy will have on jobs and the economic opportunities of future generations. The coronavirus pandemic has brought this issue to the forefront through a desire to 'build back better' rather than returning to business as usual. The dual impact of the climate crisis and the pandemic is not felt equally, as BAME communities, the poorest and most vulnerable bear the brunt, in Scotland and in the Global South. In this event, participants will hear from experts on the most recent discussions emerging on just transitions and education, and then be invited to engage in online activities to begin a practical discussion around the role of education in making a just transition happen.
Education for Climate Justice
Event 2 (Saturday 13th March 2021):
Building back greener and fairer: education and action for a just transition
10:00 – 10:20 – Introduction and Overview
10:20 – 11:10 – Keynote: Ikal Ang'elei (Friends of Lake Turkana)
11:10 – 11:20 – Break
11:20 – 11:30 – Recap and Welcome to Newcomers
11:30 – 12:15 – Panel 1: Community Conversations on Education for a Just Transition with a panel of young people (Youth Community Support Agency, Ahl Al Bait Society Scotland, Teach the Future Scotland, SCOREscotland, University of the West of Scotland)
12:15 – 12:45 – Yoga Session with Annelise Piers / Lunch
12:45 – 13:15 – Yoga Session with Annelise Piers / Lunch
13:15 – 13:30 – Recap and Welcome to Newcomers
13:30 – 14:00 – Storytelling with Mara Menzies
14:00 – 14:10 – Break
14:10 – 15:25 – Input and Panel Discussion: How can Scottish Education support a Just Transition?
14:10 – 14:30 – "Just transitions: Anti-capitalism and social imaginaries" with Dena Arya (Nottingham Trent University)
14:00 – 15:00 – Panel 2: "Perspectives on Education for a Just Transition" with Councillor Graham Campbell (Glasgow City Council), Eurig Scandrett (University and College Union and Queen Margaret University), Zarina Ahmad (Climate Change Trainer and Communicator), Mark Langdon (Activist)
15:15 – 15:25 – Input and Panel Discussion: Q&A
15:25 – 15:45 – Closing
Education for Climate Justice - SUII
Follow the Education for Climate Justice programme on Twitter
https://twitter.com/educationforCJ