Education, Skill and Empowering the Individual in the Labour Market
Description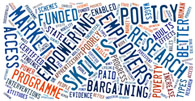 Speaker: Professor Ewart Keep, Deputy Director SKOPE, Cardiff School of Social Sciences
One persistent orthodoxy in debates about skills, poverty, low paid work and social mobility has been a belief that through offering poorly qualified adults access to particular types of state-funded education and training, they can be enabled to better their lot, progress in the labour market, and bargain successfully with employers for better wages and more interesting work. This belief found its purest form in New Labour's Train to Gain (T2G) programme in England.
The lecture explores both the theoretical underpinnings of the belief (how might a modest increase in levels of certified human capital alter an individual's bargaining power within the labour market and employment relationship), and the empirical evidence for the success or otherwise of policy interventions such as Train to Gain.
The overall message is that the theoretical foundations of policy have been shallow at best, and that schemes like Train to Gain can expend very large sums of taxpayers' money to generate relatively minor effects. The lecture will conclude with an exploration of the long term implications for skills policy that these findings might have.
Professor Ewart Keep is the deputy director of SKOPE, the ESRC Centre on Skills, Knowledge and Organisational Performance, at the Cardiff School of Social Sciences.
Drinks at 5:30pm followed by lecture at 6pm.
There will be a buffet following the event.
Open to all
Organiser of Education, Skill and Empowering the Individual in the Labour Market