Educational Futures; Leeds School of Architecture Technology Symposium 2021
Join the Leeds School of Architecture for an intriguing evening of postulating discussion about the future of architectural education.
About this event
The challenge to deliver an architectural education which addresses the climate emergency has never been greater. A rapid movement is required to equip students with the necessary skills and awareness to drive an informed design-led response generating an ecologically resilient future.
In response to this, the Leeds School of Architecture 2021 Technology Symposium asks, what knowledge do architecture students need in order to develop a holistic climate literacy with which they can form a restorative and regenerative zero carbon built environment?
Responding to the question are:
Hwei Fan Liang of ACAN (Architects Climate Action Network)
Matthew Pemberry of StuCAN (Students Climate Action Network
Diana Dina, Head of Sustainability and Regenerative Design at Haworth Tompkins
Rob Nield, Associate Director of Webb Yates
Meaghan Kombol, Adjunct Professor of Landscape at University of Greenwich
Plus plenty of time for questions and discussion.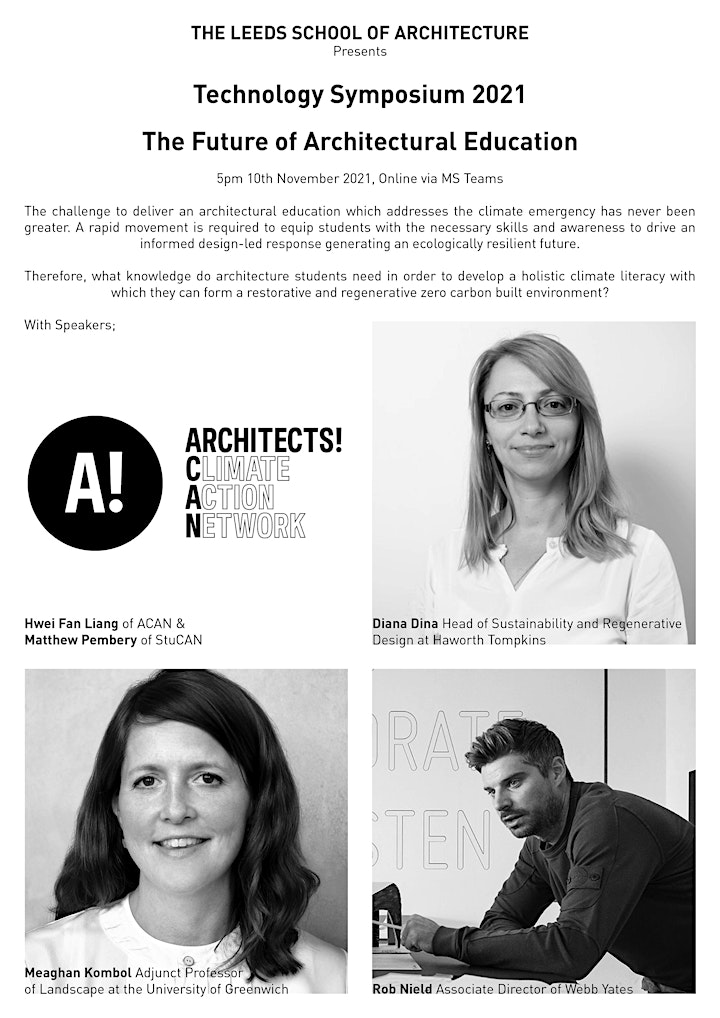 Organiser of Educational Futures; Leeds School of Architecture Technology Symposium 2021
Based in the thriving city of Leeds, Leeds Beckett is one of the most popular universities in the United Kingdom. With over 24,000 students and 3,000 staff, our contribution to the region and beyond is significant.
We value our students' dreams and goals; our university is committed to preparing them for the world of work in the best possible way.