Description
Attend a free educogym London Health talk, or book a 40 minute Health and Fitness Checkup in Canary Wharf/South Quay.


Learn Why The educo Method Consistently Helps People Lose Weight And Keep It Off
We believe you deserve six pack abs.

You

deserve to have toned muscles.


Everyone

should get the chance to live in a healthy body, especially you!

It's our natural birthright to be healthy.
We also know that with our modern lifestyles, diets and habits, it's not always the easiest thing to achieve.

This is a before and after photo of one of our clients: Christine.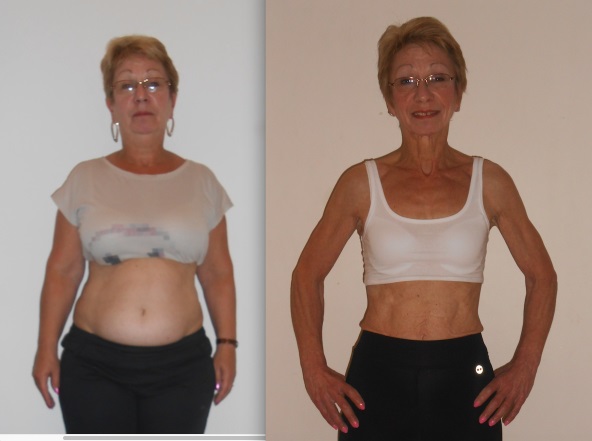 She went from flab to abs within 4 months, working with us, using our scientific approach to health.

With our support, she was able to change her body, her habits, and her thinking around food, and health. To this day she is still in the excellent shape that we helped her achieve.

Christine is a prime example of one of the many clients who have gone through a major body transformation with educogym London.
At the age of 61, Christine had lost hope that she could ever shed the extra body weight.

Does that feel like you sometimes?
Have you ever given up all hope of losing the extra weight?
Christine had lost her confidence. She had achy knees and pains.

If you're someone who's also suffering physically because of excess weight, you might also be struggling with unnecessary pain, and the discomfort caused by the extra weight that you're burdened with.
Despite her following many weight-loss programmes, she had little success.
Have you tried many diets, and health and fitness programmes, only to struggle to maintain it, or be consistent? If so, you'll understand exactly what Christine was going through before she met us.
After Christine was introduced to educogym London's fitness success model, she was able to achieve her total body transformation by applying the educo philosophy and applying it to her Mind, her Body and her daily Nutrition.
Christine began as a size 14 and is now a size 8.
She now takes part in fun activities such as walking and even climbing despite having issues in the beginning with achy knees and pains.
She didn't just make a body transformation but in fact she made a life transformation!
educogym London's success is based on using a scientific research driven approach. We have documented results and helped thousands of clients achieve the body of their dreams. After learning the key educo philosophy, and with our help and support in applying the educo principles to their trainings and workouts, our clients are empowered to take back control of their health, and fitness, and live a better quality of life, as a consequence.

educogym London, and our scientific approach to health, focuses on how you can achieve your dream body transformation using a simple system of: Mind, Body and Nutrition.
If you can relate to Christine, and her struggles, then we want to help.
Do you make a New Year's resolution every year to lose those extra pounds you're carrying and look for a fitter new you? But then promptly break that resolution before January has even ended?
Don't let this year be a repeat of the past.


Get the extra help and support we can provide, with our scientific approach to losing weight, and learn how our clients regularly lose those extra pounds, and how you can too.


We want to show you how by working with us, you can finally shed the weight for good, improve your health and start this year, working towards a fitter new you!
We may commit to our New Year's resolution for the initial few weeks but when real life intervenes…it becomes a distant memory. Don't let that be the case this year.
We at educogym London invite you to join us at one of our upcoming talks, where we talk about how to move towards better health and combat the common mistakes people make every year.

So if you are determined to achieve the new you this year, start by attending our talk, and register now.
If you can't attend our talk on this date, you can register for our next talk, or a free health checkup - just click Register, and fill in your details.


To learn more about educogym London, and our philosophies visit our website at http://educogymcanarywharf.com, alternatively you can email us at info@educogymlondon.com