An evening of connection & community hosted by Edventure's new team of Start-Up students as they embark on their journey.
About this event
Please join us for an evening put on by Edventure Start-Up students involving food, discussion, community and who knows what else.
The aim of Edventure SOUP is to gather a community of support around the team and their project. Please do come along if you:
Want to support our local economy and contribute towards an eco-system of sustainable, fair, independent enterprises in our community.  
Care about the development of meaningful livelihoods in Frome.
Want support a team of young adults as they embark on an 11-week edventure to create a real enterprise and make a real difference.
Want to keep following and finding out about what Edventure is working on.
Edventure SOUP marks the start of the students' journey. The team will have met for the first time on Monday and are embarking on a challenge to make ideas real. Tonight, they will introduce themselves, present their project and ask for your ideas, input and support to make their project come to life.  
The Challenge:
In 2022, Edventure Frome will be part of establishing a Re-use Centre, working in partnership with the Pod youth club, the Bike Jumble with Frome Town Council, the Share Shop team and Loop Frome. It aims to be a one stop shop for recycling, repairing and reusing. From bike repairs, to wood reuse, from selling surplus paint to community compost. The Re-use Centre will be a community hub for reuse and a local circular economy.
This is a ground breaking project that hopes to make it easy and fun for Frome residents to make more of the stuff that other towns might throw away, to save money, reduce our carbon footprint and provide livelihoods with meaning.
This team will be at the forefront of planning this exciting project, and building a community of vendors, volunteers and customers.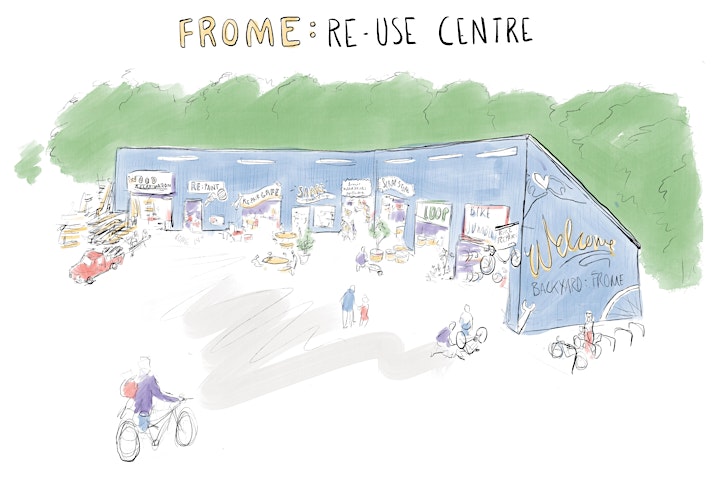 Organiser of Edventure: SOUP
Welcome to
Edventure: Frome
. We run courses, events and programmes in community entrepreneurship where people come together to start things up; to gain transferable skills & experience; to build connections; to get support to realise their ideas, and to gain the sense and confidence that it is possible to create a radically different world. What we care about is contributing to a strong community, growing meaningful livelihoods, and building ventures as part of a sustainable, zero-carbon economy that works for all.
https://edventurefrome.org/
info@edventurefrome.org