Description
A free, 10 week, part-time course by Edventure:Frome offering 19-35-year-olds the opportunity to gain real-life experience of setting up a community enterprise in response to a local need on behalf of a local not-for-profit.
The Challenge:
Set up an initiative inspired by the Frome Men's SHED, bringing young adults together to connect whilst making products, crafts and art in the Remakery: Frome workshop.
The idea is to:
Provide an inclusive/welcoming space for all forms of creativity and productivity.
Give people a platform to begin selling things they make and moving towards a meaningful livelihood.
Support mental health – we know that things like depression and anxiety are helped through spending time with others, being a part of something and keeping busy in positive ways.
Provide an ongoing, regular activity at Edventure for anyone aged 18 – 35 including past MAKE and Start – Up students.
Through this challenge, students will get the opportunity to go through the stages of setting up a social business – from market research to business planning, from generating ideas to project planning, branding and launch. All whilst learning to work in a team and stepping into leadership.
The practical side of this project will be to prepare and equip the workshop for these events. This will include designing and building things like workbenches, signs and storage.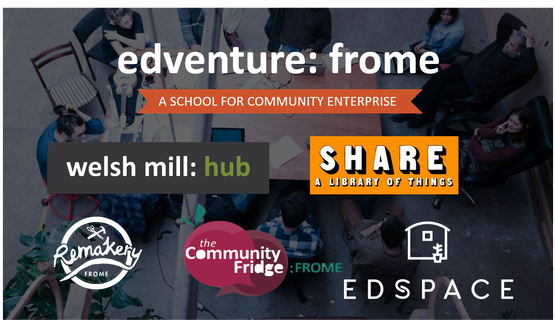 Past Challenges:
Are you up for a challenge? Do you learn best by doing? Do you want to make your ideas happen?
We're looking for people who are open to working with others from diverse backgrounds and want to learn from each other as much as from the course. It doesn't matter whether you've finished studying at University or dropped out of college, whether you are 18 or 35 years old, whether you are unemployed or want to make a career change.
This course could be of particular interest if one or more of the following:
interested in starting up or working within a business or social enterprise.

keen to work within the community sector and want to develop leadership and facilitation skills.

up for trying new things and making something positive happen.
We are looking forward to hearing from anyone who feels that they can both learn from the experience, and bring skills and passion to the project.

Fees:
There is no fixed course cost, but it isn't free either. Once you have received a conditional offer after the interview, your challenge will be to help raise funds and resources for the start-up you will be working on. You can set your own target as to how much you think you are able to raise (dependent on circumstances, your support network etc).
Dates and times:
Start-Up runs for 10 weeks on Monday-Thursday from 9.15am-2.45pm. You will also need to be available for a 3-day residential trip.
Apply:
Please apply by clicking the green "register" button. You'll receive an autoresponder email. Scroll to the bottom and find the link to arrange an informal interview so that we can confirm whether we can offer you a place. Places are given on a rolling basis – apply early for the best chance to get a place.
What previous Start-Up students say
Please click here for a 3.5 minute video featuring previous Edventure: Start-Up students.
Facilitator:
Amelia Parisian
Amelia is Edventure's Programmes Lead. She has 12 years experience of facilitating groups and workshops. She is passionate about community-based education, intergenerational learning and making things happen!