Sales Have Ended
Ticket sales have ended
Ticket sales for the EEB Annual Conference are now closed. For last-minute registrations, please contact us at events@eeb.org. Thank you!
Sales Have Ended
Ticket sales have ended
Ticket sales for the EEB Annual Conference are now closed. For last-minute registrations, please contact us at events@eeb.org. Thank you!
EEB Annual Conference 2021 - Charting the Path to a Healthy Planet
About this event
Globally, the COVID-19 pandemic continues to bring a number of lessons for humanity, particularly on the implications of tampering with the delicate balance of ecosystems through our exploitative and destructive relationship with the planet, but also what can happen if we give nature an opportunity to 'reset'. The occurrence and impact of future pandemics will largely depend on whether governments embrace the commitment to build back better and address the unacceptable inequalities that the pandemic has highlighted and deepened. Health and well-being need to be at the core of that commitment. Restoring nature and preventing the devastation of natural environments that serve as buffer areas to humans against zoonotic diseases, protecting biodiversity and banning the use of wildlife of illegal origin are but a few of the measures that need to be taken urgently.
The COVID-19 pandemic also shone a light on how our immune systems struggle when already under pressure from air pollution and exposure to chemicals. The crisis underlined the importance of strengthening policies supporting health and wellbeing, and science demonstrated that the health of the planet and health of people are deeply interconnected. Science has also uncovered the ever longer list of health problems associated with pollution and harmful chemicals – from cancer to reprotoxic and fertility impacts, to organ function, birth weights, to early onset dementia. We need to fundamentally upgrade our policies so that they ensure an environment that enhances human health and wellbeing. Ambitious policies to decarbonise the planet are essential as is a commitment to a zero-pollution future and reprioritizing policy from economic growth to wellbeing. We owe it to this and future generations.
Internationally, the UN Biodiversity Conference (CBD) in Kunming, China, and the UNFCCC Climate COP in Glasgow are crucial opportunities to set key elements of the global agenda for the next decade and beyond.
In the EU, the European Green Deal is central to the agenda. Commitments under the Fit-for-55 climate package, the Zero Pollution Action Plan (ZPAP), food and farming policies, and the 2030 Biodiversity Strategy have the potential to be catalysts driving a transformative change. It is essential that these build on the science, listen to citizens and embrace the ambition needed to make a difference. The quality of our air, water, climate, food and health all depend on these decisions and their implementation.
Progress on policies in the EU relies heavily on the Member States, and a particularly critical role lies with those countries who hold the rotating EU presidency of the Council of the European Union. The current 'presidency trio' includes Germany, Portugal and Slovenia and runs until December 2021. This presidency trio faces a double challenge: on the one hand, it has to find ways to translate the European Green Deal (EGD) into ambitious - but actionable - legislative commitments; on the other hand, it has the task to ensure that in a post-pandemic world we 'build back better'.
From 1 January 2022, France will take the helm of the next EU presidency trio, which also includes the Czech Republic and Sweden. This trio will not only have to continue the task of ensuring a successful implementation of the EGD; it will also have to consider the outcomes of global events like the UN Biodiversity and Climate Change conferences that will take place in the second half of 2021, under the Slovenian presidency. Other challenges the trio may have to meet include, for example, the start of negotiations on a new global treaty aiming to curb plastic pollution.
Against this backdrop, on Monday 11 October 2021 the EEB – in collaboration with its member France Nature Environnement – will host its annual conference online, ahead of the French EU presidency. Civil society leaders from across Europe will come together to discuss strategies for a transformation of European and national policies and governance systems affecting our planet and our health and wellbeing. Such a transformation must enable decision-makers to respond to effectively answer citizens' and civil society's calls for a fair and sustainable future, and to a healthier relationship with our planet
We will invite:
• Youth leaders to make their call for European leadership;
• Critical thinkers to exchange on how we can achieve a truly ethical system change;
• Civil society organisations that amplify core messages and achieve public engagement;
• Decision-makers who have the agency to bring in the much-needed transformative policies.
A series of keynote speakers will open the conference and present their visions for a sustainable future where people and planet can thrive together and where economies operate within planetary boundaries.
The conference will have a specific focus on:
• Practical policy change: Leading by example
• Visions for change: EU Council presidencies and the importance of action
• The voice of our youth: Shaping tomorrow's world
• The European Green Deal (EGD): A system change for a sustainable future?
• Upscaling the Green Deal: The EU as a catalyst for change
The conference will be held in English .
*********
Join us on Monday 11 October 2021!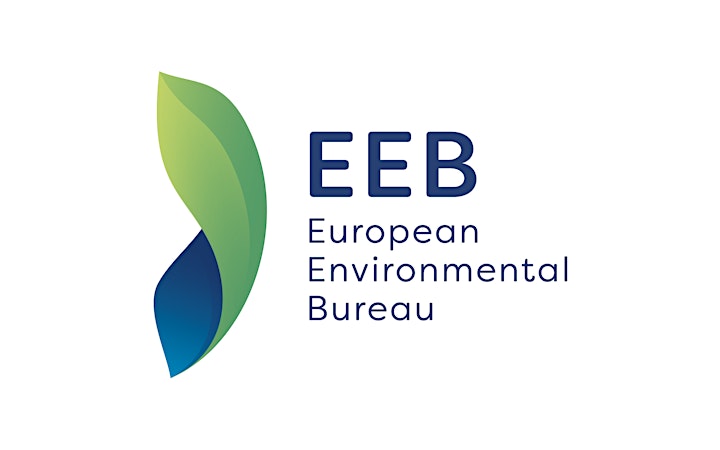 Organiser of EEB Annual Conference 2021 - Charting the Path to a Healthy Planet
The EEB is the largest network of environmental citizens' organisations in Europe. It currently consists of over 170 member organisations in more than 35 countries (all EU Member States plus some accession and neighbouring countries), including a growing number of European networks, and representing some 30 million individual members and supporters.
France Nature Environnement is the French federation of Voluntary Organizations for nature preservation and environmental protection. We bring together 3500 French NGOs from French mainland and overseas territories. Since 1968, we have been fighting for ecological transition by leading citizen mobilization. We raise public awareness through environmental education. We are constantly striving to improve environmental law. We regularly contribute to French and European public policies for better environmental regulations. Through whistleblowing, we make sure they actually are enforced.