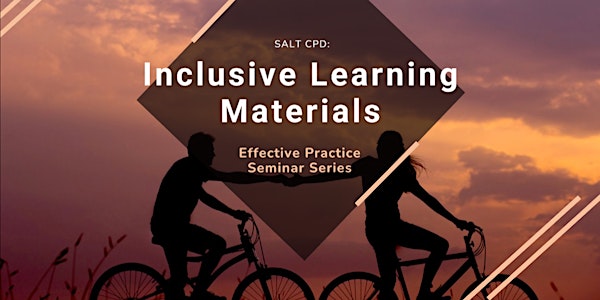 Effective Practice Seminar: Inclusive Learning Materials
Effective Practice Seminars 21/22 Seminar 3: Inclusive Learning Materials
About this event
For the third seminar in this year's series of Effective Practice events we will be looking at the subject of Inclusive Learning Materials.
We will be following the same format as last year with a programme of monthly events, each based around a single idea or topic. The events will be an hour long and will incorporate 3 brief 15 minute talks with a few minutes for questions after each. The sessions are designed to get teachers thinking and talking about ways in which we can improve our practice and to provide a touchpoint for people to find out more about the topics broached if they want to take them further.
Inclusive Learning Materials
Our presenters for this event will be:
Lori Havard and Philippa Price from Swansea University Library will be examining Inclusive Reading Lists. Students across the UK have organized to tell us the current curriculum is a real barrier to their educational success. Diversifying your reading list content can be a step towards addressing the problem and the Library can help you with that. They will also be looking at features within iFind Reading to make your reading lists more accessible to students
Tina Webber, Centre Manager at Swansea's Transcription Centre, which provides accessible learning formats for disabled students, will explore basic 'best practice' principles to create accessible lecture material and touch briefly on the legislation behind it.
Chris Sherwood (ISS User Experience) and Steve Beale (SALT Technology Enhanced Learning) Will be Talking about the tools provided within Canvas and other popular used teaching software for improving accessibility.
How do I join the event?
Please register using your Swansea.ac.uk e-mail address and your staff number, so that attendance can be added to your CPD record in ABW
An email from SALT's Eventbrite account containing the Zoom joining link will be sent to this email address around an hour before it is due to start. Please check your 'other' or 'junk' folders if you do not receive this, and contact salt@swansea.ac.uk if you still experience difficulty joining. .
A zoom link will be sent out via our Eventbrite account an hour prior to the start of the session.
Any further info or queries,
please contact Stuart, s.d.r.henderson@swansea.ac.uk
Or write to SALT@swansea.ac.uk.
Organiser of Effective Practice Seminar: Inclusive Learning Materials
SALT 
Event Programme 2021/22
These events are arranged by the SALT Team as part of our ongoing learning and teaching development activities. Events are free to attend and are open to all Swansea University Staff, however please note that booking via Eventbrite is essential and places are limited.