We are delighted to welcome you to our Autumn virtual Effective Property Marketing webinar.
About this event
Our theme for this webinar is Data. We will explore what's next for property data how best to use it.
We will delve into how our Technology team have been utilising the insights they have gleaned over the last 18 months, as well as exploring how the loss of the cookie has changed how we use programmatic targeting.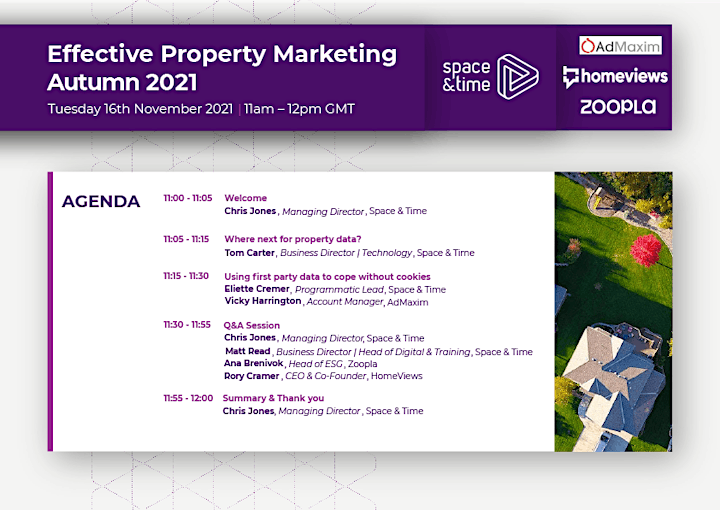 Where next for property data?
Prompted by the Covid pandemic, we've seen an increased appetite for data solutions and faster digital transformation. Initiatives have centered around new integrations and improving the quality, accuracy and automation of data. These connected and forward-thinking marketing technology strategies have also created an ideal platform for adapting to the significant changes brought about in response to wider digital privacy concerns, such as the deprecation of third-party cookies in the near future. Understanding more from first-party audience data and driving activation from those insights is now of growing importance to our property clients.
Here, we'll take a look at some of the emerging themes supporting and influencing these changes, including enhanced measurement opportunities with GA4, customer data activation for property and predictive modelling.
Using first party data to cope without cookies
In this sessions we'll be giving an update to the latest situation with 3rd party cookies, now that the depreciation deadline has been pushed back by Google, and looking at some of the key strategies we're implementing to continue delivering programmatic results in a cookie-less world.
We will be joined by Vicky Harrington from our partner Admaxim who will join us and will address why branding activity is still very much important for awareness, and will explain the key benefits of using Rich Media formats.
Q&A property overview
Q&A led by Chris Jones, with industry experts Ana Brenikov, Matt Read and Rory Cramer, we will talk about the changing landscape and answer any questions you may have. With an overview of the sector and predictions for the new year.