eFuture Cohort - interested in UK Digital Economy Crucible 2018

Wednesday, 24 January 2018 at 21:00

-

Sunday, 4 March 2018 at 22:30 (CET)
Event Details
There is no event. This is just to collect details of any ECRs who are keen to apply for the programme.
Please register so we can be in touch to provide any support or further information nearer the time 
UK Digital Economy Crucible – a nationwide, unique leadership programme for researchers/lecturers (1-8 yrs post PhD)

If you're an early career researcher (ECR), interested in multidisciplinary research, come and join us to find out why you should apply for UK Digital Economy Crucible - a unique leadership development programme for ECRs from

any

discipline to collaborate, network, and develop career-altering skills surrounding digital economy research that enrich people's lives. This initiative is part of Digital Economy Research Centre at Swansea University, and funded by EPSRC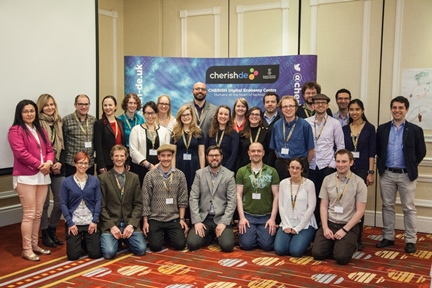 UK Digital Economy Crucible 2017 Cohort.
A series of residential-based programme, held across four cities in the UK, provides the exclusive opportunity to interact with distinguished speakers in the field of digital economy and other crucial actors such as media, industry, research councils, established entrepreneurs, and Parliament. 
UK Digital Economy Crucible will enable you to:
explore the advantage of working with researchers in other disciplines
develop skills in engagement with public, media and parliament
understand how your research can have greater impact
develop a network of peers within the research community
introduce you to creative and innovative thinking and improve your effectiveness both within and beyond your organisation
discover how you can interact more effectively with industry
hone your writing skills for successful grant applications
strengthen knowledge on how you can build international research careers
** Please register so we know you're keen on the leadership programme. We will be in touch to provide any support you may need to apply nearer the time **
@cherish_de1 #ecr #leadership #multidicsiplinary
When & Where


France


Wednesday, 24 January 2018 at 21:00

-

Sunday, 4 March 2018 at 22:30 (CET)
Add to my calendar
Organiser
CHERISH Digital Economy Research Centre
Swansea University