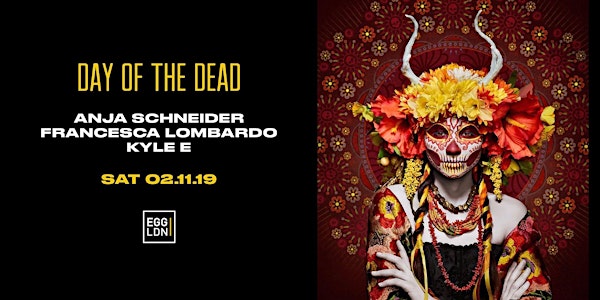 EGG LDN Pres: Day of the Dead W/ Anja Schneider, Francesca Lombardo
Performers
Anja Schneider
Francesca Lombardo, Kyle E
Location
Egg London
200 York Way, London N7 9AX
London
N7 9AX
United Kingdom
Sales Have Ended
Ticket sales have ended
Online Tickets have now sold out, we will have a limited amount of tickets on the door - Please arrive early.
EGG LDN Pres: Day of the Dead W/ Anja Schneider, Francesca Lombardo
About this event
Heading up our Day of the Dead party on 2nd November, Anja Schneider and Francesca Lombardo soundtrack our Middle Floor for a themed night to celebrate the Mexican holiday, alongside our residents Kyle E and Luther Vine.
Having worked relentlessly over the last decade, Anja Schneider is an acclaimed producer, radio broadcaster, label boss and tireless creative force and mentor. It's fair to say she is one of the most dedicated individuals in the music industry and is well due to a return to the club to showcase her dynamic sound share her warm energy behind the decks.
Francesca Lombardo joins Anja, a fellow producer and DJ who has cultivated a sound of her own, one that is representative of her multi-disciplinary musical background and transcends the dance floor via an emotional narrative of dreamy soundscapes and engaging rhythms.
Our own resident Kyle E complete the bill.
******** EGG LONDON TEAMING UP WITH FRANCESCA LOMBARDO - THE DONATION TICKET
Following on from her ground-breaking environmental campaign "LIFE OF RELEAF: One Tree Planted" launched last month, where Italian producer & DJ Francesca Lombardo is planting a tree for every physical copy of her 'Life of Leaf' album sold through her website, she is now teaming up with venues included in her tour dates, with £1 from every ticket sold being donated to One Tree Planted. Catch her Exclusive London show at Egg LDN as part of their Day of The Dead celebrations on Saturday November 2nd. 
"We're excited to join the Life of Releaf campaign (which Francesca Lombardo bought to our attention) as we can give something back to the world that's real and so needed in this time where climate change and our whole way of life is under threat. It's something that all businesses and organisations can easily support by direct action by helping raise awareness and then making a donation which will in turn see trees planted across the world. We're all people trying to get along and dance together in our very unique and beautiful world, and we hope to be able to keep this going for future generations"
Laurence Malice, founder of Egg LDN 
Rolling it out across all their events, for every ticket sold on RA and Eventbrite, a £1 donation is volunteered towards one tree being planted via The LIFE OF RELEAF campaign. Francesca hopes to encourage as many venues, festivals and artists to join the campaign with all donations going specifically to One Tree Planted's global reforestation projects.
The LIFE OF RELEAF campaign hopes this message will be frontline for the clubbing community believing it's not enough to just offset and neutralise one's carbon footprint and asks everyone to unite to help start repairing the damage already caused. Uniting the dance community including DJs, agents, clubs and clubbers alike in this movement to make a real difference, this is a grass roots group working together for the future of the planet. 
"We must take care of our Mother. She has given us shelter, water, food, air, and everything we need to survive, she has loved us and nurtured us. Now it's time for us to learn how to change and take care of her like she did with us," says Lombardo.
Partnership in the LIFE OF RELEAF: One Tree Planted campaign to support global reforestation.
"We are in the middle of a serious climate crisis, and the environmental cost associated with the music industry has never been higher.  Most DJs traveling the world each week have huge carbon footprints, plus the expansion of festival tourism and the attraction of international crowds to many events means clubbers themselves are contributing more and more to the problem. We ALL - artists, promoters, venues and clubbers - need to step up and take responsibility, and the time to act is right now.  
Whilst trying to neutralise the environmental impact by offsetting carbon emissions is a huge step forward, in order to incite real change it is crucial that we also invest in the active rehabilitation of ecosystems. Reforestation is essential for the planet - trees clean the air we breathe, filter the water we drink, provide habitat to over 80% of the world's terrestrial biodiversity, absorb carbon from the atmosphere, and provide key ingredients in medicines. I'm asking the dance music community to come together and help support global reforestation. Just $1 plants one tree... let's plant forests together, one tree at a time."  - Francesca Lombardo
Find out more about One Tree Planted here: https://onetreeplanted.org
WHERE ARE THE TREES PLANTED?
One Tree Planted work on reforestation projects in North America, South America, Asia, and Africa:
• North America (Canada, USA, the Orca Project)
• Latin America (Amazon Rainforest, Brazil, Haiti, Guatemala, Andes)
• Asia (Indonesia, India, Vietnam, Australia, The Philippines)
• Africa (Kenya, Ethiopia, Ghana, Rwanda)
WHY TREES?
Trees help clean the air we breathe, filter the water we drink, and provide habitat to over 80% of the world's terrestrial biodiversity. They also provide jobs to over 1.6 billion people, absorb harmful carbon from the atmosphere, and are key ingredients in 25% of all medicines.  
• Water: Trees play a key role in capturing rainwater and reducing the risk of natural disasters like floods and landslides. Their intricate root systems act like filters; removing pollutants and slowing down the water's absorption into the ground. This process prevents harmful waterside erosion and reduces the risk of over-saturation and flooding. According to the Food and Agriculture Association of the United Nations, a mature evergreen tree can intercept more than 15,000 litres of water every year.
• Biodiversity - a single tree can be home to hundreds of species of insect, fungi, moss, mammals, and plants. Depending on the kind of food and shelter they need, different forest animals require different types of habitat. Without trees, forest creatures would have nowhere to call home.
• Climate - Trees help cool the planet by sucking in and storing harmful greenhouse gases, like carbon dioxide, into their trunks, branches, and leaves, and releasing oxygen back into the atmosphere. In cities, trees can reduce overall temperature by up to eight degrees Celsius. With more than 50% of the world's population living in cities—a number expected to increase to 66% by the year 2050—pollution and overheating are a real threat. A mature tree can absorb an average of 48 lbs of carbon dioxide per year, making cities a healthier, safer place to live. 
WONT IT TAKE YEARS FOR THE TREES TO GROW?
Yes, unfortunately trees take longer to grow than to destroy, but we have to invest in our future and our children's future right now... or there simply won't be a future.  We cannot rely on reducing or offsetting carbon emissions alone - we need to invest in rehabilitation and repair the damage we've caused to the ecosystem. 
More information: www.lifeofreleaf.com  
Any further questions to be directed to: info@lifeofreleaf.com
******
Egg London is a strictly 19+ venue. Club scan is now installed in the venue at the front door, which means everyone attending Egg must have a valid form of photo ID to present to be scanned on entry. The accepted forms of ID are: unexpired passport, driving license, provisional driving license, photo cards featuring the pass hologram. Photocopies, photos or screenshots of IDs are not accepted.