EGYPT HealthCare Exhibition & Conference in Cairo 2019 EGY Health Expo 2019
Description
EGY HEALTH HEALTHCARE EXHIBITION 2019
---

⇒ EGY HEALTH HEALTHCARE EXHIBITION 2019 will be held on 12 to 14 September 2019 at Manara Conferences Center Cairo EGYPT.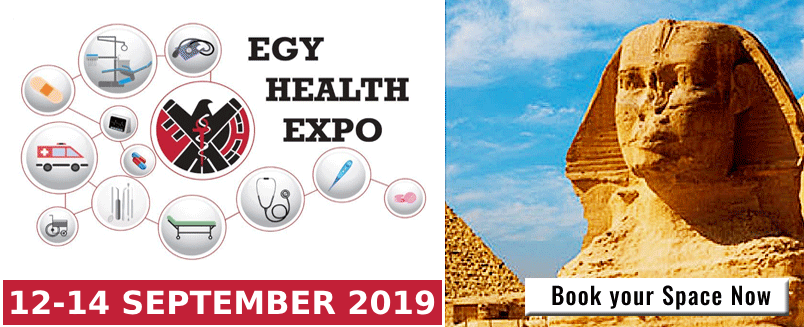 The First Conference and Exhibition of the health care system in EGYPT, With a complex and continually changing healthcare system, embracing development is the way to improve it.



⇒ EGY Health keeps on moving thoughts and development by giving worldwide health care and business pioneers with an unparalleled chance to learn from each other, share their thoughts, and advance their perspectives at a conference that advances right along with them.

---

ø Detailed Description :-
♦ HIGHLIGHTS OF EGY HEALTH EXPO 2018 ♦
250 Exhibitors from 20 countries

10000 Visitors from EGYPT, Middle East, Africa

Conference, 50 Speakers, 4000 Attendees

300 Represented companies from 48 Countries

35 Companies - EGYPION PRODUCTS

150 New and Innovative products and solutions for Medical practicing
---
IF YOU WANT TO PARTICIPATE EGY HEALTH EXPO 2019 , SO YOU CAN BOOK YOUR SPACE NOW !!!
Organizer of EGYPT HealthCare Exhibition & Conference in Cairo 2019 EGY Health Expo 2019
Medical Events brings you a platform,that serves as an online directory to bring exceptional and latest information about Medical events worldwide.
We not only offer a vast database of information but also bring whole of the medical industry at one place. We provide a common platform to users and manufacturers to interact directly with each other at an international level.
This helps the producers to expand their market across boundaries and help users to choose from several high-quality products and services offered by numerous manufacturers at a single place.
FOR MORE INFO VISIT : www.medical-events.info