Description
Eight Steps to Happiness Weekend Away Retreat
Weekend Retreat with Kadam John

at Tara KMC,

Ashe Hall, Etwall, Derbyshire
Fri 29 - Sun 31 March 2019
This retreat gives you the opportunity to relax, rejuvenate & fill your heart with positive thoughts & good intentions.
In this retreat we will be developing wisdom by meditating on the 'Eight Verses of Training The Mind' by the famous Buddhist meditator Geshe Langri Tangpa.
This renowned poem reveals powerful meditations that awaken our potential for loving kindness, compassion, and wisdom. It also teaches us how to transform lifes' difficulties into powerful spiritual insights that enables us to remain calm and positive in the face of adversity.
PRICING for the Weekend

Single room £150
Single ensuite room £175
Shared room: £100
Twin room: £260 (for 2 people)
Camping: £80
Non-residential, whole weekend: £60
Non-residential, Individual session: £10

PLEASE NOTE
Following are the full fees for the retreat.
50% deposit is required when booking, except for individual sessions which are payable in full.
Prices are per person except for Twin Rooms, which are priced for two people.
Prices include teachings, meals and accommodation. Non-residential (whole weekend) includes lunch and supper.
Meals offer both vegetarian and vegan options. You do not need to specify when booking.
Please book early to secure your preferred accommodation. If you wish to book an extra night before the start of the retreat please email admin@meditateinlondon.org
Timetable
Friday 29 March 2019
Registration: 4:30pm
Supper: 6.00pm
Introduction: 7.30pm – 9pm
Saturday 30 March 2019
Breakfast: 7.30am – 8.30am
Session one: 9am – 10.15am
Session two: 11.15am – 12.30pm
Lunch: 1pm
Session three: 2.30pm – 3.45pm
Session four: 4.45pm – 6.00pm
Supper: 6.00pm
Wishfulfilling Jewel with Tsog puja (chanted prayers) 7.30pm – 8.45pm
Sunday 31 March 2019
Breakfast: 7.30am – 8.30am
Session five: 9am – 10.15am
Session six: 11.15am – 12.30pm
Lunch: 1pm
Centre closes: 2.30pm
DIRECTIONS from London
BY TRAIN:
The journey from St Pancras station in London to Derby takes around 1hr 40mins on a direct train. Tara KMC is 8 miles from Derby. For more information visit www.nationalrail.co.uk
ADDRESS:
Tara Kadampa Meditation Centre
Ashe Hall, Ash Lane, Etwall, Derbyshire, DE65 6HT
Tara KMC is set in the beautiful environment of Ashe Hall within 38 acres of mature parkland.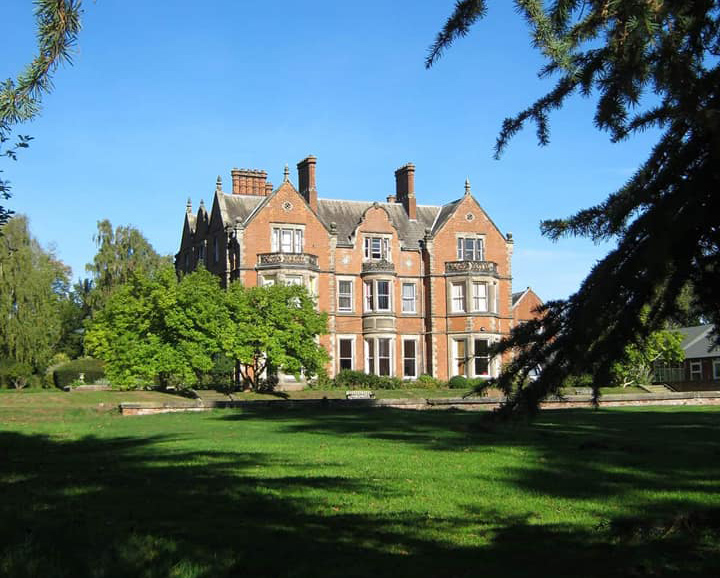 TAXIS:
You can take a cab from Derby train station or call one of the following local cab companies:
– ADR Cars (01283) 814937
– Mickleover Cars (01283) 736777
– Swift Cabs (01332) 366266

If you'd like to speak to someone about the retreat please chat with us on Facebook or call Heruka Kadampa Meditation Centre on 020 8455 7563.
We offer classes in 13 venues across London. To see more, please visit meditateinlondon.org/classes
To find out more about all our other classes, courses, retreats and events, please see our website meditateinlondon.org