Einstein's Greatest Mistake: The Life of A Flawed Genius with David Bodanis
Einstein's Greatest Mistake: The Life of A Flawed Genius with David Bodanis
Tue 29 November 2016, 18:30 – 20:00 GMT
Description
On 29th November at 6.30pm, join bestselling author of E=MC2 David Bodanis as he talks about his new book, Einstein's Greatest Mistake: The Life of a Flawed Genius.
Widely considered the greatest genius of all time, Albert Einstein revolutionised our understanding of the cosmos with his general theory of relativity and helped to lead us into the atomic age. Yet in the final decades of his life he was also ignored by most working scientists, his ideas opposed by even his closest friends. David Bodanis traces the arc of Einstein's intellectual development across his professional and personal life, showing how Einstein's confidence in his own powers of intuition proved to be both his greatest strength and his ultimate undoing. He was a fallible genius. An intimate and enlightening biography of the celebrated physicist, Einstein's Greatest Mistake reveals how much we owe Einstein today - and how much more he might have achieved if not for his all-too-human flaws.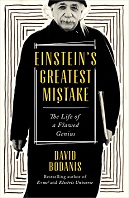 Einstein's Greatest Mistake will be available to purchase at the event and David will be signing copies after the talk.
Tickets for this event are priced at £4.50 (inc VAT) in advance and £6 on the door, and can be purchased through this page, by calling 01223 463200 or in person in Heffers bookshop. Please note that tickets are transferable but not refundable.